Former Russian skater Egor Murashev about new ISU rule preventing him from competing internationally representing Switzerland.
Posted on 2022-09-10 • No comments yet
Interview with Egor Murashov who wants to represent Switzerland. About difficulties of changing sports citizenship and plans for the future.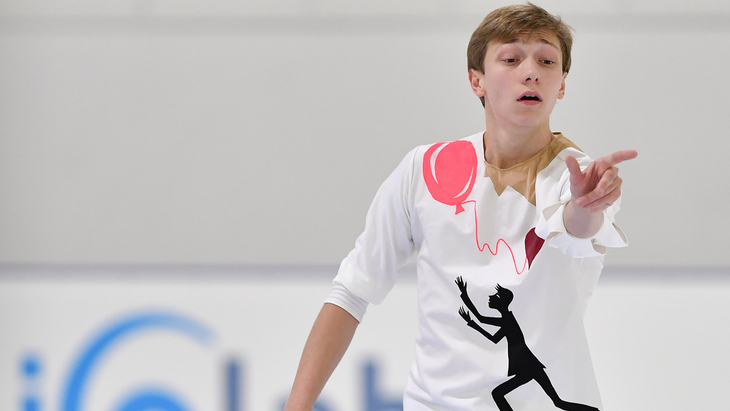 source: sport-express.ru dd. 7th September 2022 by Rustam Imamov
Egor is a figure skater from the second tier of the Russian Nationals. He was never the main hope of the country, but in juniors he became a medalist at the Grand Prix stages, won the Challengers and showed steady progress. As is often happens with single skaters, the transition to seniors was not easy, and Murashov got stuck in internal competition. With all due respect to domestic competitions, Egor did not want to become a regular participant at the Russian Cups and chose an understandable way to solve these problems – to move to Europe. It was Stéphane Lambiel who was expanding his group and promised to help Murashov to get into the Swiss national team. All the documents were drawn up for him and, in theory, Egor could have gone to the World Championships in Montpellier, representing Switzerland, but lost Nationals to a local guy. Nevertheless, Murashov was preparing for this season and expected to appear at the Grand Prix stages.
As it turned out – in vain. He will not be allowed to participate in international competitions. It is not entirely clear who is to blame for this situation: either traditionally neutral Switzerland has reconsidered its desire to let a guy with a Russian passport to represent it, or the ban initiative still comes from the ISU.
According to the publication- of RIA Novosti, the decision may be caused by non-compliance with the new rule 109 from the ISU, according to which a skater can only transfer if he receives citizenship or has lived in the country for at least a year. Previously, the ISU was much more loyal to cosmopolitanism and a passport was required only at the Olympics – which is the request of the IOC. So, perhaps, the fact that Murashov has a Russian passport really has nothing to do with it, moreover, not only Murashov faced such a problem, but several guys at once who changed their citizenship this off-season.
Not everyone who experiences difficulties is also from Russia. But it is known that Russia was just one of the initiators of such a tightening of the rules for the transition to a new national team.
Egor Murashov: To be honest, I've just learned about this from you now. I heard that I'm not allowed to perform. They referred to some problems with the documents. But there has been no specifics and official information yet. Now we'll try to figure it out.
So you haven't even heard of it before?
Egor Murashov: I was not allowed to compete. But they didn't explain why. Apparently, before there was no exact understanding, now it has appeared.
We apologize for delivering bad news.
Egor Murashov: It's OK. I don't really worry too much. Now is the time that I can't do anything about it myself. I just have to wait and see what happens next.
Where are you located now?
Egor Murashov: In Moscow, I train with Victoria Butsaeva. In this regard, everything is fine, going according to plan.
And in general, is there a plan of action?
Egor Murashov: I think … I actually don't have big illusions about myself about figure skating. I'm a fairly young guy, but now there are a lot of strong, very young guys. And it will be very difficult for me to compete with them. I understand this very well. Therefore, as such, there is no plan yet. We need to discuss what to do next with the coach.
Is there no option to represent Switzerland or are there still chances?
Egor Murashov: We need to talk to Stéphane Lambiel. First of all with him. I think together we can come to some kind of decision. But if they have already said so, then, most likely, this is where my story in Europe ends. I will think what to do. To be honest, I really want to skate. I like figure skating. So we need to see what opportunities I currently have for this. We will look for them.
Do you still have the right to perform in Russia?
Egor Murashov: As far as I understand, no. I am already a foreign athlete. Russia can invite someone from other countries to the Grand Prix. On its own initiative. And I can't apply myself.
Are you already considered a foreigner in Russia?
Egor Murashov: From a sporting point of view – yes. I'm a foreigner. After all, I have already represented Switzerland at an international competitions, competed at the Swiss National Championship. Everything is already official.
Well you can't undo it…
Egor Murashov: This is such a lesson for me. The experience I'm about to get. Look for something new. Where I can show myself.
It turns out that you are between two fires.
Egor Murashov: You can say that I did not guess where to go.
From your mood, I understand that you are looking more at projects outside of sports, right?
Egor Murashov: I'm looking for myself. I'm interested in a lot of things. Interesting to coach. I perform in the show – this is also interesting to me. Everything related to creativity is very close to my heart. This is both cinema and art. I love to draw! In any case, there is now an opportunity to think.
Mark Kondratiuk is very fond of drawing.
Egor Murashov: Again, great example. At some point, a person deeply delved into creativity. But then he had the opportunity to prove himself also in sports. One thing turned out for another, in art everything turned out well, and in sports he had a wonderful season. So I have a lot of respect for Mark. The man is multifaceted. Despite life's difficulties, which, God forbid, can happen, he will always find a way out of everything.
And yet we are not talking about the end of a career right now?
Egor Murashov: Not yet. This question, of course, is now becoming relevant. It suggests itself. I will talk to my parents, they play a big role in my sports career. They helped a lot, especially dad. Of course, I need to discuss everything with the coach. Take all the opinions and make an informed decision. So far, I can't lean one way or the other. Everything needs to be seriously considered. I guessed that this could happen, so I'm not upset. It happens, the main thing now is to understand what to do next.