Evgenia Medvedeva: I've entered such a phase of age when I need not to work more, but to rest more
Posted on 2020-09-14 • 3 comments
Evgenia Medvedeva commented on her performance at the Russian test skates 2020.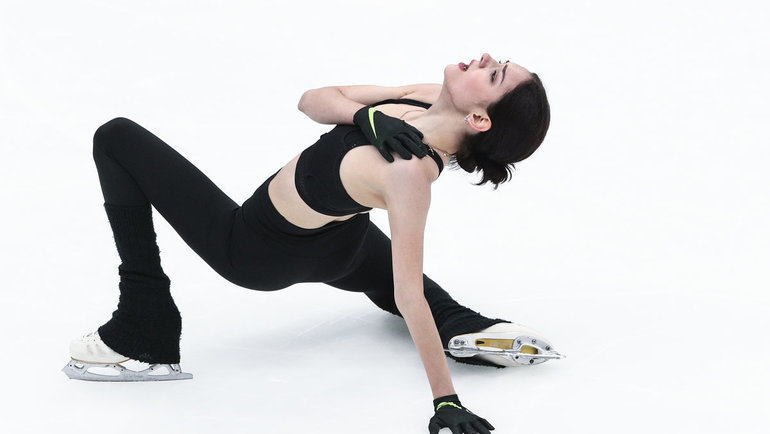 About short program
Evgenia Medvedeva: I'm satisfied with the performance. I'm in touch with Brian Orser all the time, both during the warm-up and before the skate. His notes? These are personal. This was not the maximum, this was the beginning of the season. I'm not very happy, there's still a lot of work is needed, both in terms of elements and emotions. In the last couple of years, test skates have not turned out great, I wanted to show acceptable skating, I succeeded.
About free program
Evgenia Medvedeva: I am more disappointed with the "cartwheel", because the whole choreographic step sequence fall apart, which was the highlight of the program.
I don't worry about jumps, I didn't have time to prepare the free program for a number of reasons. But still I decided to perform, skipped a couple of elements. I will not say what the circumstances are, but I need to get in physical shape.
I need a little more time, I'll get the jumps. And the "cartwheel" is a complete disappointment, I need to do something with the gloves: they slide on the ice. We will look for material that does not slip so much.
In training, the ice wasn't so smooth. This is my mistake, I should have thought in advance. My hands slipped, luckily I didn't get injured. Head down is dangerous.
Back injury? Let's skip this topic. I am 21 this year. If I tell each of my injuries – well, why, who needs this?
At 15 it seems: oh, damn it, it's hard, next year I'll catch up, it will be easier. But in fact it is getting harder.
The costume is in the process, we discussed to find a material that does not slip. This is faux suede. I will also adjust the wheel technically, everything will be fine.
text version sports.ru
and a bit more about health
Evgenia Medvedeva: Everything is fine, let's not talk about it. Everything possible is done so that the state of health does not interfere with the work process. It's exhausting, but there is no getting around it.
Usually I was very worried after bad skates. Now I don't worry, I know that I'll take a break, come to my senses and everything will be much better. Over time, I realized that poor performance at open еуые skates does not mean bad performance in competitions.
It is important for me that tomorrow is a day off. If not, then there will be no day off until the (stage of the Russian Cup in) Syzran. I need to rest, I have entered such a phase of age that I need not to work more, but to rest more.
Related topics: Evgenia Medvedeva, test skates
3 Responses to "Evgenia Medvedeva: I've entered such a phase of age when I need not to work more, but to rest more"