"Evgeni Semenenko performed clean short program, but lost to skaters with weaker technique." Russian media outraged with the judging and low placement of Russian men
Posted on 2022-02-08 • 3 comments
Russian media outraged with the judging and low placement of Evgeni Semeneko who performed clean in the short program at the Olympic Games at Beijing.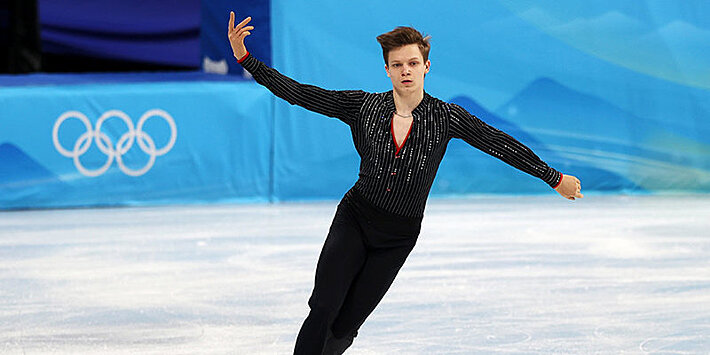 source: championat.com dd. 8th February 2022 by Daria Kiriukhina
Evgeni Semenenko gave his maximum in the short program, but this was not enough to place hier weaker opponents.
Evgeni Semenenko performed clean with a short program at the Olympic Games in Beijing. However, his performance brought him only seventh place. The Russian skater with two quadruple jumps was beaten by Morisi Kvitelashvili from Tutberidze's coahing staff, and a Korean with one quad, and even an American who did not perform a single quadruple.
Judging in men's event, in principle, turned out very ambiguous, there was a consensus only about the leader Nathan Chen. But the talented debutant Semenenko could have been allowed to take fourth place, but he wasn't. They sent him to the queue.
Semenenko is kept in a queue
The queue in figure skating, apparently, exists not only in ice dance. In men's single skating, there're also bonuses for a long service. The seventh place of Evgeni Semenenko in the short program shows this very well. Zhenya skated his content clean with a combination of a quadruple toe loop – triple toe loop, a quadruple salchow and a triple axel, but lost to skaters with weaker technique. At the same time, he has the level 4 for spins and step sequences – he did everything on maximum, but this was not enough. The only judge who was favorable to the young athlete was the Chinese: he put Semenenko in fourth place. But the judges from Japan and Sweden managed to put him 10th: the components of the debutant of the Olympic Games were frankly underscored.
The placement of their own skaters also shows that Japan does not like debutants too much. Instead of clean 18-year-old Yuma Kagiyama, the Japanese judge put the more experienced Shoma Uno in second place, although he had a small mistake on the combination. The judge not only didn't see the mistake, but also added one point. Probably, he decided that this was not a mistake, but a choreographic find. It happens. The judge from France also put Uno second, but he added only one and a half points, the Japanese – more than four.
Japanese also tried to pull in fifth place a brilliant, but with a serious mistake, Yuzuru Hanyu. But the judges from Israel and France prevented him, putting the two-time Olympic champion in tenth place.
Semenenko is bypassed by Tutberidze's skater
Korean figure skater Jun Hwan Cha was very lucky that he took fourth place with one quad (and not a senior one, but a quad salchow). Jun Hwan also performed a complex combination of a triple lutz-triple loop, but in men's skating it is still not as influential as in women's skating. And, unlike Anna Shcherbakova, who performed the most difficult combination in the second half, the Korean jumped it in the first part of the program and did not receive additional bonuses. But good element bonuses and high components did the trick.
It's a shame that Evgeniy Semenenko was also beaten by Morisi Kvitelashvili, who represents Georgian national team. No, the fact that he is the fifth is great, but not when Zhenya is the seventh. There is a feeling that the coaching staff, famous for unique girls, automatically adds credibility to its single skater. Unlike Semenenko, Morisi had a level 3 step sequence, they have a similar set of jumps, but the bonuses for the elements turned out to be more solid. However, not all judges agreed with this: Israel sent Morisi to eighth place, and Japan to seventh.
"Quadless" Brown is back in the lead
The most controversial result, of course, is that of Jason Brown. The American figure skater is, of course, a great skater, perfectly fits the musical accents and pleases with complex choreographic sequences. He deserves high components more than anyone. But to beat clean Semenenko with two quads without quads? Still we're talking about men's single skating. Jump Brown at least one quadruple toe loop, and you could put up with it. But it's such a disappointment. Although it could have been worse: the Japanese judge was so impressed with Brown's performance that put him in fourth place! Thanks to the judges from Belarus and Korea, who gave him the ninth and eighth result, respectively.
Mark Kondratouk and Andrei Mozalev, unfortunately, made a lot of mistakes in the short program. Therefore, although they were not inferior in content complexity to Evgeni Semenenko, they could not compete for higher places. However, the Israeli judge tried to rehabilitate Mark: he put the newly Olympic champion in ninth place. But no one else showed such generosity, so the final place is only 15th.
Andrei Mozalev, with a fall on a quad-salchow and popped axel, almost flew past the free program. But, fortunately, no one put him below the 24th place, and the judge from Belarus even let him into the top twenty, giving 19th place.
Solidarity in judging was only about Nathan Chen. His first place in the short program is unconditional. The three-time world champion confidently goes to his Olympic gold and does not leave the slightest chance to find fault with him. Perhaps he is the only one who can be not afraid that he will be placed lower than beautiful skating of Jason Brown.
Fortunately Semenenko's coach Alexei Mishin and also Tatiana Tarasova have more adequate opinions.
Alexei Mishin: I will not comment on the unsuccessful performances of other athletes, there is a coaching ethic.
I will say about mine: he skated with dignity, but my criterion of skill is much more strict in order to rate him highly. Is the thought clear? Yes, he skated with dignity, but according to my criteria, I cannot rate his performance as good.
source: rb sport
Tatiana Tarasova: Ours skated well! Not without mistakrs, but well. We didn't go for first place in the men's single skating. Seventh place? Wonderful! This is just the beginning. They are young, everything is ahead.
You know, Mark did everything to ensure that our team won gold. Mark just did his best. So leave him alone. Mark skated great, but he just doesn't have that kind of Olympic experience.
Semenenko's seventh place is a very good start. All outstanding skaters started from sixth, seventh place before becoming champions.
source: sports.ru
Related topics: Alexei Mishin, Evgeni Semenenko, Jason Brown, Moris Kvitelashvili, Nathan Chen, Shoma Uno, Tatiana Tarasova
3 Responses to ""Evgeni Semenenko performed clean short program, but lost to skaters with weaker technique." Russian media outraged with the judging and low placement of Russian men"