Evgeni Plushenko: "With a "crystal-crystal" conscience, we give Kostornaia back"
Posted on 2021-03-04 • 5 comments
Evgeni Plushenko commented on ALena Kostornaia's return to Eteri Tutberidze.
source: tass.ru dd. 4th March 2021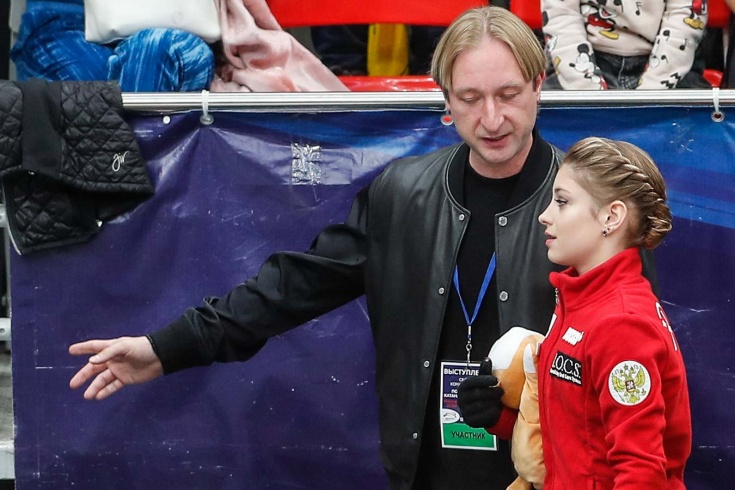 Evgeni Plushenko: Alena came to our academy to work with Sergei Rozanov, and I consulted her as a second coach, since I work with Alexandra Trusova, who came to me from the very beginning. I spend three hours on the ice with one group and three hours with athletes from the other group, and then general physical training and warm-ups. Therefore, Alena worked with Seryozha Rozanov, as planned. In addition, in the last three weeks we have attracted Elena Vyacheslavovna Zhgun – her first coach, she helped, for which many thanks to her, as well as many thnaks to Elena Anatolyevna Tchaikovskaya, who, like all of us, worried about Alena.
When I asked Alena whether she needed my help, she replied that only when she would work on 3,5 axel. We just started to restore it, but then she fell ill with coronavirus, and then a complication happened. Alena came to us in a difficult period for her: two months of illness, almost two months without training – it is very difficult, well, and a tough puberty. She still has health problems, and she knows it.
But it was precisely these problems that prevented her from practicing and training at full strength. Alena needs to pay serious attention to her health, we helped her, good doctors worked with her, but it still gave a temporary effect.
I wish her only well. If she decided to return to the previous team, then I don't see anything wrong with that. We gave her all the conditions that she wanted, choreographed four programs, although I was against changing something three weeks before the competitions and I was against her performance in a shape that she did not have time to gain. She lacked exactly these two months.
We initially gave her a separate ice, a cottage and all the conditions. Neither Rozanov nor I could give her health, strength and motivation, and no one could. We have different training methods with "Chrustalny", they are suitable for Sasha Trusova, Alena was also happy with everything until she got sick, this started the problems.
I have no doubts about her future, if she will work and give all her best, not get sick and recover completely, which I suggested her doing this season. My team and I did everything for her, so with a clear conscience we are letting her go back to "Chrustalny". With a crystal conscience.
Due to the fact that Alena and Sasha had the best time and only seven to eight people on the ice, I had to refuse many then. Now I have places, I can take good athletes in her place, who have been asking us for a long time. I don't see any tragedy, we live and work on.
My wife will probably be upset, she often talked to her and supported her in difficult times. Sergei Aleksandrovich put a lot of heart into it, I think it will be hard for him, but even this is temporary. It will be a great lesson for our academy for the future. Noew I will be responsible only for those athletes whom I train personally, as well as sign documents according to which athletes have not only rights, but also responsibilities.
Plushenko stressed that he had fulfilled all the promises he made to Kostornaia.
Evgeni Plushenko: And even more than that, she couldn't complain. I definitely don't need flowers, I treated her well and I stull do. My family and I have always supported her, we got her, probably, in the most difficult period of her sports career.
Everything would have worked out for her here, but there are many "buts" about which she knows no worse than me. In principle, there is nothing more to add, we all wish her good luck, health and victories. In fact, she is still listed in "Chrustalny", so there is no need to go anywhere. Time to say goodbye.
Related topics: Alena Kostornaia, Evgeni Plushenko
5 Responses to "Evgeni Plushenko: "With a "crystal-crystal" conscience, we give Kostornaia back""