Evgeni Plushenko: "We wanted peace. But Tutberidze is more satisfied with the war."
Posted on 2020-10-17 • 3 comments
Interview with Evgeni Plushenko. About plans of his academy, claims to judges, offering peace to the Tutberidze coaching stuff and what happened between Trusova and Sergei Rozanov and Elena Ilinykh.
by Dmitri Kuznetsov for sport-express.ru dd. 16th October 2020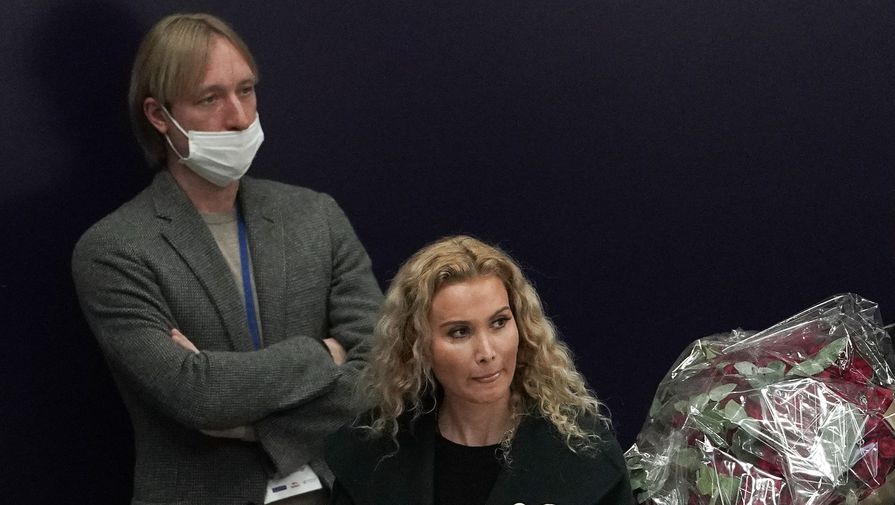 Evgeni you have recently announced you new skating rink being opened soon. How is the work going there?
Evgeni Plushenko: Everything goes great, construction is coming to an end. We are planning a test opening for my birthday on November 3rd. It will be a private skating rink, now I rent one. Finally, we will have our own training base, I will show you where Sasha Trusova, Alena Kostornaia and our other athletes will live and train. For those of my athletes who show super results, training and accommodation will be free. They will live in separate chalet cottages, we are building them now. In order not to drive anywhere and focuse on the working process. Because we will skate a lot, three to four workouts a day. There will be gyms, choreography classes, SPA. In general, my wife and I are opening a full-fledged sports base in the Moscow region. In February, a second skating rink will appear in Moscow, ours – mine and my wife's. We decided to invest in sports, figure skating. There will also be a large rink, halls and a restaurant. There are a lot of people willing to train. Here, on Lobachevsky street, we no longer fit.
At the weekend, the Russian Cup stage was held, which was nevertheless won by Alexandra Trusova. Are you happy with how it went?
Evgeni Plushenko: The very atmosphere – yes, finally there was a sports fight. I want to congratulate the girls, Kamila and Daria with the second and third places. They are strong skaters, they have a great future. And they have a good team. But I'm not happy with the scores of all three girls in the short program. I read a lot of comments – why? Here is the answer.
At the age of 14, you cannot give "10" for components. This is junior skating, and no matter how beautiful they skate, no matter how beautiful the lines and spins are, this is not "10". Under the previous system, this is 6.0. This is a priori wrong. Where should they grow further? Some judges, coaches and the leadership of the federation have already agreed with me – that it was wrong. I'm telling you honestly. Let this truth be harsh. Valieva's 10 points – it's impossible.
How do you explain this?
Evgeni Plushenko: Judging mistake. I will not go into details, we talked about this and figured it out. But I want to say one thing – there are athletes for whom I will fight. And I will not allow any judge to do the wrong thing against my athletes. I love justice. Sasha didn't win the short program, it's true. But she took not third, but second place, and lost not 10 points, but 5-6. I agree with such scenario, Valieva was ahead. But why it was necessary to overestimate one and lower the scores for my skaters?
I understand that the judges wanted to create a safety cushion for the free program. I know these judges, I even know where and whom they coach from time to time. But I don't want to go into specifics. Let's all understand that the time justice has come. There is one school and there is another. We need to treat everyone equally. I had a substantive conversation …
With the leadership of the federation?
Evgeni Plushenko: Let's confine ourselves to this wording – I think they heard me. However, our result does not mean that we can put on the crown. Competitors are very strong, and we didn't manage to do much. We went on the triple axel for the first time, a really difficult element. Without belittling anyone's merits – Sasha skated with a cold. But this is our problem, we dealt with it.
What's next in Sasha's plans for the program?
Evgeni Plushenko: We are preparing for the fourth stage of the Russian Cup, I would not like to reveal all the secrets. The program will definitely be strengthened. In general, I want to praise and thank Sasha. I have not seen a single athlete who would work so hard and treat his profession this way. She works hard, wants to learn new things. Her task is to learn how to skate well, improve in choreography, spins. She has plenty of work. If all our athletes had such dedication, it would be very cool.
One of the discussion on social networks is whether the whistle from the stands and discontent on social networks helped her victory. What do you say?
Evgeni Plushenko: I want to thank people who do not produce hate, but treat and talk about this situation professionally. Look, Chen and Hanyu don't get 10s, Kostner didn't always have them. So why do we make a circus out of figure skating? We specially heat up the opposition. Maybe all that happened is some kind of agreement between some people. But why? Let's work and win fairly. Let's stop talking that someone has lured someone for "money". I'm already sick of it.
How long can you talk nonsense about outbidding? The athlete switched himself. If the athlete is doing well, it is extremely difficult to lure him out for money. Impossible. It's not football or hockey with a club system. They also tried to lure me at one time, but I believed Alexei Nikolaevich Mishin. Although I was eager to leave for America. So stop talking nonsense, I'm saying this to both coaching stuff and fans. Take it for granted. And figure it out in yourself – why this is happening. I don't want to argue with anyone. We even had a conversation at the end of competitions – I offered peace, there is no need to quarrel. Do your job, and we do ours.
Have you approached Eteri Georgievna?
Evgeni Plushenko: We talked with her coaching stuff, yes. Me and Yana (Rudkovskaya, Plushenko's wife. – ed.). She now, like me, invests a lot of money in our schools, in sports and helps athletes with sponsors. And so we said – no need to come up with some sort of things, stop. We wanted peace.
What did they answer?
Evgeni Plushenko: So far we have not found understanding from that side. But I had an idea that we need to communicate normally. But peace with Eteri did not work out. She is more satisfied with the war.
So, we are waiting for the continuation of Instagram battles.
Evgeni Plushenko: Yes … Their director (Renat Laishev. – ed) is broadcasting. In general, I think that, as a civil servant, he has no right to make such statements at all. Who skates worse, that Trusova will not be able to show the result with me … I have information that in the near future he will leave his place and it is time to pack his suitcase. It's a pity, he is very cheerful. Every interview is a masterpiece! For example his "Plushenko is a slacker". He sincerely believes that he understands more than me in figure skating. So let's play along, okay? You ask him questions about figure skating and he pontificates. And then the whole world laughs.
Eteri Tutberidze has recently announced a collaboration with Maria Shashina, who participated in the organization of your shows. Are you ready that "Chrustalny" will pull up PR?
Evgeni Plushenko: Great. Of course I support this! Let them move forward too. Maria worked for us as an administrator. She said she represented our show. This is … an exaggeration. My wife doesn't need anyone, she is a pro and she has a super team. Yana, in my opinion, does not even know what this Masha looks like. Masha helped Ari Zakaryan to book tickets and hotels for our athletes, that's basically all the promotion of the show. I have a very positive attitude towards her, but, probably, when people start working with big stars, a little dizziness begins. Nevertheless, she's done well, she found a team. God blesses, they will succeed.
Why did I ask about the audience. You interacted a lot with the stands, turned it on, played with your eyebrows duting Usacheva's scores announcement. Spontaneously or deliberately?
Evgeni Plushenko: Of course I tried to cheer up the stands. I was in a good mood. And the audience was a little heavy, you know, there was such an oppressive atmosphere. Everyone was waiting – well, who, who? You can already see how the fans split into two camps. And more and more people come to us, I am sure that whole sectors at the arenas will cheer for us. I just wanted to cheer up the audience. In my opinion, everyone liked that. Or not? The main thing was that it was interesting. Look at the numbers on television. In terms of the number of spectators, the Russian Figure Skating Cup has overtaken the national football team.
I think such numbers were unrealistic before our team appeared. This is the impact of the Plushenko-Tutberidze confrontation. Figure skating is returning to the status of the main and most popular sport in Russia, which it once was. It's time to regain our positions. If there are high ratings, advertising contracts and fame will come, everyone needs it. Therefore, I work, I follow social networks, I read the opinions of fans.
There will be no spectators at the Russian Cup in Sochi. Is our situation so difficult to close the stands? For example KHL in Sochi plays with several thousand spectators at the match.
Evgeni Plushenko: I don't understand this at all. Yes, it's very difficult to skate without audience, we need fans and support. But such a time. You have to be ready.
We said a lot about Trusova, let's talk about Alena Kostornaia. How is she doing with the triple axel, programs?
Evgeni Plushenko: Alena is all right. The only thing is that she broke her boots, and the day before yesterday she began to break into new ones. It takes time. But we are also preparing for the fourth stage, skate the free program, it is ready.
Was the program done via video calls?
Evgeni Plushenko: Yes, via Skype, videos were sent.
Do you believe in technology? Is there no skepticism that it is unrealistic to put a top program by video?
Evgeni Plushenko: We have Seryozha Rozanov, who transferred all this to the ice, Alena is not a small child after all. I had a big dream that Shae-Lynn would make the program, it costs a lot of money. We know each other, we skated in the show together. The main thing is that she said "yes" she would be happy to work with Kostornaia.
Is Alena comfortable at school?
Evgeni Plushenko: Alena is comfortable at our school. She has her own ice, very few athletes skate with her at the same time. Why complain? Choreography, dance classes, massages. Just need to work, that's all.
There is a lot of information in the media and social networks about conflicts within the school. For example, that Sergei Rozanov does not work with Trusova, only with Kostornaia. State your position, is it true and why it happened, if it's true.
Evgeni Plushenko: Sergei has not been working with Sasha for a long time, it's true. He leads Alena. Sasha and Alena have separate teams, both choreographers and coaches. These are two different teams. The only thing is that I work with both. It was Sasha's decision, I supported it. Seryozha had no questions. It just happened so.
Does it bother you that people who came to your school together parted almost immediately?
Evgeni Plushenko: Sasha came separately. Nobody came together. I say it as it is – Sasha came herself. And her dad suggested me taking Sergei. I answered: "Why not, he is a good specialist."
But they had a good relationship.
Evgeni Plushenko: Yes. He did both programs for Sasha, this is his great merit. Over time, we began to improve and refine them. But Sergei now has his own work, he works with Kostornaia, he has two groups.
Okay, let's talk about the role of Elena Ilinykh. Are there also no conflicts?
Evgeni Plushenko: Lena stopped working with Sasha, Sasha stopped working with Lena. They tried, but it did worked out.
How long has it happened? Elena was with Sasha at the test skates.
Evgeni Plushenko: Somewhere just after the rental. Sasha has new specialists to work on skating skills, we are still hiring other coaches. Lena works with other athletes, Kostornaia. In general, we have a lot of skaters: Titova, Sarnovskys, Zhilins. Ilinykh does not go anywhere.
There is no conflict with Trusova?
Evgeni Plushenko: She has no conflicts with either Rozanov or Ilinykh.
You mentioned the new coaches. Do you have other acquisitions?
Evgeni Plushenko: Acquisitions? I'm thinking of buying a car. Now I choose one. (smiles)
Do you have harmony in life? A large school, many coaches and skaters with their own interests, already children, not just one child.
Evgeni Plushenko: The main thing is desire. Live on, work, create. Probably, everything in my life worked out but it brings new challenges. But I have a very good, close-knit team. I can rely on them. It was not for nothing that I fired 17 specialists at one time. I have a faithful and beloved wife who is always with me and helps me. Lovely sons.
Isn't it difficult to keep up with everything? Is there enough time for a family?
Evgeni Plushenko: Everything is fine, Arseni is growing, we are very happy. How to keep up? Wake up at 6 in the morning, at 7 a.m I'm at work, until 17-18 – work in the "Angels", then all the other things. My mother told me: "Slowly, but hurry." I set the task, it must be fulfilled.
And how does it sound?
Evgeni Plushenko: To make my school the best in the world. We will work hard to make this dream a reality.
Related topics: Alena Kostornaia, Alexandra Trusova, Elena Ilinykh, Eteri Tutberidze, Evgeni Plushenko, Sergei Rozanov
3 Responses to "Evgeni Plushenko: "We wanted peace. But Tutberidze is more satisfied with the war.""