Evgeni Plushenko: "We have no contracts with Rozanov, the decision about further work is up to him"
Posted on 2021-07-09 • 1 comment
Evgeni Plushenko about possible termination of cooperation with Sergei Rozanov and current preparation of the athletes in his academy.
source: tele-sport.ru dd. 9th July 2021. by Vladislav Zhukov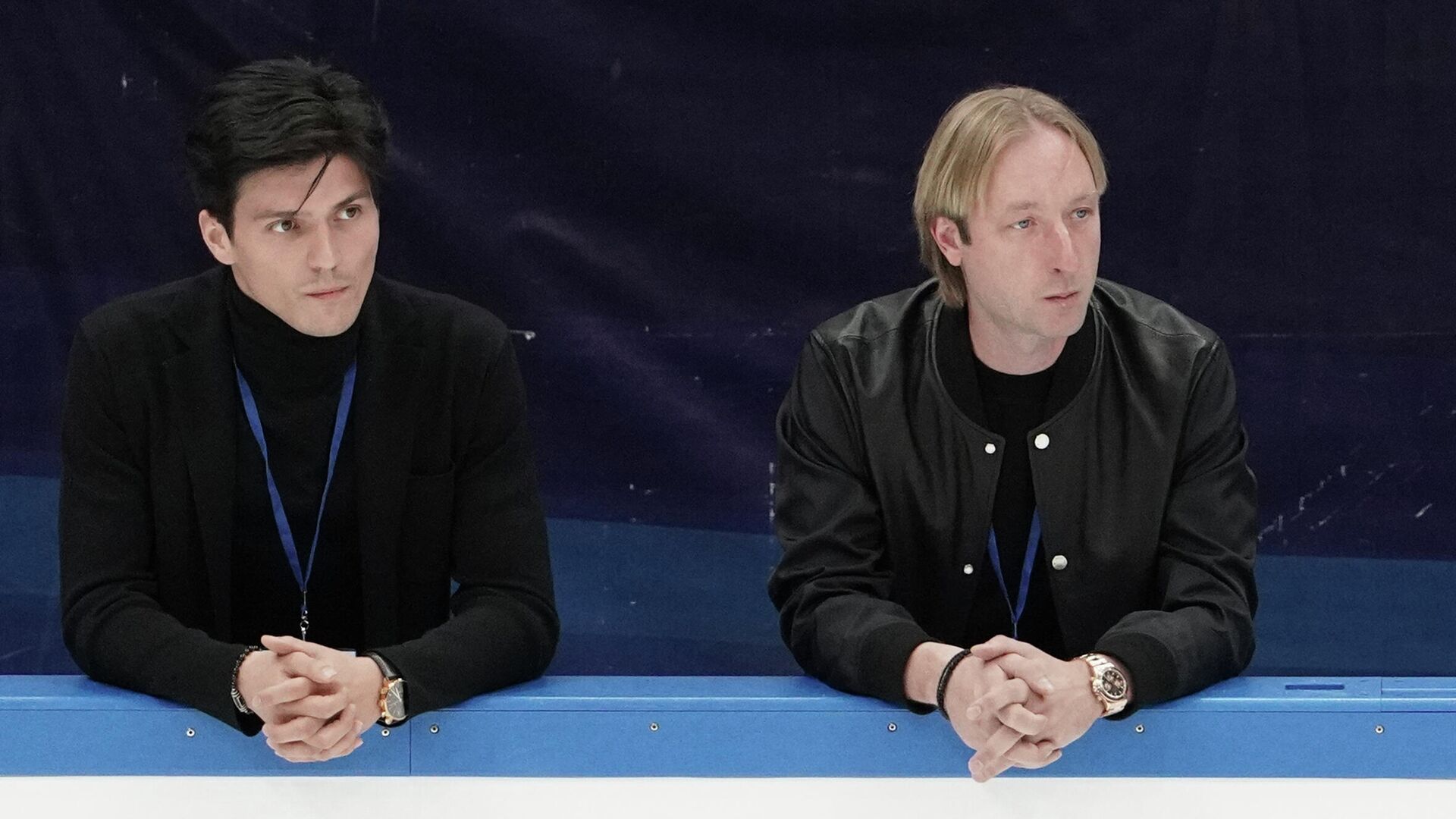 Information has appeared that you are close to termination of your work with Sergei Rozanov. Is it true?
Evgeni Plushenko: Seryozha is now at a training camp abroad. He went there to train with our guys. As soon as he returns, we will make a decision. While he is at the training camp, it was planned.
Turns out you have some questions about his work?
Evgeni Plushenko: I will say this – we have to make a decision. As he finishes training camps, we will see and think further.
Does the decision concern contractual issues?
Evgeni Plushenko: No, we have no contracts (with Rozanov). This decision is up to him. According to the original plan, now he is abroad, we are constantly in touch. I expect a final decision from him – this is our situation.
That is, the decision is up to Sergei? Not you?
Evgeni Plushenko: It's not my decision, yes.
I thought the initiative for some change would come from you.
Evgeni Plushenko: (laughs). No, all the coaches suit me. It's just that everyone chooses their own path for themselves – to stay or to leave, to move on. Maybe to try yourself abroad. These things always come from the guys.
I gave Seryozha his groups, he leads them. For everyone I say – I have two groups of mine, two groups which I work with and lead. I simply cannot work with everyone, it would be dishonest in relation to athletes and coaches. Therefore, I gave some specialists their own groups. For example, Yulia Lipnitskaya – she has her own team, her own coaches, she works according to her own method. Yes, in my school, but on her own.
So is Seryozha Rozanov. He worked with (Alena) Kostornaia, led her himself. I had nothing to do with it – just came sometimes if they asked me to. In addition, he has other athletes that he leads himself. I can't cut myself in two. I have "my" skaters and "my" coaches. Therefore, we are waiting for specifics from Seryozha. And we will think.
You say that coaches suit you. That is, you did not change your mind, even though the season for Rozanov's group was, so to speak, not very good?
Evgeni Plushenko: Well, that's okay. There are ups and downs. He is a very good specialist, but he, like other guys, will have such situations in the future. I have no complaints or questions. From my side, let's say, everything is fine.
And how the things in Angels are going now after all the recent events?
Evgeni Plushenko: Thank God everything is fine. We are working, we have wonderful children. Four cool juniors grows up with us – Veronika Zhilina, Sofia Muraviova, Anastasiia Zinina, Kirill Sarnovskii. These are the guys who are in the Russian national team.
We are now preparing for the test skates, which will be held in Novogorsk. After the Figure Skating Federation will decide with the Junior Grand Prix assignments. In general, we are preparing, had a good training camp.
Some children, in my opinion, have grown up. Of course, you need to watch it in the season, but there are moments that we worked on. Improvements have been made.
Do I understand correctly that now you will be focusing on juniors?
Evgeni Plushenko: Today I have juniors. Moreover, the guys with whom we have been working for a long time. With the exception of Zinina, she came to me a couple of months ago. We also have a very good athlete – Sofia Titova, she also works with me. Muraviova is catching up, she should show a very good level now. And, of course, Zhilina.
Hopefully things will be different for Veronika this season. Last season, it was not clear who coached her. At the end of the season, she decided, now her mother Lyudmila Nikolaevna (Alferova), me and Maria Stavitskaya are working with Veronika.
It was not clear who coaches her? How did it happen?
Evgeni Plushenko: They came with Seryozha (Rozanov), he trained Veronika. At the end of the season, she decided that I would lead her along with Lyudmila Nikolaevna and Maria.
Now, let's say, the team has been defined. I had a lot of coaches, it was necessary to distribute who was responsible for whom. Now we managed to do it.
Related topics: Evgeni Plushenko, Sergei Rozanov, Veronika Zhilina
One response to "Evgeni Plushenko: "We have no contracts with Rozanov, the decision about further work is up to him""