Evgeni Plushenko: "My goal is the Olympic Games for two gorgeous girls, Sasha Trusova and Alena Kostornaia"
Posted on 2021-03-02 • 3 comments
Evgeni Plushenko about his coaching work and plans for the Olympics.
source: olympicchannel.com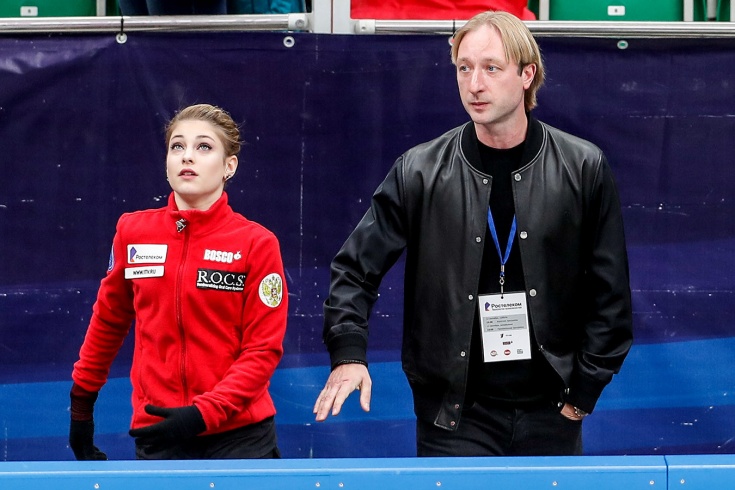 Evgeni Plushenko: In Russia, I am under pressure from the press, judges, federation and fans. Everyone is waiting for a miracle: new programs, more quadruple jumps, new costumes. And I like it, because I also loved to do something unusual when I was an athlete.
I have a very strong team, strong athletes. Of course, they want to be on the podium. My goal is the Olympic Games for two gorgeous girls, Sasha Trusova and Alena Kostornaia. Of course, I want to bring them to medals. We are working on it.
Sometimes I have to stop them because they would like to jump 200 jumps per workout. Sasha wants to jump five quads. Of course, we will try to do this. This is her goal, her idea. She is a very strong athlete. I think the strongest in the world.
Alena is strong in choreography, she has charisma, good spins, glide. If she adds a triple axel to the programs, of course, she will be on the podium.
Of course, without a triple axel, it will be hard for her to fight. It's possible to add one. If she is healthy, she will be able to do the triple axel, no doubt. For the Olympic Games, she needs a quadruple jump, she can do (one).
When she joined my group in the summer, she was injured. We waited two weeks because of this injury, then we started training with old injuries. In our sport, it is important to be healthy.
But I know that Alena is ready to master a quadruple jump. But a little later, a little later. Which one quadruple jump? It will be a secret.
Related topics: Alena Kostornaia, Alexandra Trusova, Evgeni Plushenko
3 Responses to "Evgeni Plushenko: "My goal is the Olympic Games for two gorgeous girls, Sasha Trusova and Alena Kostornaia""