Evgeni Plushenko: I assure you that Trusova will be a completely new Trusova next season
Posted on 2020-05-12 • 1 comment
Evgeni Plushenko promised that in the new season we will see new Alexandra Trusova and also intrigued with other famous newcomers.
by anatoli Samokvalov for rsport.ria.ru dd.12th May 2020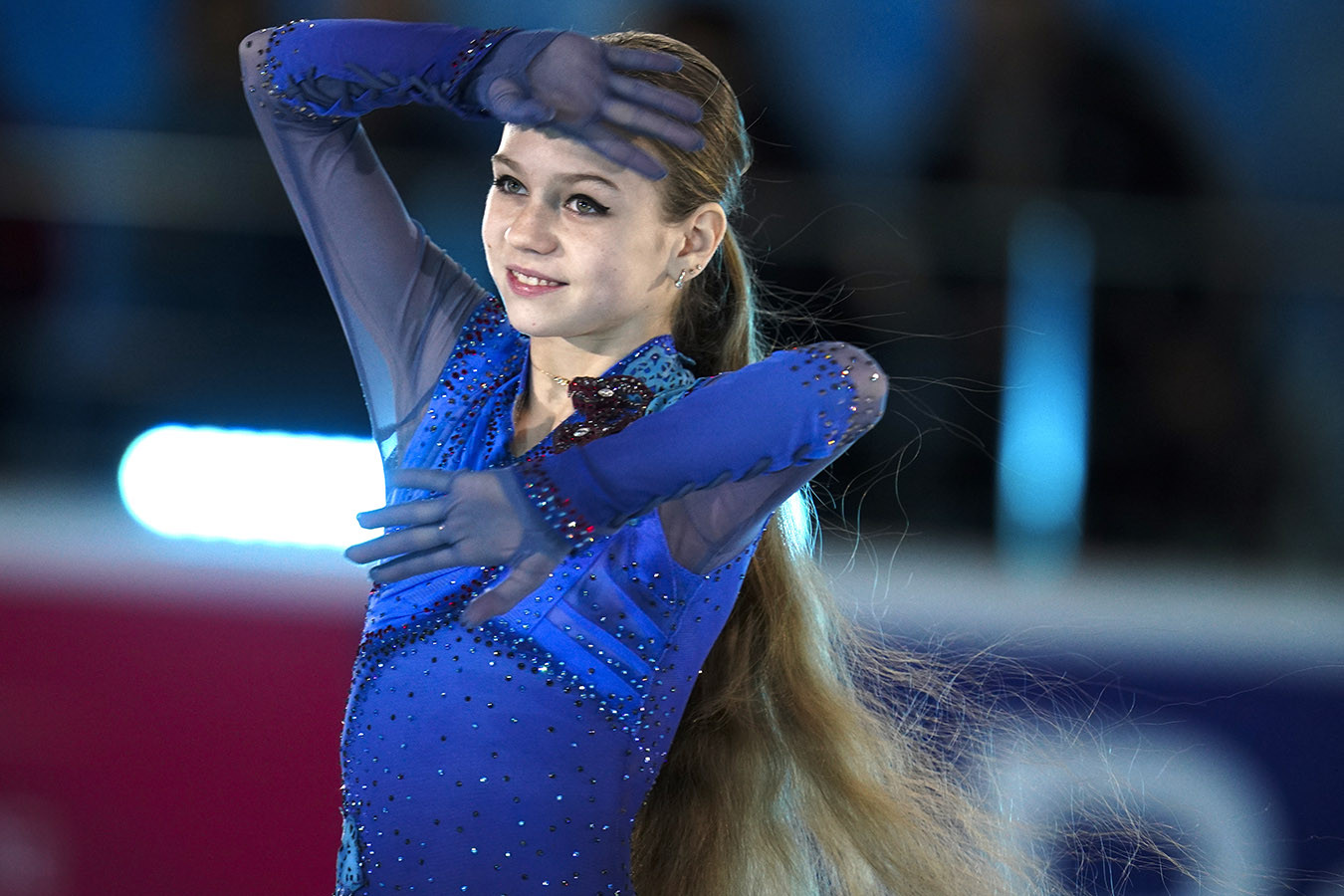 Evgeni, you are like a pop star now. It's like you've gone to the show business.
Evgeni Plushenko: I haven't left figure skating.
Every day new scandals with your name.
Evgeni Plushenko: Well, it's not me doing it, I didn't attack anyone, I just answered. I am stating the facts, and you see how it turns out – my name bothers everyone and maybe raises the ratings.
Of course, it raises ratings.
Evgeni Plushenko: Well… So what if the athlete decided to go to me? They made such a decision together with coach Sergei Rozanov. I supported it, and with a pleasure. That's all.
When did you first make a contact with Trusova?
Evgeni Plushenko: I will not go into details, but I will say this: this is an ancient history. Tomorrow we are submitting documents (on Trusova's transfer) to the Federation (FFKKR), the Moscow Federation and Sambo-70. It is necessary to settle everything in the legal field, sign documents, and then communicate in more detail. No need to run ahead of events. On May 15, the transition should take place officially. They already write that Yegor Rukhin came to me. I do not have such information, no one contacted me about this skater. I know that Rukhin is skating in CSKA. They write that everyone is already transferring to me. We do not take everyone.
Then, perhaps, we list the ones you take?
Evgeni Plushenko: Among those who were definitely taken are Alexandra Trusova and the Zhilins sisters. As for the other transitions, they will also be, but this is the next stage. I'll voice it later.
From the group of Tutberidze?
Evgeni Plushenko: There will be transitions (without specifying the group). I once told you that there will be a sensation. Well, the sensation has occurred.
You told me that two years ago.
Evgeni Plushenko: Right. The time has come. The athlete decided about the transfer. But the story is really old. Not this month's.
Who was the initiator of Sasha's transition?
Evgeni Plushenko: The skater herself.
What was her motivation?
Evgeni Plushenko: Soon she will tell everything, I will not speak for her. The hype is very big, there is a huge amount of information. Now the main thing is to make the transition. Then, maybe, we will give a press conference. Now I myself communicate with her remotely, share thoughts about programs,training camps – we decide where we will go, which choreographers to attract. Listen, I got a call from the athlete and her parents, and they started a conversation about transition to me. I supported and decided that we will work together. What motives did she have and why, so far I have not gone into details.
You were not interested in why she left Tutberidze?
Evgeni Plushenko: If Sasha considers it necessary, she will say about it herself.
For you, the transfer of Trusova is a huge risk?
Evgeni Plushenko: I have always loved challenges, I have always walked forward, my school will be number one in the near future. I started to build my own ice rink for a reason. I have big plans, because I love my job and I'm not afraid of it. This year we showed a very good result with the Sarnovsky brothers, who only recently came to me. Sofia Titova won the Russian championships among children and the championship of Moscow. We have a result. But I never say that only me have a result. Now there a cool team of coaches and choreographers is being formed in our academy. Yes, we did not have such super-prominent athletes, but this year we also had achievements. With the arrival of Sasha, Zhilins, other athletes, we open up new opportunities. Everyone has weaknesses that need to be improved. I assure you that Trusova will be a completely new Trusova next season. I will give her super-specialists who will work with her. And there will be sensation. I love sensations, so they will be. For me, the main things to prepare Trusova so that she becomes a super skater in all directions. Not only in jumps, but also in spins, in charisma, in skating skills. We have already set this task for ourselves; Sergei Rozanov and I are on the same wavelength. He is super professional. By the way, I know him for a very long time. I think we will succeed.
I wanted to ask about your vision of Trusova. Do you think that her previous programs were unsuccessful?
Evgeni Plushenko: Why so? Her programs were good. She skated well. But today there is no "universal soldier" in the world of ladies' single skating who would be 100% developed both in the technical component and in charisma and skating. There are no such. Each one is weaker than the other one in something. For example Yuzuru Hanyu, he is developed in all respects. Of course, I would like to make Sasha Trusova a "universal soldier".
Is it even possible?
Evgeni Plushenko: It is possible. If you work, it's possible.
How can this be done? She has formed a style of the technical heroism.
Evgeni Plushenko: Come on, she is only 15 years old! There's still a room for growth. We just used to the fact that at the age of 15 they are already ending their careers. It is necessary to change this situation. Sasha has everything ahead, she is at the beginning of the journey.
Just talking about the two-time Russian champion Anna Shcherbakova, you understand that this is a balanced athlete, European champion Alena Kostornaia is also an ultra-balanced athlete. Sasha, after all, has a clear bias in technique.
Evgeni Plushenko: I do not think that Shcherbakova has no weak points. They are. Kostornaia also has weaknesses if we speak from a professional point of view. I don't want to talk about these weak points, because we will compete. The main thing for us is to remove our weaknesses. You need to think about yourself. We have weaknesses, but this is temporary. I repeat, in the new season Trusova will be completely new.
Will the jumping technique remain?
Evgeni Plushenko: We will partially change it. And she definitely needs consistency, nothing will work out without it.
The arrival of Rozanov was one of the reasons for the Trusova to join your group?
Evgeni Plushenko: Apparently, something did not suit both the coach and the athlete. Serezha Rozanov is an excellent specialist, achieved great results with athletes, put them quadruple jumps, good technique. I also looked closely at his work for a long time. He studied technique a lot from Mishin. He took the best from many coaches and began to put athletes a gorgeous jumping technique. He also expressed a desire to work with me. I said "Why won't we try it?"
So you didn't invite him, he come himself?
Evgeni Plushenko: He came himself. I did not invite anyone. This is a purely personal desire of the coach Seryozha Rozanov and the athlete Alexandra Trusova.
Are your next newcomers a big names?
Evgeni Plushenko: Big. We have no bad ones.
Related topics: Alexandra Trusova, Evgeni Plushenko
One response to "Evgeni Plushenko: I assure you that Trusova will be a completely new Trusova next season"