Eteri Tutberidze: Most of all I like to take athletes who are "close to despair"
Posted on 2020-02-18 • No comments yet
Interview with Eteri Tutberidze for Japanese media.
by inosmi.ru dd. 17th February 2020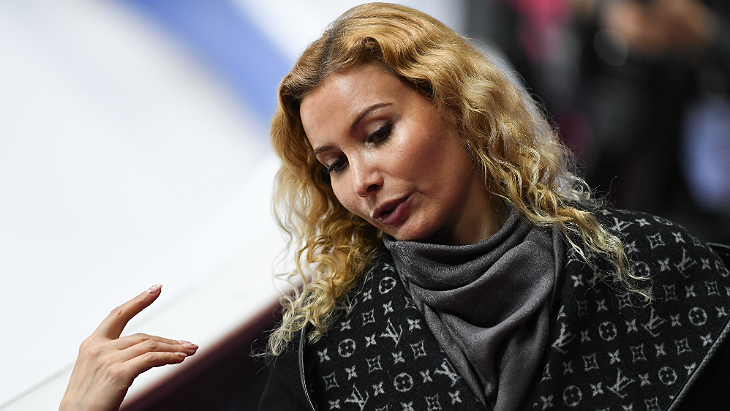 Please explain to us why champions one after another come from your Sambo 70 figure skating school?
– Many people say that the best and most capable skaters gather at the Sambo 70 school. However, I must say that athletes who have already known success rarely come here. Here girls grow up into a successful skaters.
Personally, most of all I like to take athletes who are "close to despair".
Why? Because it is such "desperate" skaters who seriously want to change their lives, who work with amazing seriousness.
And what is the secret of bringing up the spirit and strength of athletes who were close to despair?
– Probably this secret is me (laughs). My colleagues and I have been training elite athletes for many years in a team environment. All my skaters are different people. Each has her own features. For example, Sasha Trusova loves to fight with records. From ordinary tasks she gets bored, so I always set her bigger goals.
By what criteria do you select athletes?
– All skaters who come to me, I immediately lead to the ice. There, my inner feeling tells me a solution. If I don't feel any kind of "bell" in me, then most likely I will not take another athlete. And looking at the girl who skates, I begin to ask myself the questions: "Can I love her?", "Can I understand her?" And according to the answers, I decide whether to take the new skater in my team or not.
Your skaters literally occupied the podium at the Last year's Grand Prix Final and at the European Championships. Do you feel satisfied as a coach?
– No, I'm not satisfied. Because none of them managed to skate both programs without my comments. One of the reasons is that in the conditions of a busy training regimen my girls do not have enough time to prepare these programs.
But the Eteri team took all the awards – gold, silver and bronze. Kostornaia, Trusova, Shcherbakova. Please tell us about the strengths of each of these athletes.
– They are all different. For example, Sasha (Trusova) has the character closer to the male. She is completely unhappy with her skating. Alena (Kostornaia) is a real girl with a girlish character. She cries and gets angry with herself. And Anya (Shcherbakova) loves figure skating more than anything else.
I still do not fully understand how my girls will develop and grow as athletes. Now they need to get used to concepts such as "name" and "sports authority". This means that they need to learn to win and win medals regularly, as a consistent athlete should do.
As for the "queen" Zagitova, then from the very beginning I did not see an exceptional talent in her.
What was your impression of Alina Zagitova when you first meet?
– At first, I thought that she was "good material" to turn into a strong skater later. It was immediately noticeable.
In addition, I immediately felt that this girl wants to understand me. Therefore, I immediately said yes to her.
At the current stage, we all perceive her as "special".
How old was she then?
– Now I don't remember exactly. I think about 12.
What was Alina like then? Was her talent obvious then?
– At first, I did not have the feeling that Alina had ingenious abilities. She had awarage skating, and she probably had only loop in her jumping arsenal.
However, in her eyes I could read a prayer: "Help me." At that time, she was just in such a state of "despair".
That is, you didn't find any special talent in her then?
– What can I say? She was very pretty, very flexible.
They say there was a time when you expelled her from the group. Could you talk about the reasons?
– There was a period when Alina, having got into my team, apparently began to think: "Sooner or later, I will become a star. I can calm down. " She began to devote a lot of time to everyday and ordinary life. Apparently, she really calmed down.
In such periods, the athlete ceases to develop all the best in himself, he ceases to challenge himself.
If the skater herself does not give all her strength to her athletic growth, then she will not achieve anything big. And if she does not understand the coach's warnings, then the day may come when she will be told: "Goodbye."
What is the philosophy of your work as a coach? What is your main motto?
– I cannot tell you specifically. Sometimes, suddenly, under the influence of some conditions, you begin to make every effort to ensure that this day becomes the most useful for the athlete. "Living the days with the maximum benefit for business." "To give every particular day all your strength." "Leave nothing for tomorrow which can be done today." This is the philosophy of my work.
Related topics: Alena Kostornaia, Alexandra Trusova, Alina Zagitova, Anna Shcherbakova, Eteri Tutberidze