Elizaveta Nugumanova: "Everything is fair in figure skating"
Posted on 2021-08-31 • 2 comments
Interview with Elizaveta Nugumanova who placed six at the Russian Nationals (3d among senior athletes). About progress, new programs, plans for the future and social networks.
source: championat.com dd. 30th August 2021, by Yana Levhina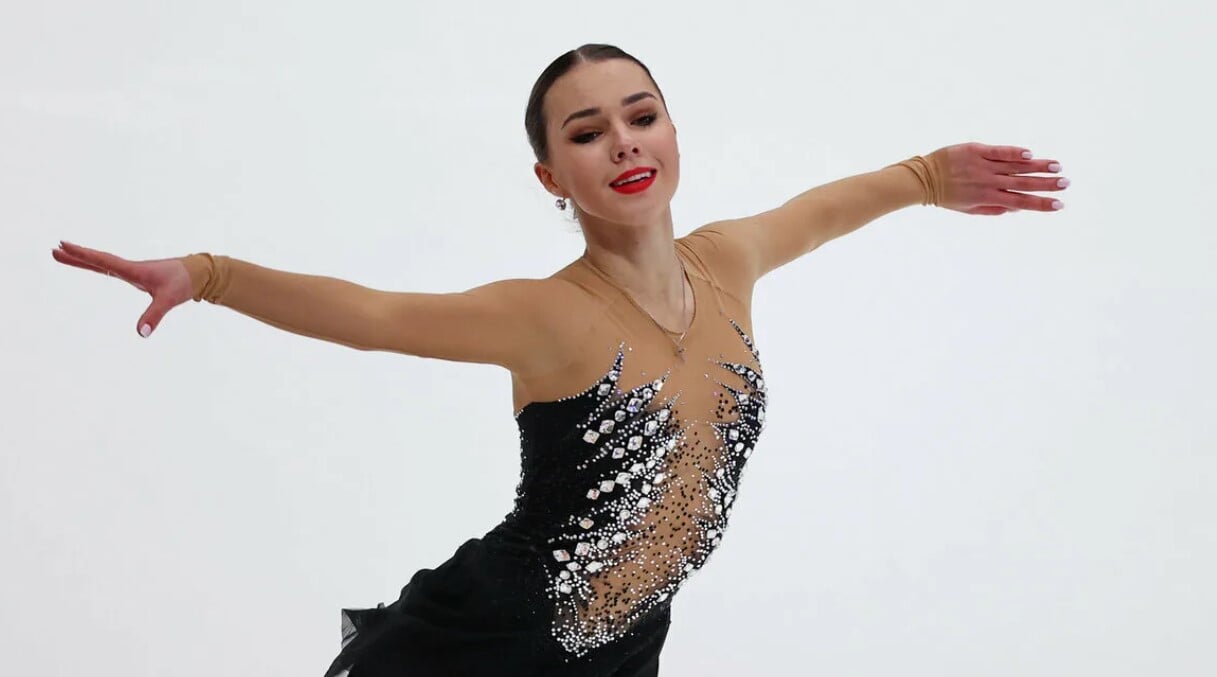 Elizaveta, last season was very busy for you. Did you have a chance to get a break from figure skating and rest?
Elizaveta Nugumanova: Yes, my mother and I went to Dubai. I haven't been to the sea for a long time, so I'm happy that I managed to go on vacation. Due to the exams, I started preparing for the season a little later than usual, but there was enough time. In general, the off-season went well.
Fans and journalists did not have the opportunity to see test skates in St. Petersburg. Are you satisfied with your performance?
Elizaveta Nugumanova: I skated well at the closed test skates in St. Petersburg. I have a new free program. For now, I will not disclose all the details, because test skates of the Russian national team in Chelyabinsk is ahead.
And why did you decide to keep the short program for the second season, and not the free program, which fans liked very much?
Elizaveta Nugumanova: The short program is more classic. My coaches thinks it suits me more, so we decided to keep it. And I really like it too. I also loved the free program, but the coaches decided to change it. I like all my programs, but not everything always depends on me. We always decide everything together with the coaches.
Can you give a hint what your new free program will be like?
Elizaveta Nugumanova: I have a very unusual program. Probably, no one has ever skated this. I am really looking forward to the test skates of the national team, because they will be shown on Channel One, and everyone will see it. For now, I want to keep a little intrigue.
Did you manage to complicate the content over the offseason?
Elizaveta Nugumanova: Yes, a little bit, but I can't reveal all the secrets yet. We made the free program a little more difficult.
Last season you said that you are working on the quadruple salchow. Is there any progress?
Elizaveta Nugumanova: I cannot answer this question yet. We train and work. I hope I can surprise you at the competitions.
Coach Anna Tsareva said that "with no quads is just tourism." Do you agree with such a statement?
Elizaveta Nugumanova: I disagree. Alina Zagitova won the Olympic Games without quadruple jumps, Zhenya Medvedeva took second place without quadruple jumps, and third place was without quadruples. If we say so, why then do we have Olympic medalists without quads? I don't think so, because many girls skate very well and take high places without quads.
You entered the reserve of the Russian national team, but did not get the Grand Prix. Don't you think this is unfair?
Elizaveta Nugumanova: Of course, I would like to compete at the Grand Prix, but the ISU is in charge of the assigning process, and it does everything fairly. Everything is fair in figure skating. The Grand Prix assignments are ​​influenced by many factors: season best, world standing. Last year I performed at the Grand Prix in Moscow and skated well. But, apparently, I lacked something. However, I really hope that I will be allowed to perform at the home stage, because there is a free spot.
What does the skater gets from being in the reserve of the Russian national team? How profitable is it financially?
Elizaveta Nugumanova: In my life, only my status has changed, now I am an athlete of the Russian national team. This motivates to move forward. But, if we talk about the financial component, then nothing has changed for me. I have been in the main team and in the reserve, and nothing has changed for me. They give us vitamins, skates, and pay for the dress. As long as I skate, nothing has changed for me.
Now they often talk about seven candidates for three Olympic spots, but you are not included in this list. Does it offend?
Elizaveta Nugumanova: I am not offended at all by anything that is written on the Internet, to be honest. In principle, it is difficult to hurt me, even if they say something bad. I listen to few people, only close people who are involved in my career, and judges.
Your photos from a vacation in Dubai "blew" Instagram. Some media even called you the sex symbol of Russian figure skating. Were you surprised by this excitement?
Elizaveta Nugumanova: I rarely post photos. I was on vacation and posted a couple of photos and everyone immediately reacted on them (laughs). It was so weird. Of course it's nice that people like it, leave positive comments, but in general I don't even know how to react on this.
However, some fans found these photos too candid. Were there many dissatisfied comments on Instagram? How do you react?
Elizaveta Nugumanova: I remember that I once post a video to Timati's song, and then they also wrote bad comments to me. It seems to me that people are just behaving very strangely, because there is nothing in these videos and photos. These are just photos from vacations, I did not want to show myself somehow, I was just on vacation. There were a lot of comments, people also wrote in direct. But I take it calmly. They can write thousand messages if they want, it won't bother me at all.
During their sports career, figure skaters often have a closed lifestyle and almost abandon social networks. You, on the contrary, are quite active in using networks. Why do you want to share your life online?
Elizaveta Nugumanova: In fact, I do not post my whole life on Instagram, only a small part. I still have a lot of interesting things in my life, I just can't show it to people yet. I really like to have Instagram, go there and see beautiful photos. I've always loved making beautiful videos. When Channel One is shooting, I always ask them to send me videos so that I can edit and upload them.
Why can't you share everything on social networks?
Elizaveta Nugumanova: At the moment, I do not consider it necessary. I'll start later. But so far I can't even hint what this is connected with (smiles).
Do you plan to develop your personal brand in social networks?
Elizaveta Nugumanova: Of course, but so far I live in sports. Every day I alternate between training and rest. So far, my life consists of this. I even began to post less videos, or something in social networks, because after training I no longer have the strength to do this. But I will continue doing this when I have more free time. When I'm done with sports, I will be active on social networks and I will be such a social girl (laughs).
Videos of you rolleskating often appear on your TikTok. Have no desire to try yourself in roller sports?
Elizaveta Nugumanova: No, it's very hard, I think. I have semi-professional rollerskates, and I have no idea how people jump on them – they are so heavy. How you can spin on them, for me it seems completely unreal. When you just skate then yes, the sensations are almost the same. But to perform some elements – for me this is from the category of the impossible. Maybe it seems so, because I just do not know how, but it is very difficult. If you fall, you fall to the floor, in figure skating at least you slip a little. Therefore, I do not risk, for me it is just a rest. I definitely don't plan to do this professionally.
You are a rare example of a skater who is in demand from brands and sponsors even without big titles. What do you think attracts them?
Elizaveta Nugumanova: I think my appearance. I think this is the most important thing for such a partnership. So far my main cooperation is Mercedes-Benz "Star of the Neva". I also work with sports brands SPSM, Born to be. And I would really like to work with Victoria's Secret. I collaborated with them once on Instagram, but I would like to become their ambassador. I also dream of working with Tiffany or Cartier.
You said you wanted to become a TV journalist. Have you already decided where you will study?
Elizaveta Nugumanova: This year I took the exams, and I plan to enter the university next year. But now I have plans that I would very much like to carry out, so I'm still thinking. In any case, in Russia, I will go to Moscow State University: either for television journalism or for public administration. And then … I won't speak yet (laughs). I will study in two universities.
Last season, after the Russian Cup FInal, you had complaints against the judging. Are there any fears that in the Olympic season you will be hold in points again?
Elizaveta Nugumanova: I do not think about it. I'm just trying to show what I can. Everyone can see that I'm trying. So be it as it may.
How to stay motivated in an environment where you are not always appreciated?
Elizaveta Nugumanova: Honestly, I don't know. I somehow manage to move on. My whole family watches me on TV, everyone loves how I skate. I always skate for my family, for people who love me. And I like to bring joy to people with my skating. I am motivated by the fact that people write me good comments and support. It's always nice when you skate and they look at you. Not every person is shown on Channel One (smiles). I skate for mom, for dad, for grandparents. They love me even if I make mistakes.
You said that at the age of 19, figure skaters usually leave the sport, but you are still holding on. How long are you ready to hold on?
Elizaveta Nugumanova: Oh, I don't even know (laughs). So far everything is good, I skate. Let's see what will happen next. I can't say how much more time I'm ready to devote to figure skating. At the moment, this is my whole life. I give myself completely to this sport. I don't go to study in order to skate and hold on as long as possible, because I like it. I don't want to leave it yet.
Related topics: Elizaveta Nugumanova
2 Responses to "Elizaveta Nugumanova: "Everything is fair in figure skating""