Elizabet Tursynbaeva's mother "Representing not a skating country on the world stage … it's hell. No judges, no technical controllers, no behind-the-scenes support at all."
Posted on 2021-09-28 • 2 comments
Elizabet Tursynbaeva's mother – Padishahan Sultanalieva speaks very openly about her daughter career, compares representing Kazahstan vs representing Russia, training with Eteri Tutberidze and also about injury prevented to contnue skating.
source: matchtv.ru dd. 25th September 2021, by Maria-Tchernysheva-Melnik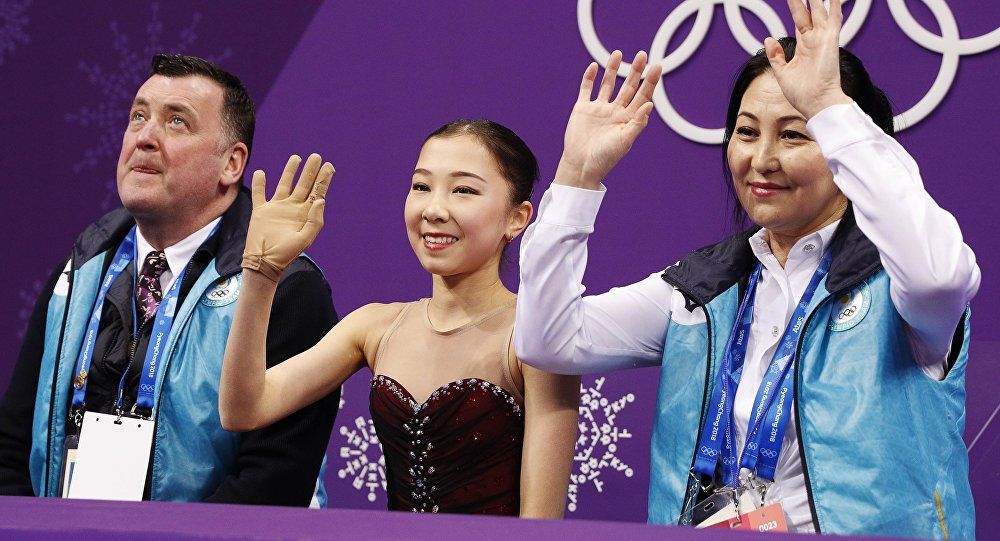 How did you participate in your daughter's sports life?
Padishahan Sultanalieva: Believe it or not, I haven't missed a single workout in her entire career. Ran there in between work. I have such a job that I can do it remotely. Back at university in 1995, we were taught to make capital on stock exchanges. Who would have thought that a pandemic would increase the demand for remote work? And even then the professors told us how important it is to be able to earn money while sitting at home. The professor of higher mathematics warned: sooner or later the world will come to this.
In general, I understand jumps, spins and other technical details. For so many years of live observations! I reread a lot of figure skating books and textbooks.
Many parents of athletes often find it difficult to watch their child perform live …
Padishahan Sultanalieva: On the contrary, it's hard for me not to watch. I went to the board, often stood next to the coaches. Sometimes I took my daughter to competitions myself when her coaches could not. In Canada, for example, when Brian Orser was busy with other skaters. We sat together in the kiss and cry and waited for the scores, cheered each other. I don't understand how you can avoid the happiness of seeing your child performing. It's the world's best adrenaline.
At the 2019 World Championships, Elizabet did a quadruple Salchow and became the first woman to jump it at the senior international competitions. What did you feel at the moment?
Padishahan Sultanalieva: I remember how the day before the free program, Eliza came sad after a training session. She had a heavy heart. I said: "Daughter, tomorrow you will go out on the ice, and everything will be fine!" She was very worried, because she was the last to perform and had been waiting for her performance for a long time. But the coaches got it right internally, and she did everything she wanted on the ice. When Eliza landed the quadruple Salchow, I calmed down and then only prayed.
Thank God she managed to make a historic jump! In time! Indeed, in today's women's skating, they manage to win the main medals at the age of 15-17, and then most of the girls cannot withstand the competition and leave. Let's see who will show a quadruple in competitions after 19 years old. By the way, Eliza, at the age of 12, tried a triple axel under the guidance of Eteri Tutberidze. But in the last season, the coaches bet on Salchow, decided to postpone the Axel. Then they resumed their attempts, but injuries started and a belated transitional age.
What were the emotions from the silver at the World Championships?
Padishahan Sultanalieva: When Eliza landed the last jump, I went into the under-stands and covered my ears. The energy of the moment was so powerful that I was afraid to look at the scores. Then Alexei Nikolaevich Mishin came up and said that my daughter had won a medal. That evening, our entire team was incredibly happy and proud. No so much of a medal, but an achievement: how many years did the stars, starting with Miki Ando, try to make the quad jump? And Lisa did it, and at the main competitions of the season. It's history!
What kind of injury happened?
Padishahan Sultanalieva: Long-standing problem has aggravated- an extra incomplete spine. This is from birth. My daughter did not initially have to go to sports, since she was born premature and was sick a lot. We took her to the skating rink to improve her health and give her happy emotions. But soon we saw that Lisa could not live without sports. The back injury was chronic and often bothered her during loads. It does not appear in one moment, but gradually. Imagine what an enormous load Eliza had on her back for the sake of a quadruple! She trained it from time to time, so the aggravation began. Well, at least it happened after the World Championships, when all the sacrifices had been paid off.
Were you initially determined to return to the sport? Or did you immediately realize that the injury would not allow to return to previous shape?
Padishahan Sultanalieva: We were serious about health and believed in success. Eliza went to German doctors for treatment. She trained often, but in a light mode. She also skated and jumped in the show. However, the back still did not let go. At the end of the summer, it became clear that this was the end, and the whole family made the final decision. The daughter went with flowers to her native ice rink and thanked the coaches for everything they gave her.
How did you and your husband support Eliza during this difficult period?
Padishahan Sultanalieva: To be honest, we are very glad that Lisa finished skating. She freed her body from suffering and finally took up a full-fledged study. My daughter herself entered the MGIMO and got a scholarship.
In the family, we are fine with changes. How many of them were there – moving to the other side of the world, conquering a big city alone, doing business from scratch, recovering from injuries … When the sport ended, do you know how great it is? Many acquaintances have recently asked: "How are you going through this?" But we have a holiday! One stage of life in the past, and now we are embarking on a new path. Never dramatize the situation – this is how I raised my children.
In general, can you say that you are satisfied with your daughter's career in sports?
Padishahan Sultanalieva: Of course, because she is the first Kazakhstani femail figure skater to take part in the Olympics. She is the first woman in the world to perform a quadruple jump at the international competitions. The whole world knows that a Kazakh woman did it. We owe our success to the Russian mentality and coaches. I am very happy of every day I took Eliza to the ice. Together with her I experienced her every small achievement and failure, victory after trials.
Your daughter has worked with several world famous coaches. Describe each of them.
Padishahan Sultanalieva: Our first coach is Irina Borisovna Strakhova, we trained with her for five years. She is the best coach for children! Then for six months we worked with Svetlana Sokolovskaya. She is very friendly and attentive. We had to leave CSKA due to problems with funding from Kazakhstan, and we went to Eteri Tutberidze with an eye to represent Russia. We learned all the triple jumps with her and got into the national team.
Do you remember your first meeting with Eteri Georgievna?
Padishahan Sultanalieva: Eliza took part in the competitions for the prizes of Irina Rodnina. Eteri Georgievna's daughter also participated there. After the performances, we sat in the same room, but I knew very few people outside of the previous sports school. I see a beautiful woman in white clothes sitting beside Diana. I borrowed a towel from her to dry the skates. Eliza says to me: "Mom, this is Eteri Georgievna, coach." I answer: "Oh, God himself sent her to us." We just thought where to go after CSKA. We agreed with Eteri Georgievna about try-out. Eteri Georgievna liked Eliza very much, and joint work began.
You have lived in Canada for four years. What are the first memories of that period that come to mind?
Padishahan Sultanalieva: We had almost a resort in Toronto: an elite club, talented and experienced coaches, heavenly conditions. You choose what time to come on the ice, do it yourself or with anyone you want. Brian Orser is the kindest person in the world, he never raised his voice to anyone.
But, you know, Elise lacked something for high places in major competitions. In that paradise, no one was responsible for her result. Success can be achieved only if the skater, coaches and the entire team of the country are rooting for the result. And we did not have a number of representatives of the federation of Kazakhstan, as in "Khrustalny". Liza kept jumping everything, but there was the problem of lack of protection. The judges did not accept my daughter, because no one was behind her. As a result, we almost "fell asleep" in Canada. Yes, there were small victories, medals, but nothing big. We lacked the tough discipline and hard work that our character was accustomed to. In Toronto, I learned how to relax – you sip your coffee leisurely and look through the glass wall at the ice where your child is skating. It's nice, but it doesn't bring a medal.
Are you in touch with Brian Orser?
Padishahan Sultanalieva: Of course, we always hug each other when we meet, congratulate each other on holidays and victories. We parted with Brian friendly – with great gratitude for everything. I think the return to "Khrustalny" is a natural process that would have happened anyway sooner or later. After all, we often came to Moscow to renew our Canadian visa. While bureaucratic issues were being solved, my daughter had to keep fit. We went to different skating rinks. Nina Mikhailovna Moser helped a lot: she always let us on her ice free of charge. She said: "If it doesn't work out in the singles, come to me in pairs!" Eliza skated with Tarasova and Morozov, Zabiyako and Enbert, Volosozhar and Trankov. Tatiana Anatolievna Tarasova also believed that my daughter could have achieved more success in pair skating. We also went to other skating rinks, in the end we felt: stop wandering. Intuition suggested that it was time to return under the wing of Eteri Tutberidze.
Compare Eteri Tutberidze in 2012 and now, when the whole world knows her.
Padishahan Sultanalieva: Absolutely the same, loving honest and open people. It is important for her that the athlete answers any question as it is. And she behaves the same way with people. Eteri Georgievna has such freedom in her soul! She appreciates her work, treats everyone fairly and helps to fight. There were many parents who did not understand her at some point and left the group. And then they regretted it. I also did the wrong thing at the time. Our coach is also very punctual – in so many years of acquaintance I have never seen her be late for training.
Did you and Elizabeth decide to skate for Kazakhstan at the so-called call of the ancestors?
Padishahan Sultanalieva: You could say that. My husband and I also thought that this would speed up the path to the main competitions for our child. But now I regret that decision so much! We did not foresee the difficulties of skating for a country where there is no figure skating. When the country you represent is not appreciated as a skating country on the world stage … it's hell. No judges, no technical controllers, no behind-the-scenes support at all. Countries that have been fighting for leadership for centuries, has everything set for victory. They stand up for their athletes and work with the judges. Big sport is equal to big politics. I realized this only in the process, when it was too late. If my grandchildren want to become skaters, I will definitely tell them to skate only for Russia. Taking into account our mistakes, and if the situation in Kazakhstan does not change. But I want to emphasize that this is exclusively my opinion.
Doesn't the huge queue of skaters for three quotas (even within the same group) scare you?
Padishahan Sultanalieva: This is exactly what you need. No competition – no figure skating as a sport. Eliza's success at the World Championships happened due to the atmosphere in Eteri Georgievna's group. Previously, my daughter took the 9-11th places with clean skates. I am sure that we should have stayed in the Russian national team. Of course, there are some difficulties, but we would have achieved success faster.
I even apologized to Eliza for that mistake of mine. She was a teenager and silently agreed. The fact that my daughter did not win an Olympic medal is my fault. Today, when I admit my mistake, life is much easier. In any case, we are grateful to the National Olympic Committee of Kazakhstan for funding the performances of our daughter for many years, and to the Nursultan Nazarbayev Foundation for filming films about her.
How are things with figure skating in Kazakhstan now?
Padishahan Sultanalieva: There are many skating rinks and coaches, but it cannot be compared with Moscow. There are three skating rinks in Astana, but there are few serious training. Everyone is trying, but the level is very low. You see, the mentality is different: there is not enough discipline and parents who would put their hearts into the athletic growth of their children. They believe that they brought their child to the club, and the coach will work magic, and the child will immediately become a champion. And this does not happen so – you need to help children, instruct, take them to additional classes with choreographers, organize living conditions.
Elite sports in Central Asia are wrestling and karate. They are taken seriously, but winter sports are not perceived that way. If you scold children, they go to complain to the management. It seems from the outside that Asian children are all so submissive. And in Russia when the coach scolded my child, I always said that you need to listen to the coach and fulfill the requirements. That everything is for your good, there is no place for whims.
When Elizabeth won the silver medal at the World Championships, I remember the commentator said with a grin that now Kazakhstan has three quotas in women's skating, but it is unlikely that there will be so many skaters there.
Padishahan Sultanalieva: I am also surprised, but they are. This year, when we were preparing for the competitions for the prizes of Elizabeth Tursynbayeva, we received several hundred applications. We have chosen two hundred. Probably, the boom has gone thanks to the victories of Denis Ten and my daughter. Many children started to skate, they perform triple jumps. They go on internships to different countries, including to Russian coaches. And there are worthy coaches in Kazakhstan. But there is no enough willpower to become famous in big sports. There are many figure skaters at the national championship, but they do not reach the technical minimum, which gives the right to compete in international events.
What is your daughter doing now? What are her plans for the future?
Padishahan Sultanalieva: Eliza studies at the MGIMO Department of International Journalism. She studied for a year and took an academic leave for the Olympics. And now, since she finished with the sports, it's time to return to study. She will continue to study full-time, she likes everything at the university. She also entered the sports academy. Now he works a lot – trains children in Kazakhstan and soon will open an ice academy of her own name there, will raise the level of figure skating in the republic. She also spends time for her hobbies – playing the violin and piano, singing, writing poetry. She plans to skate a little in the show during the holidays, if she is invited and she is in shape.
I advise Eliza to think about her leisure time. I say: "Turn into a girl, go to the cinema, meet with your friends more often and just relax!" She deserved it after so many years of hard work. I will not undertake to predict far into the future. The main thing is that my child has harmony in her soul. She realized herself in sports, set records and went down in the history of figure skating.
Related topics: Brian Orser, Elizabet Tursynbayeva, Eteri Tutberidze
2 Responses to "Elizabet Tursynbaeva's mother "Representing not a skating country on the world stage … it's hell. No judges, no technical controllers, no behind-the-scenes support at all.""