Elena Vaitsekhovskya: If I were Evgenia's agent, I would sue Edea company
Posted on 2020-01-05 • 1 comment
Russian journalist Elena Vaitsekhovskaya shared her opinion on the results of the Russian National Championships in ladies' single skating, as well as on the Evgenia Medvedeva'a withdrawal from the free program due to a broken skates.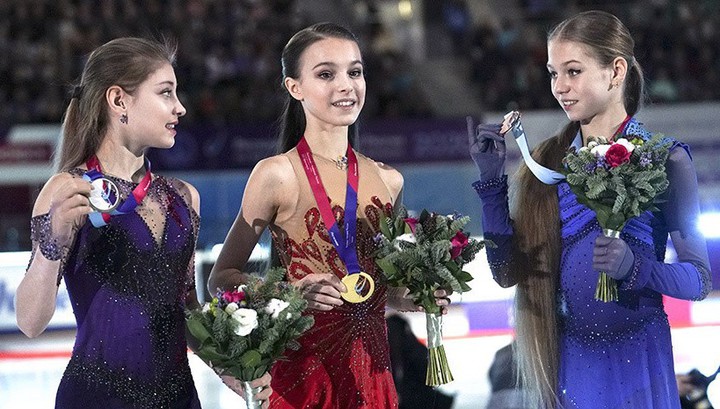 Elena Vaitsekhovskya: If I were Evgenia's agent, I would sue Edea company. Without this, the whole story is rather ambiguous, because it hits the reputation. No matter from wich side you look, it hits on reputation anyway.
I feel sorry for the girl Sasha Trusova. Unique girl. She is unique because, by and large, she does not need a coach-motivator. She is herself a motivator of a huge scale.
And she, as seems to me, most of all needs to be loved. To be cared, surrounded with tenderness and warmth. Then she will move mountains. Will beat anyone with her jumps, and this is the very case when she will really beat them regardless of the judges' favor.
In a different environment – she will fade and wither. She is an excitement girl. No excitement – quadruples will not help. It is impossible to jump quadruples in a withered state.
Therefore, it seems to me that Trusova in the current competitive reality "you are no better" feels most uncomfortable. She's in a league of her own, really.
Kostornaia is a different story. For me, by the effect on the public she's a reincarnation of Julia Lipnitskaya. The same diametrical difference between the angelic image on ice and the real person, and not in favor of the person.
On a different level, with different technique and, alas, with the only difference that Julia had her Olympics on time, and Alena was deprived of this chance a priori. If the Olympics happen for her, it will be at an end, with last ounce of strength, and this, as practice shows, isn't a good base to fight for the victory.
The elf girl Shcherbakova is a vivid example of a person who is loved regardless of the result (and in this case I don't man the coaching staff). You look at her and you see "I'm loved regardless of the result." Plus an amazing ability to compete, like Medvedeva in 2016.
Samw debatable skating, but the ability to fight overshadows everything. She is especially good when they do not bet on her.
And if you talk momentarily, all this is insanely interesting. For those who outside. And it's unlikely interesting for those who inside.
Related topics: Alena Kostornaia, Alexandra Trusova, Anna Shcherbakova, Evgenia Medvedeva, Russian Nationals
One response to "Elena Vaitsekhovskya: If I were Evgenia's agent, I would sue Edea company"