Elena Radionova: If Rika Kihira skates clean, then it will be impossible for anyone to beat her at Worlds
Posted on 2019-03-07 • No comments yet
Elena Radionova about her experience as commentator and upcoming World Championships 2019.
by Anatoli Samokhvalov for rsport.ria.ru dd.7th March, 2019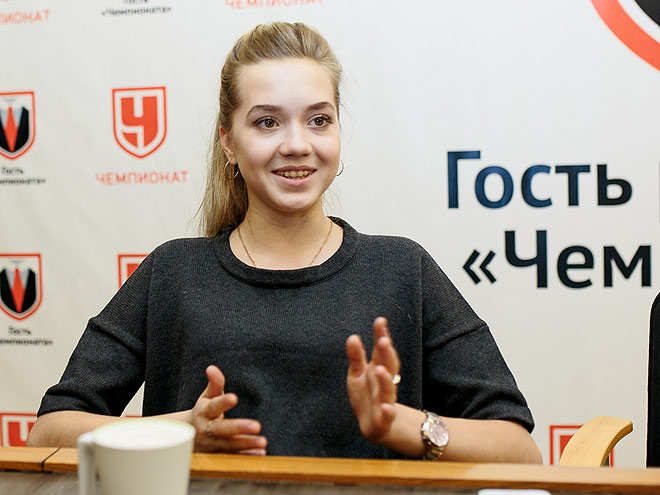 Elena, have you got used to the new role?
– Of commentator? Yes, but every time I am a bit nervous, because before the Universiade I have not commented for a long time. I had to comment the Russian Nationals and European championship, but it didn't work out because of the schedule. But I really like being a commentator.
Why?
– New emotions. I always love to try something new. You sit at the arena, look at the ice from above and feel this passions. I like to analyze the performances of the guys.
Did Tatiana Tarasova advised you: "Lena, do not be afraid to express your opinion"?
– I think I express my point of view on the air. If I do not like what I see, I say it. Although I'm not a strict commentator. I have something to learn from Tatiana Anatolyevna, because she does not just comment, but does it with a soul, very emotionally. Therefore, it is always interesting to listen.
Stanislava Konstantinova and Maria Sotskova will represent Russia at the Universiade. Both girls desperately fighted throughout the season, but quite unsuccessfully. What is it like to compete in a company of students and not to prepare for the World Championships?
– So far I haven't commented their performances yet, but I know that the Universiade will still be an experience for girls. I know that Stasya and Masha arrived in Krasnoyarsk with positive emotions. The Universiade is not just a competition, in any case it's a holiday, and at the same time a responsible one. Mini-Olympiad. I'm sure that neither Stasya nor Masha consider the Universiade as the last competition of the season, followed by a vacation. For them there is a holiday where they are determined to show their maximum.
Is it fair that Evgenia Medvedeva is going to the World Championships, and not Elizaveta Tuktamysheva?
– It is not for me to judge whether it is fair or not. There was the Russian Cup Final, which, as I understand it, was the selection criteria. But, in general, if we take the results of the season, then it seems to me that it would have been better to send Liza to the Worlds. But it is very difficult to judge. I understand Liza's state, she posts on social networks. Let me remind her quote: "There was still a little girl inside me who naively believed. You killed her." Therefore, I want to wish Liza patience and not to give up. I think that she will go through this and everything will be fine. This situation will make her stronger.
Is Zhenya improving?
– If we compare the beginning of the season, what was then, and the last competition, then of course she's improving.
Is it getting easier, more natural?
– She herself says that all her problems were more psychological than physical. I think Zhenya gained confidence, gained shape. Of course, she is getting better.
Is it real for her to win at Worlds?
– Honestly, I don't know. But, in my opinion, if Rika Kihira skates clean, then it will be impossible for anyone to beat her. Everything at this World Championships depends on Kihira. But if she makes mistakes, then someone can squeeze through.
At the same time, Kihira is also tries to secure and simplify the program. Deliberately makes the second axel double, not triple.
– Don't you think that, on the contrary, she has complicated her program, making the combination 3-3 at the end? In points it's no worse than having two triple axels. Maths. Of course, it's more spectacular when she jumps two axels, but mathematically one triple and another 3-3 combination in the second half of the program give her more options. But whatever option she chooses, it is impossible to beat her If she skates clean.
If we compare Medvedeva and Alina Zagitova's skating right now, then whose skating is more mature?
– I saw Zhenya in optimal shape only at the last competitions. I think, like everyone else. It's also hard to say what shape Alina has now. And it is impossible to conclude what shape they will have at Worlds.
European champion Sofia Samodurova, in your opinion, is she a good straight A's girl or a new star?
– I think she's gaining momentum. At the beginning of the season, she was a straight A's girl, but time passes and she adds confidence. Each time she feels more comfortable at competitions. If you recall the Grand Prix, then she was a very young girl who just came from juniors, and now Samodurova is an experienced athlete. At the European Championship I saw a really mature performance. And at the World Championship she will be even better. Sofia performs at such a high level and demonstrates phenomenal consistency. Since the beginning of the season, she has never fallen or made obvious mistakes.
But will her skating continue to be so consistent?
– I wouldn't make any conclusions about that. The World Championships is a special psychological pressure. She is the reigning European champion and understands that she can't fail. It's easier to reach for the result. Samodurova reached it very quickly. And now she stands at this level, which can not be lowered. It is much harder.
Nina Mozer in a recent interview told me that she was not interested in the Russian Nationals, since most skaters don't meet the modern requirements of skating – few people have the necessary lightness, airiness and skill of skating. Elena Radionova has never had such claims at any age. Whom do you like among current skaters?
– Alena Kostornaia. It is pleasant to look at her, because she merges with the music, has good skating skills. She just needs to move to senior skating smoothly, not to lose jumps. As far as I know, she has triple axel. I think someday she will show it at competitions. But it was interesting for me to watch Russian Nationals, as there were girls with mature adult skating, and juniors who intrigued by the question "will they make their quad or not?".
Many people say that the "mature skaters vs. juniors" it is wrong.
– Many. I myself was the same junior, who tried to reach seniors, and it was easy for me. Now I can understand both juniors and more mature girls, but their rivalry in one competition is very curious. We were very worried about Anna Shcherbakov, and when she did her quad lutz it was really an ornament of the Russian Nationals. It is interesting for me to look at Sasha Trusova, because she is young, her coaches will continue to improve her skating, she has everything ahead.
Related topics: Alina Zagitova, Elena Radionova, Elizaveta Tuktamysheva, Evgenia Medvedeva, Maria Sotskova, Rika Kihira, Stanislava Konstantinova