Elena Ilinykh: It's as rare, as a victory at the Olympic Games, to meet your man and not lose him
Posted on 2020-04-24 • 4 comments
Interview with Elena Ilinykh. About being a mother, relationships with Sergei Polunin, about Nikita Katsalapov and ice dance and Alexandra Trusova.
by Vasilii Konov for rsport.ria.ru dd. 23d April 2020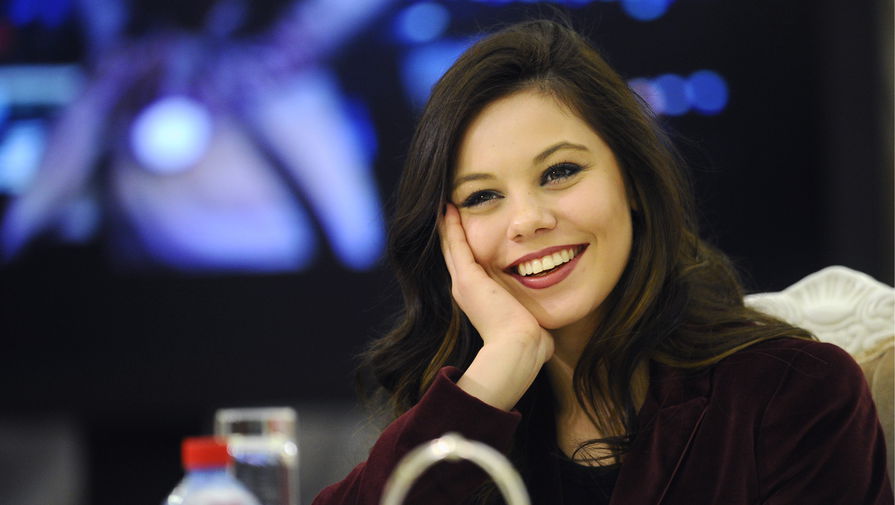 I remember how you told me that you would become parents. You just found out that you are expecting a baby, and your eyes burned so bright as they didn't bright after gold in Sochi!
Elena: Well, that's because I told you (laughs). At that moment I was so happy, you can't imagine! I had my own internal fears. I wanted a child and was afraid that something might not work out because of sport and the loads we had there. I thought that 25 years is a very good age to become a mother for the first time. Thank God, everything went well for me, fears remained fears, Seryozha and I have a child now and and this's the biggest real miracle, completely indescribable feelings. And at this stage of my life, of course, this's my most important victory. We told few people about this except for relatives and close ones, until the last moment we tried to protect this news from unnecessary attention. For the same reason, we did not immediately told about the birth of Mir.
Are you ready to repeat that shine? To have the second baby right after first!
Elena: Right after… I don't know, I was so happy that this happened. And, of course, I'm ready for this joy again, but children are from God, so as God willing. But I'm ready (laughs).
Turns out Mir has a Russian passport, American by the place of birth, and I heard that Seryozha would also like to think about Ukraine and Serbia because he has passports of these countries.
Elena: Ukrainian is already registered. And yes we will think about Serbian too.
Mir is a citizen of the world.
Elena: Yes, 100%! We have already laughed many times about this, the name obliges! Just yesterday I talked with my mom, and she says: "I read in his eyes that he should study at MGIMO." (Moscow State Institute of International Relations – ed.) I say: "Well, in principle, everything is ready for this" (laughs).
Wait, what MGIMO? You told me that the Mir has ballet feet!
Elena: Well, yes, definitely a ballet feet. And ballet arms. And, in principle, there will be all the makings of creative person, but Seryozha and I now start to think that two creative people in the family are enough (laughs). In fact, it's too early to think about it. We will listen, we will observe his development. Of course he's very smart child. He understands everything, feels everything, and develops very quickly. Like my mother I will try not to miss the moment when there will be more clarity, and try to find the right direction based on the development of the child.
Your romance with the ballet began long before Seryozha, because when you and Nikita (Katsalapov) did your Don Quixote, they sewed a tutu for you in the costume studio of the Bolshoi Theater.
Elena: Yes, exactly.
At that moment could you imagine that this is the beginning of your ballet story, which will lead you to Seryozha and onto the ballet stage after your career?
Elena: Of course not. Although ballet has always been in my life, not only the ballet costume studio. I always watched ballet with pleasure, all the possible performances, to look for some new lifts, new images, costumes. But at the same time I did not know anything about the dancer Sergei Polunin.
How is it possible? You've been to Bolshoi…
Elena: Well, Sergei did not dance in the Bolshoi.
He did! "Giselle" with Zakharova was wonderful.
Elena: But I didn't even know about Sergei as a ballet dancer at all! Maybe he danced there, but I haven't been on his performances there (laughs). By name I knew mainly girls, to my shame I knew little about boys. Never heard of Seryozha. But, as it turned out later, photos from his Spartacus were saved on my phone! It was my habit to save photos of costumes, lifts that impressed me. And when I flew to the premiere of Spartacus in Munich, where Serezha danced, and then we look through the photos on my phone and came across those same photos. Fate (smiles).
Well, if you and Dima Soloviev resume your career, one program is already clear.
Elena: When we planned to resume a career with Dima, we had slightly different plans for the free dance (laughs).
So, is a career resumption possible?
Elena: As for a career, it's very difficult to coordinate all this right now, to understand and realize all this. We really had a conversation with Dima, we discussed all it. When we began to skate with Dima, Katya Bobrova, she was pregnant at that moment, came to our first training session and showed me the elements, fragments of the program that they were preparing, suggested something, thank her so much for that! We worked out that piece from the program, which they had already skated, which Dima and I were preparing for the show. Katya taught me, showed me what to do. And she was already with a belly, and after the training she said – that's all, I'm going on maternity leave, now it's your turn.
Did you touched her belly?
Elena: Yes, she she let me (laughs).
Now everything is clear. She passed the baton.
Elena: (Laughs) I think so. At that moment, something clicked in my head. Inside, there was a feeling that wow, how cool, there is another life inside! And with Dima, everything went so well in the show. Surprisingly, we got along both in character and feeling on the ice, and began to talk a lot and realized that we have a chance to do what we haven't done in figure skating yet, haven't fulfilled in our careers, that we need to continue. Then we decided that after the show we would begin to work seriously. And so we finish with these shows, I'm flying to the already planned training camp with Julia Lipnitskaya…
As part of your and Julia's Academy work?
Elena: Yes, yes, yes, we are flying with the academy to a training camp in Mexico, and at that very moment we begin to communicate close with Seryozha, and we understand that that's all. This is my man, the one who was always needed. As Sergei tells, as soon as he saw me, he realized that we would be together. I have exactly the same thing. For the first time in my life, I felt such love and immediately reviewed all the values, realized that medals, sports, this is cool, but I had all this, but I didn't have family happiness with my beloved man. Before my eyes, there are examples of couples who, at some point moved away from a career in which they became successful and devoted themselves to family and to each other. Now they are already 70 years old, and people are insanely happy together, they have children, grandchildren, they are happy and still in love. And so I thought: why I don't have this, here he is, the one with whom I am ready to build all this right now! This, in fact, is as rare as a victory at the Olympic Games – to meet your man and not lose him.
Seryozha is a reference bad boy in the world of show business. The whole body in tattoos, and Putin on the chest, and completely wild behavior sometimes. And then you meet him for the first time face to face – did he scare you?
Elena: What? No! That's all I hoped for – to meet this bad boy and have a great time with him (laughs)! Now, at every opportunity, I struggle to explain that this is actually an image and a myth. Seryozha is not the person the Western media positioned him.
I was sure that you were born in Moscow, and what was my surprise …
Elena: I was born on the shore of the Caspian Sea, in Aktau (Kazakhstan), but I don't know the language.
By the way, have you been there since birth?
Elena: Yes, of course. My dad lives there, my grandmother and grandfather on my father's side. I came to them in Astana, now in Nur-Sultan, and the city has changed so much! I was told the story of how it was built, I really liked it.
It could have been Elena Ilinykh from Kazakhstan. And so far the world of figure skating knows only Elizabet Tursynbaeva.
Elena: Yes, a very good and talented girl. By the way, I'm pleased that they write about me in Kazakhstan, that yes she represents Russia, but this is our girl, she was born in Kazakhstan. My dad sent me texts from newspapers that they were proud of me at home, cheered at competitions, because consider me theirs. It is very pleasant and important for me.
Another surprise for me is that you, as they say, skated with Ivan Bukin …
Elena: Well, no, let me already dispel this myth, I don't know where it came from. These are some unthinkable stories. I started in ice dance with Nikita Katsalapov. We both did singles in the group of Dubinskaia. Not in pair, but as single skaters, this is important. Videos of our performances are even available on YouTube. A little later, our mothers decided to put us in a pair, switch to ice dance and go to Ilya Averbukh and Irina Lobacheva's school. We were the very first students to come there. And on the very first day Nikita dropped me from the lift and I had a huge black eye. Well, after such a trial by fire we started to work as a pair (laughs). We skated a little at this school, then went to Alexander Zhulin. We took part in competitions, skated for a year, and then we had a short break up.
And you rushed to America to Zueva and Shpilband.
Elena: Yes, just after the first break, I left to America. But before that there were two months when I was still in Moscow. It is about these two months they say that I was skating with Vanya and left him. No, no and one more time no! Since I was temporarily left without a partner, we was looking. With Ivan we had only a try out. In my understanding, to be a pair is at least to perform at least in one competitions. I'll tell you more: we didn't have a single joint program with Bukin. We tried to skate together, tried to do different joint exercises. I repeat once again – these were just try outs, only two months. But there can be no talk of any joint partnership! At first, his dad coached us a little, then we were taken to a group of Svinin and Zhuk, but I remember very well that they did not take me seriously at that time. They had a strong group, and I was completely unnoticed there. And inside everything was boiling, I needed attention.
At that moment Igor Shpilband and Marina Zueva invited me. I don't remember how it happened, but I was taken to the United States. That's all. Vanya and I didn't take part in any competitions, we have never performed together. And in the end, I read that someone was offended by me, because I left Vanya, and we could have … We couldn't have anything! Then I was given to understand that I did not fit the role of Vanya's partner. No problems.
Listen, here you came to Zueva and Shpilband, and, in fact, got to the paradise of ice dances. They had all the best until Cizeron and Papadakis appeared. So you came there, and …
Elena: That was wow! Moreover, there were brother and sister Shibutani, very small pairs who later … there were Tanith Belbin and Benjamin Agosto, who are the oldest of this generation. Then Meryl Davis and Charlie White, Tessa and Scott, Chock and Bates. And there it was all that then developed for so many years. In general, it was an incredible experience; now it's even difficult for me to describe all this.
Cosmic level?
Elena: There really was a system-system. It is probably not good to reveal some inner secrets, but Marina in one team with Igor – it was something incredible.
And what did they have that we didn't?
Elena: The main thing is healthy competition: everyone is determined to work there, to win, and everyone is competing with each other every day. There was no sort of spoilage, which, it seems to me, Russian athletes have a little bit. There, hourly, or rather 45 minutes payment, and people going to these workouts for 45 minutes, gave everything they have, as if for the last time in their life. Because they pay for it themselves, and they know the value of this money and these precious minutes that they spend on ice. This is such a constant, everyday, every minute hard work, which ultimately brought results. Therefore, there are such cool athletes there.
One of the most popular questions: Does Ilinykh communicate with Katsalapov?
Elena: Well, I can't say that we communicate, because we both have a completely different life now. But we have a good relationships, we congratulate each other on holidays, Vika congratulated me on the birth of my child. It's not our problem that people come up with some kind of conflict between us and everyone sees the situation as he wants and not as it really is.
I cheer for Nikita, for their duo with Vika. There is no military action between us. I don't know why all this appeared at all. No one has ever talked about nasty things. Again, I am grateful to Nikita for becoming Olympic champions and bronze medalists in Sochi. I can't take offense at him in principle, because together we achieved the main thing in the career – Olympic gold and bronze. At that time, this was the main achievement of our lives.
Nikita chose a different path, and now strives to reach new goal that they set in the new team. I have different values, I walk my life's path. I had no offense at Nikita. Maybe there is some kind of internal, female bitterness, but this is solely my problem, and not the problem of our relations. And not the problem of the society who discuss this. Perhaps those who spread these rumors have some problem.
Can Nikita and Vika be the first in the world?
Elena: It seems to me that if any of ours can, it will be Nikita and Vika. They have already succeeded – at the European Championships where defeated the French. But they, it seems to me, lack some kind of risk, now everything is in safety mode. But they have already grown to such a level that they can show something wow, something supernova, something superinteresting. But for now, you know, we have some kind of rating: the French always win, but in order to defeat the already invincible, you need to do something extra, something that is not expected of you. Vika and Nikita have everything for this, but so far the French are invincible.
Now figure skating, like everything in world sports, is going through a difficult period – the World Championships has been canceled, respectively, there is no clear ending. By the next Worlds, everyone will be a year older, which can seriously affect ladies' single skating. How do you think was it right to cancel the Worlds, or should they have tried to hold it in October-November?
Elena: No, we have the whole season scheduled, everyone is getting ready for something. To wait and later don't have time to put programs? What is this for? It's very strange to skate same programs at two world championships. I think in this situation the decision is right, although it may be sad and difficult. But in principle, it concerns everyone now: performances, tours are canceled, and in general there are a lot of things, so now you need to think about safety and health, and only then about competitions.
You started as a single skater. If we imagine you in the group of Tutberidze, what do you think, would you succeed?
Elena: (Laughs) Yes, I think so. At one of the training camps we even watched some of my children's videos with Julia Lipnitskaya, and she joked that it's good that I switched to ice dance, otherwise we would compete in Sochi. She appreciated the technique of my double axel, which at that time was very cool for my age (laughs). Now, of course, the bar has already risen, but I always liked single skating. And I love the strict approach, this tough approach – this is just what I needed. Therefore, if I were in a group of Tutberidze, I am sure I would succeed under her guidance.
Which of the Tutberidze's skaters do you like the most?
Elena: Sasha Trusova. I'm a fan!
Why?
Elena: I don't know, she's so cool. I really like her. I always worry about her the most. Well, I appreciate the qualities of all the girls, they are all great, but for some reason I like Sasha the most. They are all incredibly cool, but, you know, when you single out a favorite for yourself, then this is without a chance for the rest. And my favorite there is Sasha! And she reminds me very much of Julia Lipnitskaya. I've been a fan of Yulia Lipnitskaya for a long time, I'm still watch her performances, and Sasha reminds Julia with her character.
I remember that two weeks after the birth of Mir, you told me that you should return with Dima Soloviev.
Elena: Yes.
Then you talked with Seryozha, and Seryozha convinced you that there is no need to return …
Elena: Not quite, in fact, Seryozha supports me in everything – in any decision I have, on the contrary, he tries as much as possible to ensure that my personal development is not dependent on him. I must decide myself, this puzzle must solve in my head. In the meantime, the thoughts are completely different. But while fate leads like this, although there is still a feeling inside that, damn it, and why not? There are no limits or restrictions.
Well, then nothing is impossible?
Elena: Sure. If I want to return, if I accept this challenge for myself, or if it strikes me in my head that I'm coming back, there are no limits. This means that I will go on the ice and will work hard, as always.
Related topics: Alexandra Stepanova Ivan Bukin, Alexandra Trusova, Elena Ilinykh, Victoria Sinitsina Nikita Katsalapov
4 Responses to "Elena Ilinykh: It's as rare, as a victory at the Olympic Games, to meet your man and not lose him"