Elena Buyanova: "Hanyu or Chen? My favorite is Chen. For now. But they are both absolutely brilliant athletes and can lose only themselves
Posted on 2022-02-01 • 4 comments
Interview with Elena Buyanova. About preparing Adelina Sotnikova for Sochi Olympics, upcoming Olympics in Beijing, team event and favorites to win.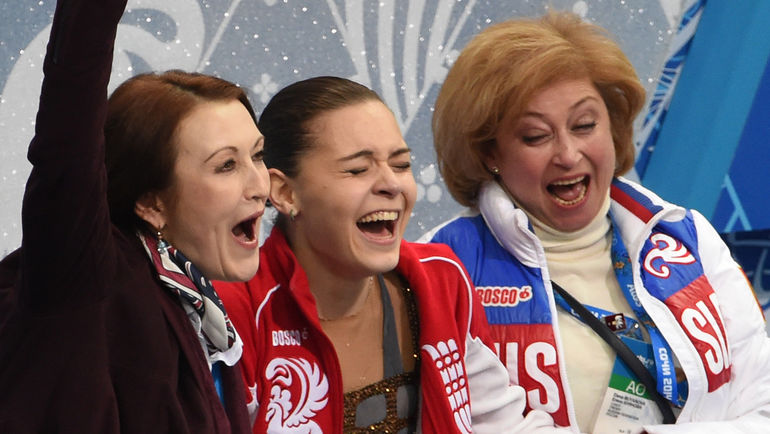 source: russian.rt.com dd. 31st January 2022 by Elena Vaitsekhovskaya
Victory of Adelina Sotnikova at the Sochi Olympics came as a surprise to everyone, although in training she often performed her programs clean. Her ex-coach Elena Buyanova told about this in an interview. According to her, one of the reasons for that success was the decision of the FFKKR not to put the athlete into the team event. The specialist said that it would be much easier for Kamila Valieva, Anna Shcherbakova and Alexandra Trusova at the Beijing Games than for their rivals, explained why, on the contrary, it is always more difficult for Mikhail Kolyada than for the others, and also admired the skating of Oksana Domnina and Yana Khokhlova in the show.
Before meeting with you, I talked with three-time Olympic champion Elena Vyalbe, who is now head of Russian cross-country skiing, and she said that she considers it right when an athlete knows long before which distances he will start at. For figure skaters, the program of the Games in Beijing opens with a team event, and the team will be announced at the last moment. Do you think this is right?
Elena Buyanova: If you remember how it was at the Games in Sochi, where the team event was held for the first time, I did not know until the last moment whether my athlete would compete or not. And neither of us knew. Then I was very nervous about this, although now, probably, I would have reacted differently. Still, then our team went to gold and everyone thought only about this event. Team event is pure mathematics. And by the way, it is not necessary that only leaders perform there. I think that now all the coaches understand this and react more calmly to many things. Although, of course, it is insanely hard not to know whether you will perform or not.
Before it became known that Mikhail Kolyada would not be able to fly to Beijing, there were quite active discussions about his Olympic prospects, including in the team event. And how would you personally answer the question: Kolyada or Kondratiuk?
Elena Buyanova: I cannot be completely objective in this question, since Mark is our athlete, he grew up in CSKA. But his advantages in comparison with anyone else are obvious to me.
Then start naming them.
Elena Buyanova: Firstly, the results of this season speak for themselves. Secondly, Mark is a very emotional athlete. His inspiration after winning the European Championships, I think, will play in his favor. And most importantly, he is a very team person. He had it even a year ago at the Channel One Cup. But I want to say that Kolyada is, of course, a big loss. Pulling out any competition is easier in a pair. And for Misha, in my opinion, it has always been more difficult than for others. He is a deeply responsible guy, he takes on a lot and worries a lot about it inside. Such a 100% St. Petersburg guy. If he took everything more calmly, it would help him.
The need to skate four programs at the Games, which Kondratiuk may face if he turns out to be the only male single skater in the team event, is this a test or usual working moment?
Elena Buyanova: At the Games in Sochi, we, the coaches, thought a lot about this. Eight years have passed, and, speaking specifically about Mark, I don't see any difficulties at all. In training, everyone skates a lot of programs, they are used to it. It's probably a little more difficult only for Nikita Katsalapov: a mature athlete, as a rule, needs more time to recover, especially if there were injuries.
According to the Olympic champion of Lillehammer Alexei Urmanov, the Olympic Games are competitions that stand apart from others, and even the great ones cannot always win: the psyche cannot withsand it. Personally, I tend to agree with this: Kurt Browning became the best at the world championships four times and lost twice at the Games as a champion. The six-time winner of the highest world achievements in speed skating, Igor Zhelezovsky, started eight times at different Olympic distances – and did not win a single time. The same Vyalbe won ten personal gold medals at the world championships, and at the Games in Albertville, Lillehammer and Nagano she won only in relay races …
Elena Buyanova: The Olympics – even this word is special, because the Games are held every four years. That is, the athlete subconsciously understands that he has been going to this event all his life. The same Liza Tuktamysheva, could she have imagined that she would skate for so many years, go through three Olympic cycles, win two world championships – and never get to the Games? Although in fact, in order to get into the team it was enough just to skate without mistakes. But the psychological stress each time turned out to be too high.
From this point of view, how is it more correct to lead an athlete to the Games?
Elena Buyanova: I'm not sure there's a recipe. When I was bringing Sotnikova to Sochi… If you remember, that season was simply terrifying.
In the Grand Prix Final, Adelina skated without six elements. In my opinion, she was going to finish with sports after that. I really didn't know what to do. You see, when a person fails some elements in the course of daily work, the coach always sees what needs to be changed, what to pay attention to.
But Sotnikova did not fail anything at all in training. But it was worth coming to the competition – and she began to fail element after element. We then worked a lot with a psychologist and, apparently, found some kind of the right spot, thanks to which everything began to get into the place for the European Championships: there Adelina already skated almost well. And she started to gain momentum.
And then you are thrown out of the team event …
Elena Buyanova: Oh, don't remind that. I lay in bed for two days, I could not forgive myself. This, again, is up to your question whether to tell the athlete something in advance or not. Then, after all, the team was announced – and I told Adelina that we were skating. And then they announced again – and everything changed. And only now I understand that that situation helped us. At first, it broke us into small pieces, both of us, and we slowly began to get out again.
And what are the advantages here?
Elena Buyanova: The fact that we experienced the worst before the event. After all, there was another shock when we were told that Adelina should come to the team event as a substitute. Can you imagine her condition? First, they throw you out as unnecessary, then they sort of picked you up, shook you off – sit there, girl, on the stands … It took me a lot of effort to convince Sotnikova that all these tests were only to her advantage. She arrived in Sochi, began to send me photos, and from them I realized that my athlete was starting to come back to life. After the team event, Adelina flew to Moscow in a completely different state. She felt that she was needed. Moreover, all the guys supported her very much.
After the team event in Sochi, all its participants had the opportunity to return home, not to be all the time in this Olympic atmosphere. In Beijing, as I understand it, skaters will not have such an opportunity. Is it hard?
Elena Buyanova: Hard. When you are at home, there is always the opportunity to work as you want. And when you are within the framework of general requirements, everything immediately becomes tougher. You came to training, you have 30 or 45 minutes, your competitors are skating nearby, the judges are sitting in the stands. In a word, official training. You can no longer afford to skate in a light mode – you must constantly be in good shape. It seems to me that in Beijing it will be a little easier for all our girls to adapt to this.
Why so?
Elena Buyanova: Our girls are special, all with steel characters, they work more then the others. Compared to how they train at home in the face of constant and very tough competition, any competition is not as stressful for them as for most athletes. But this does not mean that it will be easy for someone.
Fans are already discussing an option in which all three girls of Khrustalny will return from China as Olympic champions. It is absolutely realistic, by the way, if Anna Shcherbakova and Sasha Trusova are put in the "team event", and Kamila Valieva is in the "individual competitions".
Elena Buyanova: Here, I believe, this moment will be decided based on the interests of the team.
Do you believe that Valieva will perform at the next Games?
Elena Buyanova: If they raise the age minimum – she will, I think. After all, it depends only on the athlete whether she wants to skate further or not.
And whether the health allow …
Elena Buyanova: Desire is more important here. You will not say that the same Sotnikova after Sochi did not have enough physical capabilities, right? Or were they not enough for Zagitova? Neither of them have serious injuries, so what prevented them from continuing to skate. And I'll tell you.
After winning the Olympics, a new page in life opens for a person, he starts to think differently. There is money, new opportunities, invitations, and the fees are constantly growing. The athlete allows himself to plunge into this and at some point he realizes that he is not very ready to take a step back and start working again in training the way he did before.
I remember that Sotnikova had already begun to train, we put on excellent programs, we had a good test skates. Adelina even said, when the plan for the season was approved, what competitions she intended to prepare for. And the next day she went to the Ice Age. That's it, she did not have a goal to go further.
Do you still blame her for this?
Elena Buyanova: Not at all. This is a very difficult moment indeed. What can we, coaches, blame them for? They have reached their goal. We believe that they can do more, but must they? Perhaps they really can, but they certainly don't owe anyone.
I often think that when a person has some kind of story, you cheer for him in a completely different way. The same Zhenya Medvedeva, who lost in Pyeongchang, was much more interesting to the world than Zagitova. And more than Medvedeva herself two years earlier, when she started winning world championships.
Elena Buyanova: I also like it when there is a story behind a person. But what to do if now life and sport have changed do much? Another story, other concepts, and we also live in a different way. Maybe we would like to take something from there, from the past, but does anyone ask us?
On the other hand, I perfectly understand what you are talking about. I really like it when an athlete blossoms, becomes different. Like Oksana Domnina. I hope she won't be offended, but at the time when she performed, I sincerely did not understand what her dance coaches see in her. And now Oksana has revealed all the facets of her talent to such an extent that I was shocked what amazing artistic abilities were hiden in this girl. If she performed now, she would be the best among the best, as it seems to me. But it turns out that in sports she was never revealed? And Khokhlova? While the "Ice Age" was going on, I constantly told Tatiana Tarasova: "Find a partner for Yana, let her return to the sport!"
Returning to Sotnikova: she still tried to find motivation in herself, did she go to Evgeni Plushenko for a reason? Or did he lack coaching experience?
Elena Buyanova: Zhenya, it seems to me, really wanted to prove that he could make a result, and did not take into consideration that Adelina may not simply withstand it. And she got injured. Not every athlete can take such "physics", which even now Plushenko gives to athletes. I think Zhenya did a very good job with Trusova and gave her a lot. As a result, she has grown significantly. Another question is that psychologically Plushenko did not understand Sasha, as it seems to me. For such things, more coaching experience is needed. Trusova is a very difficult athlete in this regard.
In what sense?
Elena Buyanova: We once talked with her, and I asked her what she wants from figure skating. And Sasha answered so childishly, very touchingly: "I want to do my quads." You see, none of the skaters will ever say that. And for Sasha, "my quads" is her life, her favorite thing, she will not give them to anyone. That's the kind of girl we have.
I have a question about the Bolero, which you choreographed for Sotnikova in a short program in 2012. What was the point? What did it give the skater?
Elena Buyanova: "Bolero" is not for everyone. We had a goal – to create modern choreography that would allow us to develop the work of the arm and body, so that Sotnikova would grow up with this program, learn something new. And since Adelina is very "gliding", this music was very convenient for her. Since skaters were allowed to take music with vocals, the choice has become easier, by the way. Although not every vocals can be taken. For example, in "Turandot" the voice is absolutely wonderful, elevating. And there are those voices who kill both the skater and the program.
For example?
Elena Buyanova: Any classics with a strong performer, when the voice is more powerful than skating.
And no matter how the Bolero is performed, it is a golden classic of choreography.
After the European Championships, I even wrote that Bolero is a very dangerous program for a skater. If suddenly you fall, then you immediately leave the music and you can no longer catch up with it.
Elena Buyanova: When a skater falls, no matter how brilliant he is, any program stops to look great. Good performance or bad, but it always so.
If we talk about men's single skating, Yuzuru Hanyu or Nathan Chen?
Elena Buyanova: My favorite is Chen. For now.
What do you mean – for now?
Elena Buyanova: I will explain. Hanyu and Chen are two absolutely brilliant athletes, and I simply adore both of them. But the Olympics (we have already talked about this many times) is a different competition, special.
That is why Urmanov in his interview did not name either Hanyu or Chen as a possible champion of Beijing.
Elena Buyanova: Perhaps I agree with him. Here the question is not who skates better, but only whose psyche can withstand.
There is also Yuma Kagiyama, Shoma Uno, Vincent Zhou.
Elena Buyanova: Kagiyama is an absolutely unique guy, but still this is the next generation. He is not such an outstanding "skater" as Hanyu or Chen, but, we must pay tribute, he quickly becomes one of them – he develops in the right direction. It's just that it's still too early to talk about equal competition with Yuzuru or Nathan: these two athletes can lose only themselves. Zhou is also good at jumping his quads. But if Chen does everything…
…no Kagiyama or Zhou will be close?
Elena Buyanova: I'm afraid in this case, there may not be anyone near Nathan at all. But will the nerves be strong enogh?
It turns out that for Valieva, who does not know what the Olympic Games are, it will be easier in Beijing? Moreover, the judges have already sent her at such a colossal distance from the other.
Elena Buyanova: You know, Kamila is an absolutely unique girl. She does not boast at all that she wins by 25 points, she has no superiority in her relation to other athletes, although children, especially boys, often had such thing: they won something or jumped – and they are already in space. She just keeps working to get even better, and every time she goes on the ice, she competes with everyone again.
Is it character or upbringing?
Elena Buyanova: A lot comes from the family. Sometimes you want to break something in an athlete, change soamething, push-push, push-push, push… But it's impossible – he doesn't want to change, he doesn't understand that the result requires mutual efforts, no one will present you with a medal on a silver platter. I had such examples, and still have them. After all, what is sport? Somewhere you need to rest, somewhere – to push, somewhere – to grab your chance. And if a person is not accustomed to push at all. Nothing will help, he won't do it.
For some reason, I remembered how, a year before the Olympic Games in Rio de Janeiro, Amina Zaripova spoke about her athlete Rita Mamun, that this girl was created not for sports, but for the family. And I still, to confess, do not understand how Rita won the gold medal.
Elena Buyanova: And how did Sotnikova win? I understand people's surprise – an increase of 18 points. Where? And she just did everything – for the first time in her life. Never skated like that. Jumped lutz-loop, did everything else. Although I saw that she was ready for this, I did not expect that everything would work out so well for us. And who could have imagined before the start of the Games that Adelina would be the first? That's why it's so exciting now. After all, we have a really very strong team, people go there not just to compete, but to fight for gold. And I wish them all success and strength. I know too well how hard it is.
Related topics: Adelina Sotnikova, Elena Buyanova, Nathan Chen, Yuzuru Hanyu
4 Responses to "Elena Buyanova: "Hanyu or Chen? My favorite is Chen. For now. But they are both absolutely brilliant athletes and can lose only themselves"