Denis Ten: the champion is always the one who finds a golden mean
Posted on 2016-11-26 • No comments yet
Translation of Andrey Simonenko's interview with Denis Ten.
Denis, speaking about come back, do you have an understanding where you want to come back?
– Definitely, yes. Athlete is a character who lives on the script, which he chooses himself. When I started to do sports, my first motivation was the desire for self-development. When it started to turn out then came the thoughts about results. After the Olympic Games in Sochi, as I have said many times, I wasn't averse to try something else. But I found new resources in me and remained in the sport. In fact, I missed last season, although performed at some competitions. I was a little bit lost. And now I have an understanding for the sake of what I'm doing it and in which direction I'm moving.
Now this goal is the result or enjoying the process?
– I guess now I'm looking for the perfect balance. For many years I have been doing figure skating for someone or for something, today I try to enjoy what I do. But, of course, my main goal is Olympic Games, and all changes are related to this goal. For example, upgrade of my coaching team that led to an inner growth and a surge of fresh potential. At this stage of my life this surge is exactly what I needed.
What do you mean by 'for someone or for something'?
– For example, the fact that I have always performed not only for myself, but also for the whole Kazakhstan. I've had the extraordinary honor to be the first skater from Kazakhstan, who had a chance to win a medal at the World championships and Olympic Games. Become a symbol of figure skating in the country. After all, when I started to skate, we didn't have any conditions.
I told this story to members of the International Olympic Committee, when I presented an application of Almaty to host the Olympics 2022: in our country there were neither skating rinks, nor equipment. My first skates were so soft, that my dad cut plastic bottles and sew them inside the boots, to somehow strengthened them. To make them tougher so I could train my jumps. Now figure skating competitions are shown on TV, we have skating rinks, figure skating's groups are full of children,we have ice shows.
I think, the skater who won medals for Kazakhstan has some relation to this. I have always understood the responsibility. When I come home and talk with children, I see how they are trying to take me as an example. I can see how my skating inspires them. Actually, that's why I stayed in the sport after Sochi. I didn't want this rise of figure skating in Kazakhstan to stop. I knew I had to help this fire continue to burn.
You're like an ambassador of your country in the world of sports …
– Ambassador is probably a big word, we have people who have ambassadorial posts in diplomatic missions (Denis smiles). It just happened so that I was the first skater from Kazakhstan to win a medal at the World championships and Olympic Games. It's the merit of my parents and a fantastic team of coaches who have worked with me, but at the same time it's a series of unique events that made me who I am. It's hard to say that this was my mission, that I specifically planned everything to revive the figure skating in Kazakhstan. I haven't had such a purpose. But once it turned out, I took this responsibility, it become my motivation to continue my career.
How did Nikolai Morozov appeared in your coaching team.
– I came to Moscow to do a program for the ice show. Nikolai also was there. We have worked together a bit, we liked it and we agreed to continue cooperation and see what will happen. At the same time, I continue to work with American coach Frank Carroll, we met with him in Paris, and also with Canadian specialists. But most of the time I work with Nikolai, and he is a key link in my team. I'm very glad that in Paris we were able to achieve the goals that we set for ourselves preparing for the Grand Prix.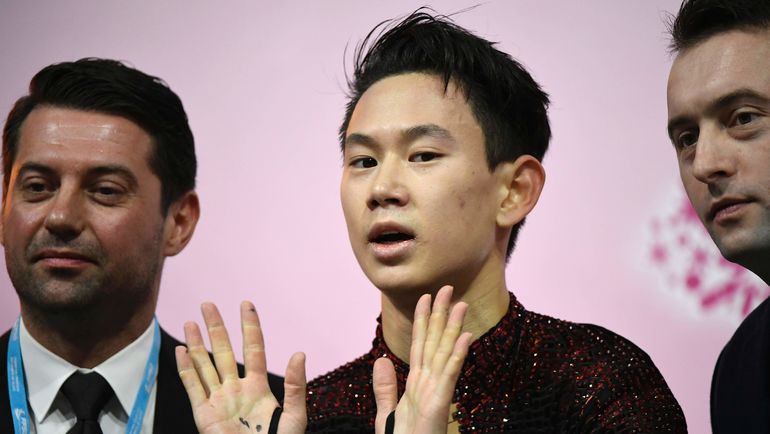 On what do you primarily work with Morozov?
– This is a great range of things. The previous season I had failed, the whole year I was injured. It would be more logical to miss the season, I performed, but in fact, I wasn't at the competitions. So we had to relearn a lot. I work a lot with a physical training coach, in the summer went to rehabilitation in India. I can even say, that now, when I skate, I use different muscles than before. Together, we try to keep me in the sport for the next two years, and in this regard Nikolai helped me a lot. We try to prevent me of doing some mistakes that would provoke other mistakes. You know when something doesn't turn out a professional athlete finds a way to adapt. And I've adapted to such an extend that in the end my body just "fell apart". That's why now I work in a different mode. I'm only 23 years old, but I've been competing at major tournaments since I was 15, so I think I've passed through a lot, and I think it's very important not to stop and continue to grow.
Now appear skaters who can do different quadruple jumps. Jin Bojan, Nathan Chen are the most striking examples. What do you think, does your way to gold goes through learning new quads?    
– In the long run, no one has another way. This is a new era in figure skating. Even if you look at the bodies of the new generation of skaters, they are very similar – appeared a new format of an athlete. It's great that there are such figures like Nathan, like Bojan and the same Yuzuru Hanyu, who move the sport forward. As for me, of course, I also try to keep up with the time, although, I don't see myself as a veteran. On the contrary, now I have my best period. This year, I have increased the "size" of my jumps.  I do everything that depends on me to progress in technical terms. But at the same time, I have something to offer from artistic point of view. I also want to develope in this part of skating. In Paris, I performed with one of the variations of my programs. By the end of the season they will change much. Now we're trying to find a good balance between technique and artistry. In fact, the champion is always the one who finds a golden mean.
You have worked with many coaches. Can you say that you gradually started to train yourself, that you understand what you need?
– Definitely, I have my own opinion and vision. In fact, I was lucky, in my career I have worked with such people as Tatiana Tarasova, Elena Germanovna Vodorezova, Frank Carroll, Lori Nichol, Shae-Lynn Bourne, Stephane Lambiel, now I work with Nikolai Morozov. They're outstanding experts and I took something from each and understood that every coach has a unique vision of sport. I was lucky that as an athlete I grew up in Russia, then in the United States I saw a completely different values of figure skating. Later, I came to the realization what European figure skating means. I don't know whether it's obvious for the viewers, but I, for example, can determined by the movement of the skater's blade, where he came from or where he trains. If we talk about the coaches, of course, with someone there you have disagreements and cooperation stops, and with someone you're on the same wavelength. With Nikolai I have the same vision for many things. But I must point out that: it's not always good for the athlete to be thinking.
Is it easier to follow the instructions of the coach and not to question yourself?
– It's all individually. Life always made me think a lot. I don't think there is one way to be successful, but I always liked thoughtful athletes. For example, my favorite football player is Thierry Henry, people call his a thinker. I enjoy tennis, because there are elements of the strategy, you have to think quickly. In tennis an athlete can't move as robot with memorized moves. I also like curling.
Chess on ice!
– Yes. But someone turns off the brain, when he works, and I can't say that this is the wrong approach. There were athletes, who became champions because they were smarter, but there were those who did their work without thinking – and also won.
Many athletes who train in America, say that there a major principle is to enjoy what you're doing. And we have a total control and continuous pressure – from coach, federation …Did you feel the difference when you moved to US?
– Of course I had to adapt. But it was easier for me, because in Russia I was a bit by myself. However, it's true that there's a completely different system in America. In Russia there's a unique support of sports. In Kazakhstan, there is something like that, and it's great – conditions when you can think only about sport. In America athletes are very independent. After the end of their careers, they don't become a coach, as it's common in the former Soviet Union, but they become an experts in very different areas.  For example, Emily Hughes works in "Google" Michelle Kwan in politics, Evan Lysacek works in real estate, Timothy Goebel is a lawyer, Joannie Rochette studies medicine. In US athlete always thinks how he manage his money, what he wants to get from the coach. This is a completely different mentality.
Except mentality, there's a point of view that coaches in US are not so strict as in Russia.
– Frank Carroll is quite strict. When I moved to him, he's already brought up an Olympic champion – Evan Lysacek, and for many years has worked successfully with Michelle Kwan. I was told that in that times he didn't look like a typical American coach. But, of course, I had to spend some time to adapt after moving to the United States – both in terms of training and life. First time my mother and I lived in some hotels, walked to practices through the streets, where were no sidewalks, because everyone has a car, and I think people looked at us with pity. The first season wasn't sucessful for me, but in the long run that experience gave me a lot.
The breakthrough was at the World Championships in Canadian London, where you almost beat Patrick Chan. Perhaps then came the feeling that everything wasn't in vain.
– I've always thought so: everything in sport happens in right time. Defeat and victory. I've always been lucky with this – from my childhood I was able to hit the "bull's-eye". Even when I was a child and played the piano, I've always played better on the exams than at home or rehearsals.
The Plus-start!
– I think this is a very important quality. And Canadian London certainly lived up to my expectations. It became the reason why I have dedicated my life to the sport, why my parents devoted their lifes to my career. That wasn't an easy times and it's still not easy. But when you see the result, you realize that it's all wasn't in vain.
Perhaps, the most important was to prove at Olympics that this rise was not accidental?
– Absolutely agree. You know, when you observe the events from the side, it's difficult to give an objective assessment. Therefore, when about my medal in London was said that it's random, I actually knew that I only start to reveal my full potential. And this despite the fact that at that time I was also struggling with injuries. In fact, I began to reach the maximum level only a year after Sochi, when I've recovered a bit. But this, perhaps, is the mystery of sports. You don't know who has this potential and when will be a flash. And then it's an art of an athlete and coach to make sure that it'll be a long video, not just one shot. And I'm very happy that with the efforts of my team we have managed to achieve a specific result – but now a new story begins.
Do you have plans what to do after the sports career?
– Yes, but they are constantly changing. New ideas, new ventures. Time will tell. Now I'm engaged in figure skating, I recovered, I work at the rink from morning till night. I return home in the evening and I understand that sport is a huge part of me. When I was injured, I often wondered how I'll remember the sport after 15 or 20 years of my life? And despite all the difficulties, I realized that love it very much and I will miss it. And now there is a new wave of love to what I do.  I can say that I will skate till the Olympics in Korea and maybe I'll continue to skate after it.