Daria Usacheva: "The first days after the injury, I felt guilty and upset that I lost the opportunity to get to the Grand Prix Final. But I want to compete this season and will do my best for this."
Posted on 2021-12-04 • 2 comments
Daria Usacheva told about her injury and promised to do everything possible to recover from a serious injury before the end of the season, but did not name the exact term.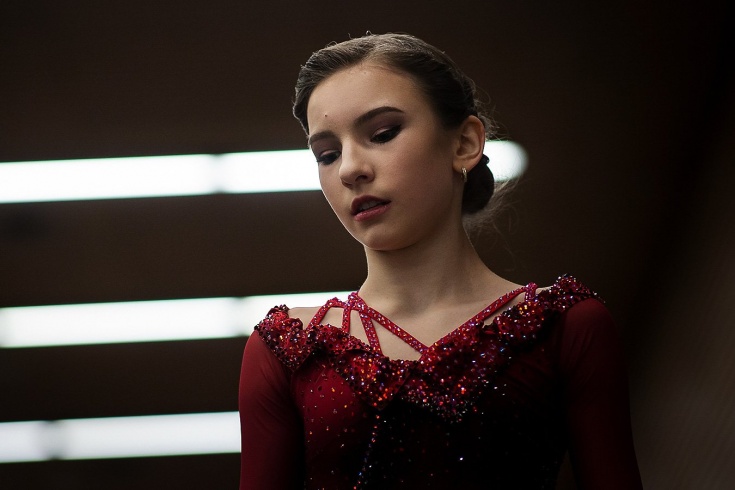 source: matchtv.ru dd. 3d December. 2021 by Anastasiia Panina
Daria Usacheva: I was warming up my jumps and felt pain. I fell down, tried to get up. There was probably a traumatic shock. Somehow I reached the boards. I was examined and we made a decision to withdraw. The injury definitely happened during the take off from the ice, so I opened up earlier and fell down. I was taken to the hospital in an ambulance, our doctor Philip Shvetsky was with me and a translator from Japanese.
They could not send me back to Russia earlier, because the tickets were bought in advance, and I had the same ticket as everyone, after the exhibitions. Probably it was even for the best, because the flight in the early days would have been more painful. And so the pain subsided a little, and the flight was calmer for me and everyone else.
The first days after the injury, I felt guilty. I was very upset because of everything, and that I lost the opportunity to get to the Grand Prix Final.
The treatment now is just peace. Two weeks left. Now almost half of the recovery period has passed. Then there will be another examination. How long this all will take, no one can say, the reaction of the body is unpredictable. Hope for the best, hope everything goes well. I cannot confirm yet, but I want to compete this season and will do my best for this. I do not know how my body will behave, but there is a great desire.
Related topics: Daria Usacheva
2 Responses to "Daria Usacheva: "The first days after the injury, I felt guilty and upset that I lost the opportunity to get to the Grand Prix Final. But I want to compete this season and will do my best for this.""