Daniil Gleikhengauz: Zhenya's return shows very clearly that time often sorts things out
Posted on 2020-09-21 • 5 comments
Interview with Daniil Gleikhengauz. About Medvedeva's come back, Zagitova's fans, Kostornaia's interview and the victory of Shcherbakova.
by sport24.ru dd. 20th September 2020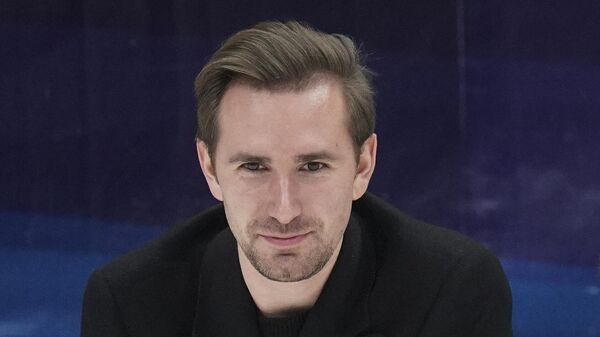 During the warm-up, Anya's quads didn't turn out well. We were very worried …
Daniil Gleikhengauz: We, too.
How did you manage to key the athlete?
Daniil Gleikhengauz: – At the warm-up there was a good attempt. It was just a matter of adjusting the air position a little and adding confidence ti make her her do it. Thank God it worked.
Why did you choose flip instead of lutz?
Daniil Gleikhengauz: At the moment it turns out better. It's clear that she needs to do both and skate with three quads, like last year. The problems we have now can be explained only with a long pause in the training process and the beginning of the season. I hope that by the main competitions we will restore the content and skate with three quads.
Why did you decide to change the music?
Daniil Gleikhengauz: Sometimes you can read different sort of things about yourself…(Laughs).
So, the opinions of the fans played a role?
Daniil Gleikhengauz: Of course, we ourselves realized that the program lacks culmination. And at the test skates it was visible. After talking with different people, we listened to all opinions and decided so. Now we need to worked it out. Anya didn't have much time. Because of this, there was a little more training to get everything done. But we still have a lot of work to do.
Which program is closer to you personally – the original one or with changes?
Daniil Gleikhengauz: It's hard to say. I think the new one is easier for the audience to perceive. But I really liked that music. And the fact that we have not fully disclosed it … That means we need to work harder.
Perhaps you will return to that version?
Daniil Gleikhengauz: I don't think we will return to it. At the moment we will skate like this. By the way, I also came up with a new free program over these days (laughs).
What can you say about Maiia Khromykh?
Daniil Gleikhengauz: It's a pity, because in training she did not skate as today. She skated after Anya and the last one, got nervous, missed the take off on the quad and it knocked her down. But this is experience, she needs to gain strength, everything is ahead. So, hopefully, at the next stage she will show different skating.
How is her quadruple salchow doing in training?
Daniil Gleikhengauz: If it was the same as today, then it would not be in the program.
So, there are clean attempts?
Daniil Gleikhengauz: Of course, we post the video, the last was a week ago.
How did Zhenya Medvedeva's transition happen? What are your first impressions?
Daniil Gleikhengauz: How did it happen? After the test skates, Eteri said that she would have a conversation, a meeting with Zhenya. Then Zhenya came to our group. Returned, let's say. We have three and a half weeks to prepare her for the first stage of the Russian Cup, we will try to improve the shape she has now, but of course we will not make any grandiose actions during this time. I hope that at the Russian Nationals progress will be more visible, our work.
Will there be any changes in Evgenia Medvedeva's programs that other choreographers did for her?
Daniil Gleikhengauz: We will not change either music or programs. Another question is that inside these programs we will look at both entries and transitions. Somewhere to add something, somewhere to remove. But we do this throughout the year with each of our athletes, so there is nothing special about it.
Do we have the opportunity to contact Shae-Lynn Bourne or Brian Orser's team for advice on these programs, how to show them better?
Daniil Gleikhengauz: I think that we definitely don't need any advice on how to show the waltz. We can handle it ourselves – and we have done it more than once. As for the free program, the theme is also well-known. There are some things, ideas – we will not touch them, only add our own. So I believe this collaboration will lead to the best outcome.
Did Zhenya initiate the transition?
Daniil Gleikhengauz: I can't answer exactly. I said as I was told.
Were you surprised?
Daniil Gleikhengauz: I was surprised how dramatically it happened. But for Zhenya now this is probably the best thing she could do … I hope we will prove it with the results.
How has Medvedeva changed during the time with another coach?
Daniil Gleikhengauz: To be honest, I cannot say that she has changed a lot somehow. Will see. Still you see the same person. Yes, she became older, but in the training process, she remained as demanding of herself as she was. Another question is that she lacks shape for good performances, and we need to get it.
You said that in about three weeks Medvedeva will have the first stage of the Russian Cup. Has it been decided which of the events will be the second?
Daniil Gleikhengauz: Honestly, I can't say about the second one. Probably, they will not change, Moscow was announced. She was in the list here, but her back aches, after the test skates she had injections. In such a state, it was simply impossible for her to come here. I think that they went to meet her halfway because of transfer.
Can you tell us more about the injections?
Daniil Gleikhengauz: I haven't dvelved into it that much, I can't say. As you noticed, I had many other things to do.
Do you have any offense that the public doesn't see these ideas for this seasons' programs? I'm talking about Alina and Alena.
Daniil Gleikhengauz: Alina's programs? Let's wait, what else to say. I hope she will show them in competitions. But, if not, we'll see them at the show anyway. I hope nothing is lost.
But does it all depend on her?
Daniil Gleikhengauz: Of course. You can read wonderful comments that we are dumping athletes as much as you want. But I can't imagine a coach who will do that. As for Alina, she knows very well that we'll always support her to continue skating, we are always waiting for her. And when she comes, we work with her, discuss all the technical and choreographic moments. But I don't know what is the sense to pressure and demand here, as her fans do. A person is already at a conscious age and must make decisions that she considers right at the moment. Making someone do something is stupid. It doesn't even make sense.
Does Alina Zagitova have enough time for training, given her busyness in the Ice Age, tight shooting?
Daniil Gleikhengauz: Alina's work goes well as soon as she comes to training. As soon as she comes to training, everything goes well for her. It's even surprising to see what she can do with insufficient, in my opinion, training time.
There will be no written undertaking and persuasions, like at Worlds?
Daniil Gleikhengauz: It was a one-time fun action.
Insufficient training time, how much is that?
Daniil Gleikhengauz: Less than she trained in the Olympic season.
Did Alina really wanted to perform at test skates and was in good shape?
Daniil Gleikhengauz: If she had not initially given consent to participate, then she would not have been on the posters. Of course, we prepared for the skates.
Is Sofia Akatieva the strongest skater in the group in terms of content?
Daniil Gleikhengauz: In the short program she has the strongest base. But this does not mean that she is the strongest in the group. On planned content – yes. But according to her estimates, she still has a lot of work to get the same points as Anya and Kamila.
I cannot but ask about another figure skater – Alena Kostornaia. Have you read what she said at the test skates, including about your programs?
Daniil Gleikhengauz: I don't remember exactly what she said. But, it seems to me, Zhenya's return shows very clearly that you can say anything, but time often sorts things out.
So you don't close the doors for Kostornaia and Trusova?
Daniil Gleikhengauz: At our skating rink doors are closed only at night. They are always open.
Related topics: Alena Kostornaia, Alina Zagitova, Anna Shcherbakova, Daniil Gleichengauz, Evgenia Medvedeva
5 Responses to "Daniil Gleikhengauz: Zhenya's return shows very clearly that time often sorts things out"