Brian Orser: If it were not for this boot force majeure, Medvedeva would easily have been qualified for European Championships
Posted on 2020-01-23 • No comments yet
Interview with Brian Orser at the European Championships 2020. To Graz Brian brought Ekaterina Kurakova who represents Poland. About Evgenia Medvedeva, ELizaveta Tuktamysheva, Yuzuru Hanyu and Ekaterina Kurakova.
by Ekaterina Bespalova for sport-express.ru dd. 22d January 2020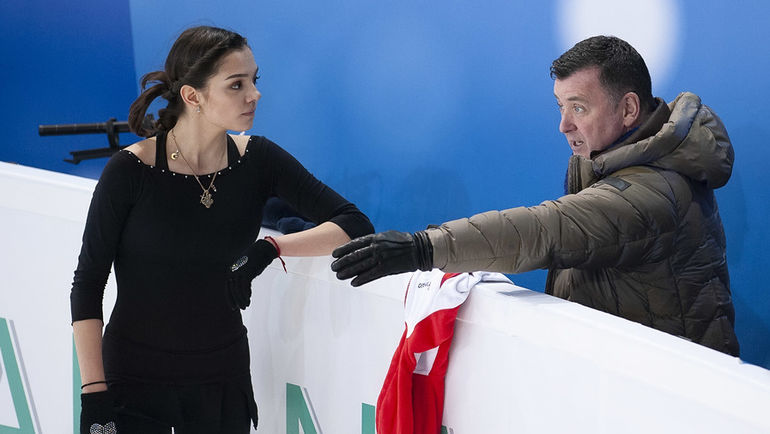 – Katya had a good practice session. Of course, she is nervous, because this is her first European Championships and everyone will be watching her as a new athlete with a great interest, because before that she competed only at two Junior Grand Prix and two Challengers. Kurakova is a very charismatic girl, and we will be pleased to take a higher place at this championships, but for now it is very important just to skate well.
In the free program, Kurakova has a rare and difficult combination "triple lutz-oiler-triple flip", why?
– It's cool, albeit difficult (laughs). But she jumps this combination well, we basically work a lot on jumps, Katya likes her programs and her style.
This is your first European Championships without Javier Fernandez …
– Oh yes, and this is so strange, because together we were at eight European Championships, seven of which he won. Javier was a cool athlete, and a year has passed since his last performance, incredible!
And who, in your opinion, has the highest chance of winning the title this year?
– Two Russian guys – Alexander Samarin and Dmitri Aliev (the conversation with Orser took place before they skated in the short program – ed.), Matteo Rizzo from Italy, Michal Brezina certainly has every chance to get on the podium.
How long have you been in Graz?
– I arrived on Tuesday, and Katya Kurakova on Monday. Then on Tuesday we had a training session in the main arena, and today on Wednesday at the training arena. Here's quite curious situation – to practice at the main arena before the short program girls could only on Monday and Tuesday, the rest of the time – only at the training arena. But we have what we have. Am I surprised to see the arena in the tent? Yes a little. But the most important thing is the quality of ice which is very good, just what you need for performances.
The Russian Nationals ended almost a month ago, but the debate about what happened to Evgenia Medvedeva's boot in Krasnoyarsk does not calm down …
– I know (laughs out loud). The result of the competitions was heartbreaking for us. But when the boot breaks, it no longer holds the leg as needed. You can do anything, stick it, fix it with something, but this will not help. As a result, we had to make a decision to withdraw. Although I know that many people say: "She, as a professional skater, she should have had another spare pair of skates." But you need to understand that it takes three weeks to break into new pair of skates, and if you finally did it, you won't start breaking into one more pair. It also was a shame because Evgenia was in great shape.
In my opinion, if it were not for this force majeure, she would easily have been qualified for the Russian national team to participate in the European and World Championships and would have pushed out one of the Shcherbakova-Kostornaia-Trusova trios. But athlete's safety and health should be in the first place, especially when you can injure the leg. And now the season is over for us.
Was you surprised by Trusova's unsuccessful performance in a free program in Krasnoyarsk?
– This can happen from time to time. I knew that these three girls, in any case, would be ahead of everyone in technique. If you do quadruple jumps, this is a certain strategy. As a coach, you always build a certain strategy.
And what do you think about Elizaveta Tuktamysheva's quad toe loop?
– I saw her landing this jump several times during practices. And I must admit that with her successes in mastering difficult jumps, she gives hope to all mature skaters. I do not know exactly how old Tuktamysheva is, but I know that Elizaveta has been competing for a very long time and she just learned the quadruple jump. You know, I remember how 10 years ago I came here to Graz at the junior Grand Prix with my American student Christina Gao, who was then beaten by Adelina Sotnikova. It was so long ago, but Tuktamysheva continues to perform! She is a beautiful skater, a real woman, but with great technique, thanks to which she is still competitive. When I saw that she was trying to do quad toe loop and a triple axel in a free program, I thought: "Wow, this is unbelievable."
Continuing with so popular theme of quadruple jumps, are you working on them with Medvedeva and Kurakova?
– Of course, with both of them. With Evgenia on quad salchow. Soon she will return to Toronto and we will proceed. Now, since the season has already been completed for her, this will be her main goal. And I think that this is quite real, we have enough time, Evgenia has good salchow technique, we just need to focus on this well.
And what is the most difficult thing for her in mastering this jump: a technical nuance or a psychological moment?
– Both. I think that as soon as she lands the first quad salchow in training, the barrier about this jump will disappear. This happens with every skater mastering a new jumps: you make it once and it becomes easier.
Medvedeva has already announced that her free program for the next season will be to "Cirque du Soleil". Is this her idea or your suggestion?
– Her. I believe that Medvedeva is a very artistic and emotional skater plus an experienced one. Evgenia heard this music and she liked it, just as it was with music for this season's programs. It seems to me that Zhenya has the right to make her own choice, she has a very good taste.
Please explain: how did it happen that one of your students, two-time Olympic champion Yuzuru Hanyu, was alone at the first day of competitions at the Grand Prix Final in Turin?
– A rather unusual situation happened. Only Ghislain Briand was accredited, at the last moment Yuzuru made a decision to take a specialist who works with him on technical aspects and this is absolutely ok. But Ghislain's passport was stolen in Italy, and so he was forced to return, get a new passport and then fly back to Turin. That is why Hanyu performed without coaches in the short program and trained alone before that. But in general, everything is fine, we continue to work and we have no conflict on this issue.
Related topics: Brian Orser, Elizaveta Tuktamysheva, Evgenia Medvedeva, Yuzuru Hanyu