Brian Orser: First competitions can be compared with the first pancake
Posted on 2019-09-12 • No comments yet
Interview with Brian Orser at the Russian test skates 2019. About Evgenia Medvedeva's performance and her preparation for the season.
by Alexander Bokulev for rsport.ria.ru dd. 12th September 2019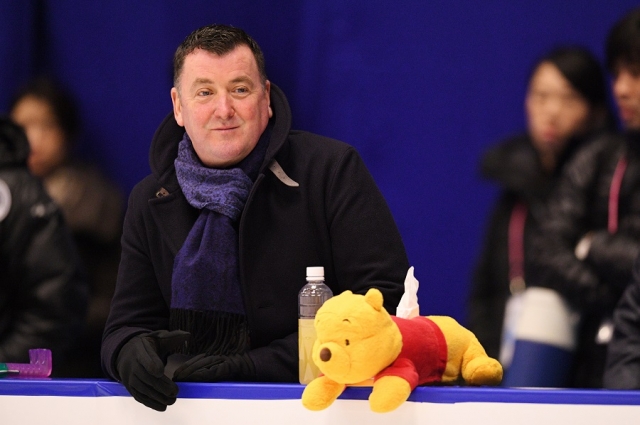 You came at the test skates on the day of a free program. Where did you manage to watch Zhenya's short program?
– I was in Riga at the junior Grand Prix and after the competition I immediately flew to Moscow. Zhenya's short program I watched on YouTube.
What impressions did you have of her performances?
– Of course, not her best skates. But in general, everything went well, we overcame a very responsible week. Zhenya has wonderful programs, amazing choreography, she performed some complex elements. Yes, she made a couple of mistakes, but this is only the beginning of September …
What do you think about Zhenya's physical shape?
– I would say that Evgenia is in good shape now. If we talk about jumps, speed, I can honestly give a positive feedback. Yes, we can still add, and for myself I got the necessary and important information about Zhenya's readiness. But even with not the best performance, her skating looks good.
The wise Tamara Moskvina taught me what I always say now at the beginning of the season: the first competitions can be compared with the famous saying about the first pancake (smiles). Sometimes it turns out not bad, but usually far from ideal. At that moment, you understand how much more flour, sugar, salt are needed, and other stuff like that (laughs). For me these test skates are just like the first pancake.
Those mistakes she had can be corrected. Everything is good. It is good that we have the opportunity to see them like this, in this sense our mission has been completed. For the Federation the organization of such test skates is a reasonable step, as they are demanding in everything. True, we could notice that many skaters made mistakes, including very serious ones. And this should be treated with understanding, because for the majority now it's a very early stage of preparation.
Evgenia told that you called the free program "Memoirs of a Geisha" the best in her career.
– Yes, I really think so.
Please explain your opinion.
– Firstly, Evgenia worked with the wonderful Shae-Lynn Bourne for the first time. She, as an exceptional choreographer in the world of figure skating, was able to bring new subtleties into Evgenia's moves, to refresh her style. I'm sure that this music, manner of performance is exactly what Zhenya needs now. She is no longer a little girl who is fifteen years old, but a young sensual girl. It seems to me that in this program, Evgenia is revealed in a completely new way, feeling like a woman.
Secondly, you know how sincerely she loves everything connected with Japan. She has a huge fan community in this country, and Zhenya herself really understands this culture, feels herself in it. She did an excellent job, after which I can call this program her best performance.
How do you think, what artistic image can be also so suitable for Evgenia in the future?
– Honestly, I don't know (laughs). We can never predict what will happen to us next, including mentally. So first you need to skate this season. But I want to note that this program is completely Zhenya's idea. Usually the best ideas are those that go from skaters themselves. Of course, I was also familiar with the music from the Memoirs of a Geisha, so I thought it was a great choice. I admit, I'm very pleased that Zhenya came to this herself, that together with Shae-Lynn we managed to realize this in terms of choreography.
As for further plans, possible images … I cannot be sure of this, and there are no ideas yet. We'll see. We always need to focus on what we have now, to invest all our energy in this season and these artistic images. Only then we can start thinking about something new.
Brian, do you miss competitions? What do they mean to you as a coach now?
– You know, even as a skater, I especially loved competitions, competitive spirit, but at some point I realized that it was time to finish this story. I think I was a good athlete, which helped me enjoy that time, but now I don't miss it. I coach now, and I like this work. I try to get the same feelings from it as from being on the ice.
I love figure skating. I still like the process of competitions, shows. I like to share this atmosphere with my athletes, to show something new. I'm looking forward to it and I'm always passionate. It is very important to observe how the audience, the judges react, whether they see the progress of the athlete. I can say that at such moments we always give our best: figure skaters, coaches – my whole team. Yes, sometimes not everything goes according to plan, and at such moments it's hard for everyone. But all we can do is continue to work hard.
Speaking of competition, it's extremely high in the Russian ladies' team now.
– Yeah, just fantastic (laughs). Standards are very high, the bar is much higher now. New faces appear in figure skating, and this is very important for competitions. Competition is always good, now older girls, such as Evgenia and Elizaveta (Tuktamysheva – ed.) have the opportunity to gain new experience and take a step forward for themselves.
A new generation of girls wants to be number one, their technique, jumps are impressive. And just like that, figure skating becomes more interesting. The fight is gaining momentum, and in such conditions we need to become more prudent in order to remain on equal footing.
Have you talked with Zhenya about this?
– Sure. She understands who are her direct competitors now. Of course, from time to time, new faces appear, new stars. We need to stick to our own path, follow the course that we have chosen. There is no time and opportunity to look back; we must do everything in our power. The Russian figure skating environment perfectly contributes to this, because it, like in no other country, sets a tough barrier of reaching the level of World Championships.
Let's speak about your tandem. Can you say that there is complete understanding between you, Tracy and Zhenya?
– Yes, I'm sure of that. Now there is a special harmony between us. Of course, in the first year of collaboration, there were some conflicts of interest. But this is normal, and now we follow a single course. It seems to me that Evgenia began to understand our approach to training better, especially last summer.
Of course, I can't speak so confidently for her. But I felt that she couldn't choose the direction for a very long time, literally stuck at a crossroads. Over the past year, Zhenya was drawn in different directions sometimes: she was torn between the usual system of training and the new style that we offered. Now I see that Evgenia has accepted our position, and this is very important. She trusts us, so together we can do everything.
And what do you want to see from Zhenya in the new season first of all?
– I had the opportunity to talk with some officials who over the past two days have been watching her. They all noted how much Evgenia has changed. I would draw a parallel with children, even though I don't have my own. You may not notice how they grow, but when you see someone whom you haven't seen for six months, and you are like: "Oh God, how you grew up!"
A funny analogy (smiles). So, those with whom I spoke, saw Zhenya at Worlds last time, about six months ago. Now they are reacting so brightly to her transformation! And I'm also sure that she has become better, but I relate to this without such a wow effect. Here she improved in speed, and here began to move differently … Well, that's fine (laughs).
Perhaps that's because I'm very critical. I'm really happy about her changes, but there is always a room for growth. You can get better again and again. Well, now is just the beginning of September, and everyone understands what a huge work is ahead. If we could talk about one hundred percent readiness now, everything would be too simple (smiles). We need to be at the peak in December (at the Russian Nationals), and then in March (at the World Championships). Now they continue to support her, and I'm sincerely glad of this. But we remember how much work is ahead.
If we talk about specific technical elements, do you devote the most time to the quad salchow?
– Oh yes, we give this a lot of time and energy.
Forty minutes a day?
– Right. This is very difficult, but we are taking new steps forward, trying to conquer such a peak (showing a special harness for jumping with a gesture). I'm sure that Evgenia can do it. We know that it necessary to be ready physically. It's important that Zhenya herself has a lot of determination. She works hard on her muscles, she is very competent in nutrition. Together we continue this path and will achieve our goal. Maybe at the Russian Nationals? (smiles) No one knows yet.
In this sense, salchow is the best jump, because the simplest. If we talk about quadruples now, while you are young, this jump should become yours. So will see.
And how difficult is it for you as a coach to work on the wrong (inner) edge on Evgenia's lutz?
– Oh, it's insanely difficult and nervous (laughs).
Harder than with salchow?
– Maybe (laughs). Because adjusting of flip and lutz, achieving their stability is extremely difficult. These are elements where details are important from the very beginning and everything depends on their development. When I was young, I also had to learn lutz: first single, then double, then triple … A lot of attention was paid to this jump.
And now, as a coach, I also try to work on it especially carefully, because I understand what the skater feels. Sometimes pushing, rotation of the body, the necessary trajectory may seem simple, but it is not. A lot depends on the old habit, on how you did it before.
Of course, I expect that in the new season Evgenia will have an outside edge on lutz. There is progress, but so far it often resembles her former manner. Some technicians may call it a mistake; some may assume that everything is ok. I still want to achieve perfection for her in this element, and we work a lot on this at our rink. Evgenia may make some mistakes, but still continue to move forward. She, like me, knows that she is capable of the best.
Given the complexity of your training sessions, have you had any doubts about Zhenya's decision to agree to be an ambassador of the Russian national team at next year's Summer Olympics in Tokyo?
– Good question. I didn't speak with her about this, but I'm proud of her patriotism and attitude towards the team. For our part, we will do our best to support such an important role for sports that Evgenia will have. I'm sure that thanks to many of our contacts in Japan, we will be able to implement the schedule of her training there.
I hope you really won't have a problem with this. Let us conclude by going back to the faster plans. This season, Evgenia will perform at the Grand Prix in Moscow. Will you be pleased to return to Russia?
– Of course! I have a multiple business visa, so I can just go back and forth. It will be great to return to these competitions, because I already visited them several times with Yuzuru Hanyu, Javi Fernandez. Zhenya and I have Russian Nationals ahead. Speaking of GP in Moscow, I think that she is delighted with the opportunity to perform here.
Related topics: Brian Orser, Evgenia Medvedeva, test skates