Boikova and Kozlovskii: "Apparently, we are really top level pair, after the bronze at Worlds no one congratulated us. Everyone said what a pity."
Posted on 2021-09-15 • No comments yet
Aleksandra Boikova and Dmitrii Kozlovskii about new programs and their performance at the Russian test skates 2021.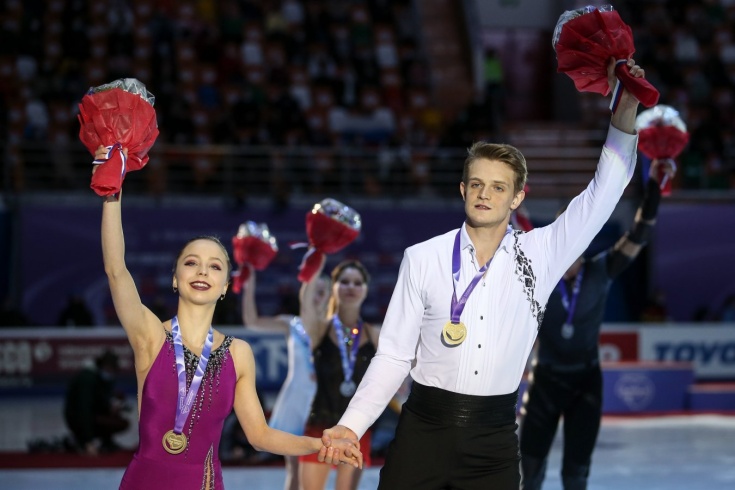 About the short program to the Swan Lake.
Aleksandra Boikova: I am Odile, Dima is her father, a dark wizard. We are at the ball together with the audience – they are also the participants in our performance as we are, they create an enchanting atmosphere of dark magic. We try to enchant them and they become our hostages.
Ksenia Andreevna (Stolbova) mainly worked on the choreography, on the presentation, mine in particular. She helped to fill the program with emotions, views, postures, meaning. And, of course, after this work we had two more choreographers – Dmitri Pimanov and Edward Smirnov.
Dmitri Kozlovskii: It's one thing to work with coaches who take athletes to the Olympic Games, and another thing when you work with someone who participated in the Games as an athlete. Ksenia is an outstanding and unique athlete in her professional skills.
source: tass.ru
About the free program to Malaguena
Dmitrii Kozlovskii: Classics is always a good choice for the Olympic season. Now this program still needs to be skated more. Like a car that needs a test-drive. This program still should become completely "ours".
Aleksandra Boikova: For the test skates the shape is optimal. It has not been brought to optimal for the season yet, but now it is not necessary.
The music was offered by Tamara Nikolaevna (Moskvina) last year, we started to choreograph in June, but due to the epidemiological situation, everything had to be postponed. We decided to finalize and show it in the best possible way.
source: tass.ru
Dmitrii Kozlovskii also spoke about the bronze medal of the 2021 World Championships and the beginning of the new season
Dmitrii Kozlovskii: Apparently, we are really a pair of a high level, when after the bronze at the World Championships no one came up to us and congratulated us. Everyone said: what a pity. Although many athletes want to achieve the World Cup podium.
This season is very significant, new sensations, emotions. We love everything new very much.
source: Channel One, text version sports.ru
Related topics: Alexandra Boikova Dmitri Kozlovski