Betina Popova: I was not rational – a reasonable athlete takes care of himself
Posted on 2020-07-07 • No comments yet
Betina Popova very openly about her career and figure skating.
by Anastasiia Panina for matchtv.ru dd. 3d July 2020
For Betina Popova this season ended earlier and more unexpectedly than for other athletes. What even worse, it ended irreparably – because of serious back problems, her partner Sergei Mozgov did not receive medical admission to the Russian Nationals. Thus ended the career of two talented skaters.
The story is sad, but typical. Thousands of children come to sport, and only a few of them achieve great success. It's like poker – the probability of winning increases if the player develops logic, tactics and other useful qualities, but he will still depend on his opponents and his own luck.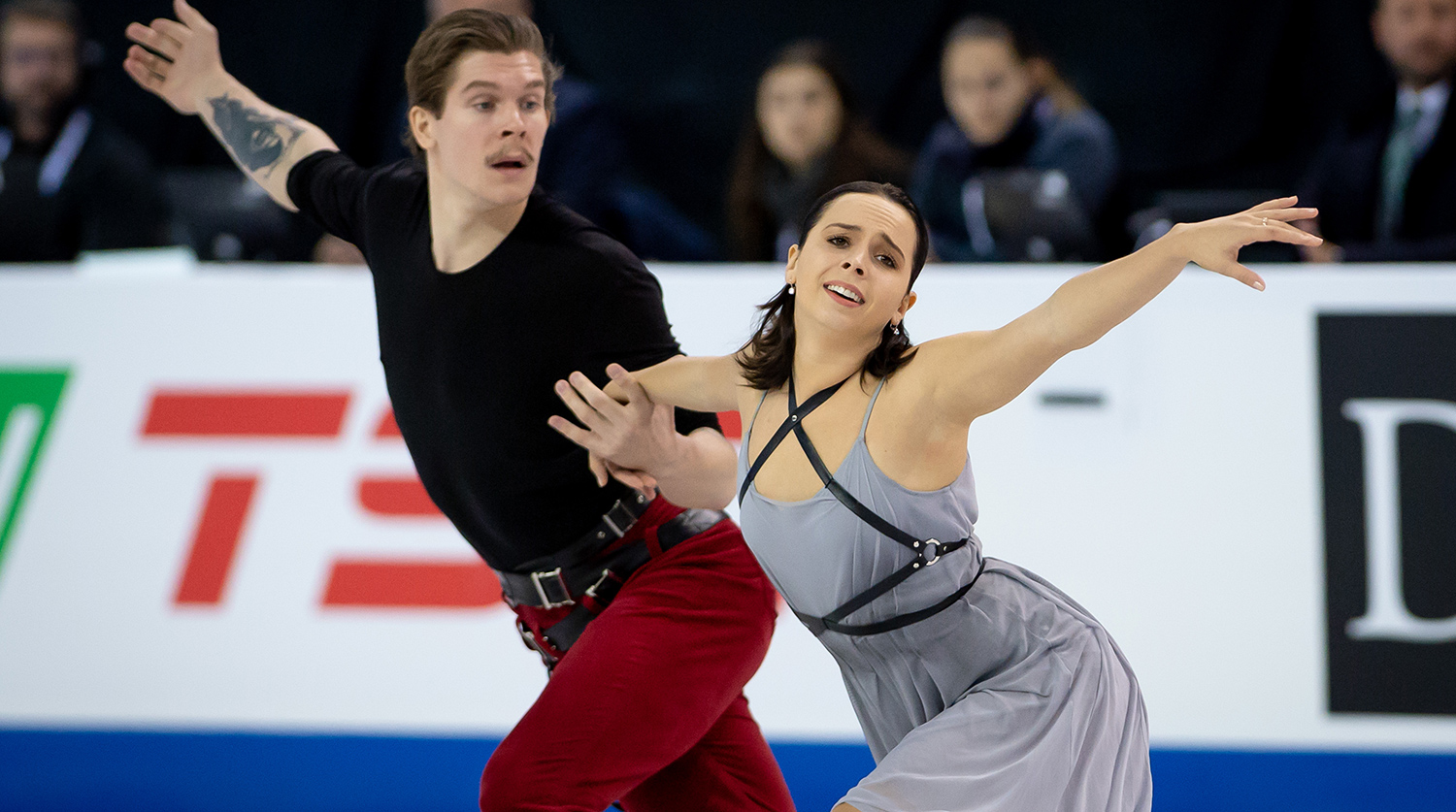 Betina Popova is a dream for the journalist. She speaks brightly and lively, and always sincerely, for which, of course, she is constantly criticized by the fan community and sports officials. Her last posts on social networks is a valuable reflection of an adult athlete about her career, relationships with partners, coaches and herself. It is useful to read for everyone who believes that figure skating is like a pink glazed donut with caramel filling. It does not. Sport, like all of life, is much more complicated than the good-bad system.
Betina agreed to record her story as a monologue. In this case it doesn't matter how the questions were asked. All the important, direct and hurtful things she told herself.
Betina Popova: I think this will be my last interview about my figure skating. It's over, I have a different life, and I'm tired of milling the wind back and forth. Perhaps I should draw some symbolic results?
I started to skate at the Young Pioneers Stadium, which, unfortunately, has been closed. A symbolic place – at one time there were Tatiana Tarasova, Irina Slutskaya, many other athletes. Then I trained with Natalia Titova. There was strict discipline, perhaps at some points too strict. This is my first coach, she's given me a fanatic love of figure skating.
Then I switched to Marina Selitskaya in Sokolniki, then we skated with her in CSKA. She is an excellent coach. Nobody remembers me with her, because I was the only girl in the group among the boys. She saw that jumps was not for me, and allowed to develop in gliding, musicality.
Then Ksenia Rumyantseva came and took me ice dance. With her, I've been developing as a sportswoman for many years. My individuality as a dancer – stretching and other data – I got from her.
Then with Serezha (Mozgov) we went to Elena Kustarova and Svetlana Alekseeva. It was a completely different approach to training, innovative for me. At that time I had big problems with health, head and weight. Then we returned to Rumyantseva, and then went to Anjelika Krylova. There it all ended.
I was brought to figure skating to make me healthier. You ask to list all my injuries? Let's try (laughs). The neck, back, finger was cut – it bents only halfly. The tendon is completely cut. There were injuries to both Achilles. Knees … meniscus. Broken wrists. I had four concussion in the last year. But the neck is the worst thing. We had a long flight to Japan. I crookedly fell asleep in a plane, and then at the very first training I shook my head during the lift and realized that my neck would never turn anywhere.
It happened because I didn't treat myself carefully as an athlete. I was not rational – a reasonable athlete takes care of himself. For example, Denis (Denis Khodykin – Betina's fiance – ed.) has a completely different attitude towards himself, and this is a plus.
Someone has more health problems, someone is lucky and almost doesn't have them. But professional sports without injuries is something from fairy tales.
My tall stature is good for a dancer, but a feminine figure is not. We, especially in Russia, have the idea that a girl in ice dance should be thin, it looks more aesthetically pleasing on the ice.
Everything that is in this world for weight loss, I used – except for liposuction, perhaps. Saunas, films, all kinds of diets, pills. The body was brought to such a state that weight was gained simply from the air. Nothing worked. I started drinking water only now, at 23. Before that, 200 milliliters per day. I thought that it was ok, because every 100 grams in weighting is important. The coach is not a nutritionist, so he does not give advice on nutrition. He only weighs. And says whether it's a lot or a little.
When we came to Kustarova and Alekseeva, I admitted that I was on pills. They treated me with tolerance, supported me and gave me time. On the one hand, it was tough – they forced me to run a lot, but they let me breathe out and get rid of the pills for a while, lose weight myself. Skating in their group, I reached my minimum weight in my entire career because psychological pressure was removed.
Then I successfully lost weight with Rumyantseva – I decided that otherwise I would end up with sports. It turned out because no one pressed. Every time when strict control began, that's all. Something broke in my head back in childhood and was no longer repaired.
Of course, not all girls in figure skating have eating disorders. The point is either in their body constitution, or in the fact that they were not much pressed in childhood because of their weight. They could be chubby to a certain age, but because of the constant load, this changed by itself.
Over the years, there has been a lot of good in sports. Unforgettable trips to competitions, emotions, meeting people. The best thing that figure skating has given me sits nearby (we are talking about Denis Khodykin, who came with Betina. – ed). Denis and I skated in CSKA at one time, but we didn't remember that. We met 2 years ago at the competitions.
When I finished sports, and this happened rather abruptly and unexpectedly, Denis did not let me think that everything was bad in my life, even for a second. He didn't let me drown in my thoughts. He just took my hand and said: "Come on, let's go, let's go!" Anywhere. And I'm like – "Well, let's go," and all the problems remained behind us.
What is love? This is a gift from the creator. The ability to give a person something and rejoice that he needs it and is pleasant. This is friendship in its highest form. Respect, compassion, the ability to put yourself in someone else's shoes.
A sense of humor also become my salvation. In juniors, I listened from all sides – from the partner's mother, from the partner, from the coach "He will leave you, he will leave you. You are fat!". Well, yes, I'm fat, and I'll crush him (laughs). I will sit on him, and he will not leave me anywhere. Jokes, including those above oneself, are the only strings you can pull yourself out.
Coaches, partners, anyone – I have no offense at all. They all gave me experience. Again, my attitude to the matter is to blame. Yes, the first coach instilled in me fear and a little of this slavish attitude, but then I grew up, I had a choice – to send everyone to hell or to remain as serious.
All these people gave me something. Each coach gave me a lot of warmth and care, put as much strength in me as could. Each partner has suffered a tremendous journey with me. Both Sergei and Yuri. Although Yura insulted and humiliated me at first, but then we got along and became friends, I waited for him after surgery and recovery.
Of course, I would not exchange my life for any other. I'm crazy. I love figure skating madly. Only my bad perfectionism made it all so painful. If I had taken reality calmly, treated everything as my job, not fanatically, I would have had less difficult moments. I'm not talking about injuries now, but about psychological experiences. Job is just a way of being, not a whole life. Now I understand that you cannot put work in the place of life. They need to be separated.
That is why I'm trying to get as far as possible from figure skating. I unsubscribed from all the publics, I do not read anything, I do not follow the news. You know how it happens: you love a person very much, and then you part. And you cannot see him, you try to get him out of your head, out of your life, burn photos, never meet, delete all phone numbers – the same thing here. I loved this business very much, and for some time I cannot calmly exist near with it, because I am no longer a part of it. I need to move away from this.
Why did I have such a frivolous image in the eyes of many fans? Well, because I treated everything with humor. Otherwise, it would just go out the window; in childhood there were such thoughts. There were thoughts of jumping from the roof, because at one moment I could not lose weight. I could not go to training. I was ashamed, it was scary to come to the weigh-in. And I thought – maybe? .. Why is this all?
If not for the positive and my simulated negligence, I would not have coped. Of course, the strongest wins in sports. I could not stop myself in time, redirect and so on. I was fanatical, but not the strongest.
Social networks lead to hatred, I think. It has become easy to follow the life of people, to compare yourself with them. Previously you went to a neighbor for salt, talked with him, said goodbye. And now you are constantly watching others – they have a child, they have a car. I follow only my friends on Instagram, because I'm interested only in their lives. I am not subscribed to any bloggers, and I didn't have time to follow other people, count their money and discuss the figure. When you have something to do and you are a full-fledged personality – why should you care that someone is doing too well.
Maybe people just work too much and don't know other way to relieve stress? I do not know. They can't say anything against to the boss, face to face, and they will write something anonymously under his photo. Or here is a 15-year-old skater, for example, it's time to teach her life.
I was constantly criticized for my words in interviews and social networks. Recent Instagram posts are a prime example. But I already said that I'm posting on Instagram for my mom – we don't live together, and she's interested to know what's going on in my life. I just had time to analyze my experience, so I spoke out. Let this help someone to understand that they are not alone in their experiences and, if anything, can always write to me and ask for advice.
During quarantine, I cooked all the time. Because there are no trainings, no need to lose weight and I like cooking – pancakes, waffles. I also read a lot. I develop myself as a person.
Unfortunately, I simultaneously graduated from university and finished my career – I would gladly study for a couple more months. I had to skip lectures because of figure skating and catch up at home myself, but in GITIS is very interesting education. Of course, I want to continue in the magistracy, but I can't do it yet, because of the coronavirus I will get a diploma only in the fall.
I can become a choreographer at any time, it will not leave me anywhere. I have both education and experience. But I want to try other things. After figure skating, so many doors opened that I want to knock on everyone.
Now I am sewing, mastering tailoring. All self-isolation I was doing ballet tutus, engaged in applique, decorated straps and so on. I am gaining skills. Now I'm as an apprentice with our tailor.
I often had some incidents with costumes, because of which I had to fix them, including directly on myself. And I always liked it – such work calms me down. I decided – why not try applied skills right now? It can be useful in life.
I'm not really a careerist at all. Rather, a family person. I'd gladly sit in a house on the mountain with a cow, hens and children, and lived there (laughs). I do not need much for happiness. All my life I competed with someone and tried to prove that I am better. Now I want to take a break from this. Do not be blamed.
Related topics: Betina Popova Sergei Mozgov