Anna Shcherbakova: You watch how others jump, and it doesn't seem so difficult for you anymore
Posted on 2019-11-14 • No comments yet
Interview with Anna Shcherbakova after her two victories at the Grand Prix series 2019.
by Vladislav Zhukov for tass.ru dd. November 11th, 2019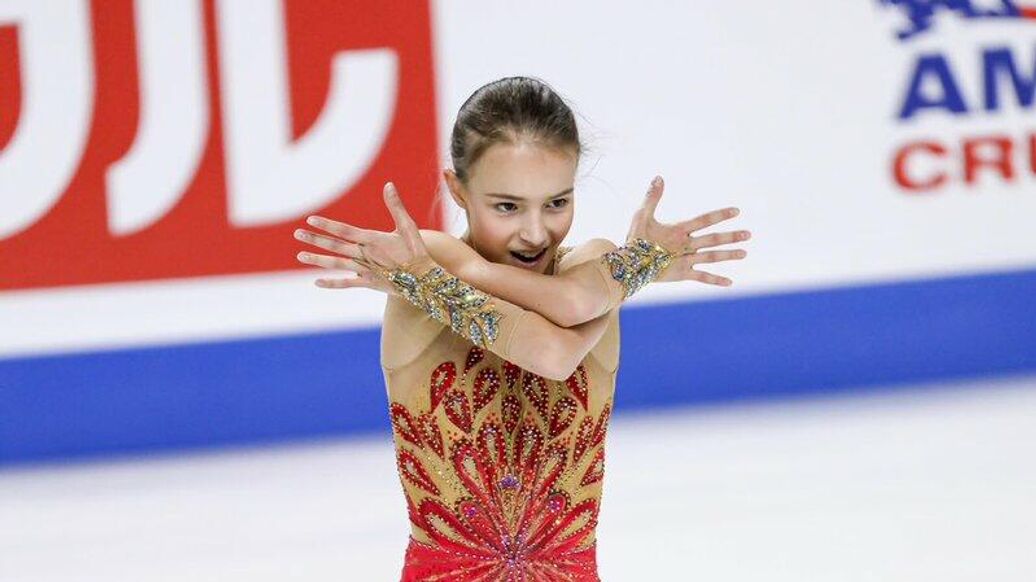 First of all, I would like to congratulate you on your victory at the Grand Prix in China! How do you feel?
– Yesterday there was some kind of devastation after the performance. I felt tired, but I was happy with my performance and how it all ended. Now, I'm thinking more about what will happen next, how we will work and what to fix.
Was it important for you to qualify for the Grand Prix finals in your first senior season?
– Of course, it was important for me. I wanted to show from the beginning that I can compete with seniors, so I'm very glad that it all happened so.
What result in the Grand Prix Final will be acceptable to you?
– I don't even know the participants yet and what my technical content I will have. I will set the goal to skate the programs cleanly, and then it's up to judges to decide.
Regarding moving to senior skating … It seemed that it was amazingly easy for you…
– It only seemed so (laughs). Of course, a lot of work was done to perform at senior competitions successfully. But I try to go to these competitions with more confidence than to junior ones.
Last season you finished with one quadruple lutz, and this was more than enough for good results. There was also one lutz at the test skates, but at the first senior Grand Prix, you already jumped two. At what point did you decide to complicate the program and why?
– I knew right away that one lutz was just a start. Usually I enter the season slowly, I need to skate the programs a lot, so at first there should be just one quad. But I knew that as soon as I stabilized it, I would add a second one. That year I already tried somewhere in the middle of the season …
Do not consider it insolence, but I must ask. The whole world wonders how you even manage to rotate and land quadruples. You look so fragile …
– Well, I probably have such a body structure (laughs). I work just like everyone else. We have special training in the gym. We strengthen muscles, work on jumps. That is why it is so.
Many wonder how do skaters from Eteri Tutberidze's group get along on the same ice and in the same locker room? After all, you are not only friends, but also rivals, and bets have increased since this season.
– We get along very well. We have been communicating for a very long time. And vice versa, it somehow pushes us. In training – to learn something new, more complex. And somehow it's even easier because you watch how others jump, and it doesn't seem so difficult for you anymore. And outside the ice we are friends.
That is, competition does not affect your communication?
– Absolutely. I can even say that in competitions it is much more fun when someone else is there. Now I go to the Grand Prix alone and it's even unusual.
Tell me, how did you start doing figure skating?
– My parents brought me to the rink in three and a half years old, because my older sister also skated. She saw figure skating on TV and really wanted to skate, and they brought me with her. I really liked it and probably till seven years old I skated only for pleasure, without thinking about anything. Competition? Well, I'll go (laughs). But I really liked it all – funny programs, to show some images.
I did pretty well, and when I was nine my parents decided that it was time to decide – would it remain like a hobby or we should try to do it professionally. And then they decided to try to get to Eteri Georgievna [Tutberidze], she was coaching at the same rink. Yulia Lipnitskaya then skated with her, and when we had training after them, we left the locker rooms and peeped at how they train.
Then it seemed to me that this was some unattainable level. And when the parents told that we would try to go to her, for some reason I didn't even believe. But they took me to the group. At first it was very difficult, I jumped only doubles, for a very long time I couldn't get triples. At that moment I was a little stalled – all my peers were already jumping them, but I did not. It was a difficult moment, but then suddenly I started to jump everything.
But these are triples. Do you remember the moment when the coaches said: "Anya, let's try a quadruple?"
– Yes I remember. At that training, nothing at all foreshadowed anything like this, just ordinary exercises. Then Daniil Markovich came (Gleichengauz) and said: "If we are going to learn a quadruple, which would you like to try?" Then we reasoned and decided that at that moment my best triple jump was toe loop. And he said: "Well, try to make it as high as possible."
I did. Eteri Georgievna said to do even higher. I did it even higher. And then she said: "Now rotate as fast as possible!" This is how I tried the quadruple for the first time, without expecting it from myself (laughs). And, as I was later told, I underrotated a quarter and fell from a quad. Somewhere from that moment, they realized that it was worth continuing to learn. But further, of course, we worked a lot with a harness, and in special protection. I was about 12 years old.
Figure skating is not only jumps. Many experts note your artistry and high level of presentation. These qualities at such a young age are quite rare. Do you have this from nature or did you specifically develop it?
– I think it's more from nature. As a child, I had the Pink Panther program, and I remember how I liked it … I don't remember thinking about whether I would be able to jump or not. But I remember how I liked my movements. I was always smiling. I could do a spiral and look at the judges. I didn't even remember about the jumps, for me the images and the programs were more important then, I always liked it that way.
This season you have such a complex artistic images in both programs. Tell us how you manage to interpret them so well?
– The coaches chose these images for me, I really like them. When they put the programs, they told me a lot about emotions, what I skate about it helped me to get into character. This is very important for me, because I can't just perform some movements without emotions.
After the Grand Prix Аinals, there will be Russian Nationals. Last year you won it. Tell me, what did this victory give you?
– Probably it added self-confidence. At that competitions, I skated my programs well and performed the quadruple lutz cleanly.
Is this year's goal to defend the title?
– Yes of course. But in order not to be distracted, I will set the task for myself to skate clean. Because if you think about what you want to win, it starts to interfere and distract.
Yesterday we talked with Daniil Gleichengauz, and he said that it would take a long time to list the options for improvement. But, in particular, he noted an increase in the number of quadruples and a triple axel. Tell me, how the things are going with mastering of new elements?
– We are always in the process of learning. When there is an active preparation for the competition, this process slows down, it's hard to keep up with everything. But now the break will be longer, and the emphasis on training new elements will increase. It happens that we train a triple axel and a quadruple flip. The flip turns out, but I understand that if I put it into the program, I will need to skate with three quadruples. And then the problem will not be in making this jump, but in how to put the whole program together. But we will train, try. It's necessary to add complexity.
But is this possible this season?
– I think yes.
Related topics: Anna Shcherbakova, Cup of China