Anna Shcherbakova: "When I found out about Trusova and Kostornaia return, there were a lot of emotions, like for any viewer, it was impossible to react calmly."
Posted on 2021-09-12 • 1 comment
Anna Shcherbakova about her new short program, skating at the Russian test skates 2021 and return of Trusova and Kostornaia to the group of Tutberidze.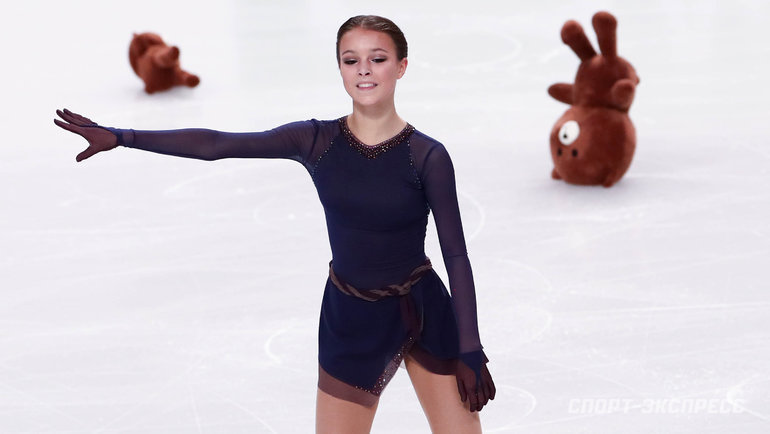 About short program at the Russian test skates
Anna Shcherbakova: Today I felt as comfortable as possible on the ice. I immediately felt this energy of the audience, which we are waiting for all the off-season. It was very pleasant how we were greeted. During the warm-up, it gave me energy and I was just flying on the ice. Then, skating my program, I also was winged.
I tried to show the program as much as possible, since it was the first time. It is very important to present it to the audience.
Unfortunately, I missed these training camp in Novogorsk. Therefore, for me, the preparation for the season began later – it just shifted. And already in "Khrustalny" they began to do programs for me. We tried to work with the coaches as quickly as possible so that I came to the test skates in a shape I would not be ashamed of to show myself and able present new programs.
In general, I like to try different artistic images, and when I was offered these programs, I immediately imagined how it would look. I really like these programs, but I know that there is still a lot of work to be done so that the programs turn out the way I want and they way the coaches see them. I try to give all of myself in each performance and add a little bit.
source: Channel One, text version sports.ru
Also Anna told that she won't perform quadruple jumps in the free program at the test skates
Anna Shcherbakova: I felt ease skating in front of the audience, felt a surge of strength, it was easier than in training. Injury? It happened outside of training, a stupid coincidence, wasted a lot of time.
In an emergency mode, we prepared the programs so that I would not be ashamed to show up here. While I came here with triple jumps, so far I have such a content.
source: rsport.ria.ru
Shcherbakova also spoke about the emotions about Alexandra Trusova and Alena Kostornaia return to the group of Eteri Tutberidze
At the Russian Cup in Syzran, we asked you how you reacted to the return of Zhenya Medvedeva to Eteri Georgievna. Now we couldn't but ask about the comebacks of Alena and Sasha.
Anna Shcherbakova: Well, of course, at the moment when I found out about it, there were a lot of emotions. Because it is impossible to react calmly about it. This is interesting to me as well as to any outside viewer (laughs). It's interesting to watch this. But, we continued to work. Of course, something is changing – the current situation is closer to what we had before. We got used to it quickly, everyone works in their own way. This, of course, motivates when there is competition in training, but we have our own goals and objectives. We continue to work.
Did you know about their return in advance?
Anna Shcherbakova: Well, when I found out, it was still a surprise. And I found put it in different ways. Sometimes before (laughs).
You say that it is interesting to observe these movements between groups of coaches from the outside. Did you have the option to join it yourself?
Anna Shcherbakova: I have my own way, everything went according to plan. No changes were planned.
What is your relationship with girls?
Anna Shcherbakova: The same as they were. In general, friendly, we communicate.
Did they ask your advice before returning?
Anna Shcherbakova: It would have been strange (laughs).
And the coaches?
Anna Shcherbakova: No. It probably shouldn't concern me. I should train as I trained before. No changes.
Is there a feeling of jealousy that coaches now need to pay attention to a large number of senior female athletes again?
Anna Shcherbakova: No. We trained in the same way before. Therefore, there is no jealousy.
Last season you said that your dream is for the World Championships to take place. What are your dreams this year?
Anna Shcherbakova: Then I said this when the World Championships has already become more of a goal than a dream. This year it is too early for me to talk about it. I'm just getting into shape, I would like to come to optimal shape quickly. And there, closer to the competitions, other goals will be formed.
source: sport-express.ru
Related topics: Anna Shcherbakova, test skates
One response to "Anna Shcherbakova: "When I found out about Trusova and Kostornaia return, there were a lot of emotions, like for any viewer, it was impossible to react calmly.""