Anna Shcherbakova: It's a little unusual when you don't see how your competitors work
Posted on 2020-09-22 • No comments yet
Anna Shcherbakova about her performance at the 1st stage of the Russian Cup, return of Evgenia Medvedeva, Alexandra Trusova and Alena Kostornaia.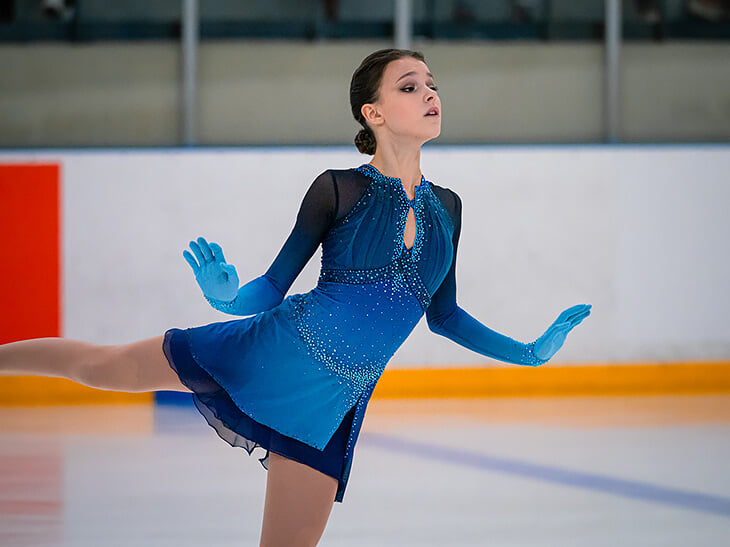 About her performance in the short program
Anna Shcherbakova: In general, I somehow lost the habit of receiving marks, only shortly before the performance I remembered that these are not test skates, where you skated and left, but real competitions, where there will be kiss'n'cry, where you have to listen to the marks. I tried to forget about it, I thought that it was necessary to do all the same. It is difficult to compare the scores, especially when this is the first competition of the season, but I would like to be more pleased with myself than with my scores.
The scores are very good, but I'm not happy with my performance. As strange as it may sound, I liked how I skated the entire program, with the exception of the final combination, I was not nervous at all today, I skated calmly, confidently, I tried to do every movement well, and it seems to me that I succeeded, but I did the combination much worse than at the warm-up. I am very unhappy with this moment, after all, this is the main part of my program. Therefore, I would like to skate better next time and not make such mistakes.
by tass.ru
About free program
Yesterday the most expensive element didn't work yesterday, so you were unhappy. Today the most expensive element has turned out. Are you satisfied?
Anna Shcherbakova: Today the opposite to the yesterday's situation happened, when I liked the whole program except for the main element. Here I am rather satisfied with the first element, the quadruple flip, and, frankly, I did not remember what happened in the second half. Everything was messy, I tried to hold on every jump, realizing that I can't ruin this performance – I started so well. There were stupid mistakes that need to be reviewed, analyzed and corrected.
Why did you jump quad flip and not the lutz?
Anna Shcherbakova: This season I trained both flip and lutz, and I started to jump flip first at the training camp. For some reason, I felt this jump better. Before the test skates, we trained lutz more, wanted to skate with it. But this week there was a training session between the test skates and the stage, when the flip was very good and the lutz did turn out at all, and Eteri Georgievna suggested skating with the flip and trying this option. Everything went well. There is not such a big difference in points between them, but now it is important for me to train quads and make successful attempts.
After the test skates, many people, including fans, said that the program was gloomy. Is the change of music at the end of the program related to this?
Anna Shcherbakova: Indeed, many people had such an opinion, the federation, the coaches … And since the test skates are needed to watch the programs, we decided to change something. We don't lose anything anyway. This music is more powerful, but you have to invest more in it, because of this, the fatigue is stronger. But I will rewatch the skate, I think it turned out well.
Which option is closer to you – new or old?
Anna Shcherbakova: They are completely different for me. In that music there was a logical image, suffering, and because of it there was no thrust in the program. And the music … by the end I was not as cheerful as at the beginning. Here, the music carries me and makes me invest two hundred percent. Probably it looks better.
You often fall from jumps in training, but then everything works out in the skate. How do you focus?
Anna Shcherbakova: You approach competitions at the peak. In general, I perceive morning training as a warm-up and preparing myself for an evening performance. In addition, quadruple jumps are such a difficult level that there is no absolute reliability, they do not always work out. In ordinary training, it also happens that in the morning it did not work out, and in the evening I show the maximum.
Have you thought to give up the quad, since it did not go well in training?
Anna Shcherbakova: For me, the option with one quadruple jump in the free program is the minimum. I do not even consider the option with triples. In any condition, you can get a grip and show some kind of quadruple attempt, and then skate with triple jumps.
Do you work on a triple axel?
Anna Shcherbakova: I have not yet restored the quadruple jumps to the condition they were at the end of last season. As soon as the quads become more confident and stable, I will begin to devote more time to the triple axel.
by Dmitri Kuznetsov for sport-express.ru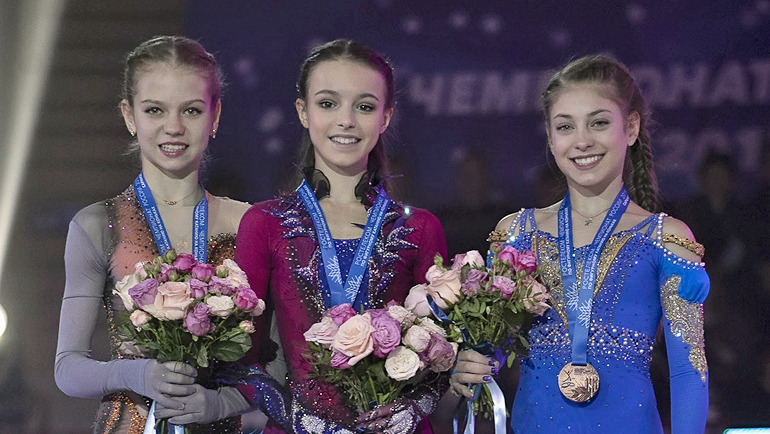 About the relationship with Alexandra Trusova and Alena Kostornaia
Anna Shcherbakova: We had a good relationship, but rather in a training environment, we didn't go anywhere on the weekend together etc. And we kept them, at the test skates in the locker room we were nearby, normal communication, no problems. There were no changes because of what happened. There is no tension between us, we communicate the same way.
Anna Shcherbakova: Do I miss tournaments in quadruple jumps in training at Chrustalny, when there was serious ultra-c competition with Trusova and Kostornaia? Our group is still very strong: Kamila Valieva jumping quadruple, Sofia Akatieva, the younger ones also train quads.
Perhaps, sometimes I miss those who will definitely be with me at all competitions, who are my direct competitors.
But I have coaches who will prompt me at the right time if I am underperforming somewhere. Still, when you don't see how others work, it's a little unusual, because before I always saw how my competitors work.
And now there is no such thing. And that's why coaches always help me, say what to work on.
by gazeta.ru
About return of Evgenia Medvedeva to the Chrystalny rink
Anna Shcherbakova: I absolutely did not expect to see Zhenya in training, there were no preconditions in my head, the same shock as everyone else has. But Zhenya and I have skated for many years, so the atmosphere is familiar, we work the same way as before. Is it a pity that she didn't come (to 1st stage of the Russia Cup -ed.)? She has her own schedule of preparation for the competitions, they will decide with the coach themselves.
Related topics: Anna Shcherbakova, Evgenia Medvedeva