Anna Shcherbakova: After Grand Prix in China I decided to add a quad flip
Posted on 2019-12-10 • No comments yet
Anna Shcherbakova about her performance at the Grand Prix Final 2019.
by Ludmila Orlova for blossomonice.com dd. December 9th, 2019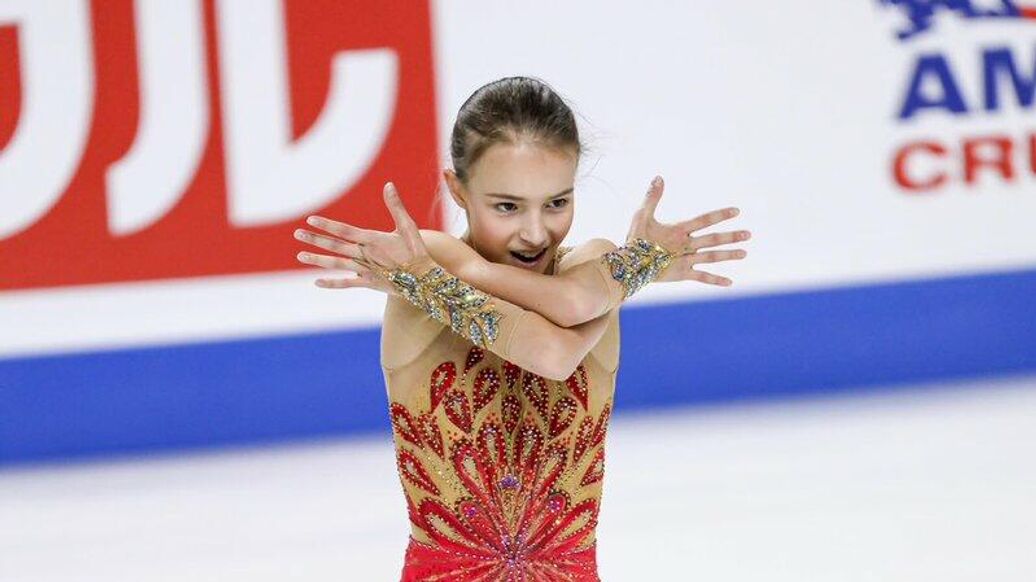 – In general, I am satisfied with the performance (in the free program – ed.). Of course, there is a little aftertaste because flip didn't turn out. I really wanted to show it, and it turned out well at trainings before this competitions. It is a pity that it did not work out here. But this was only the first attempt, I hope that in the future I will go on it more confidently. I'm glad that despite the mistake on the quad flip, I was able to get together and skate the rest of the program clean.
How do you think why the flip didn't turn out?
– Well, I think, first of all, because I put it into the program for the first time. I had similar problems with lutz last year. I did it in training, but at the competitions some mistakes appeared. Perhaps a small mistake occurred because I was not confident enough. It happens to me in trainings, I'll try to fix it.
The quad jumps you do are the most "expensive". Did you decide to start learning ultra-c with the hardest ones?
– In fact, it just happened so (smiles). These jumps are easier for me than the rest, that's why I train them.
But, a couple of years ago, you started with a quad toe loop?
– Yes, I started with a toe loop. In general, I don't forget about it, sometimes I jump it in training on a harness. I have more confidence in lutz and flip, so there is no need to include a toe loop yet.
It seemed that before your performances you were not nervous at all.
– Of course, I try to be calm, but usually I have a lot of excitement inside. Although before the short program, I really was not nervous, and this helped me. I tried to approach a free program in the same way, but at some point I was still seized with excitement and had some jitters. I tried to calm myself, and in general, I think it turned out.
You became the third girl in the history of figure skating with a score of more than 240 points, this is a very serious achievement.
– Honestly, I don't have any feelings from some specific scores. Mostly I think about performance, about jumps. Most of all I would have been glad if I had jumped flip (smiles). Hopefully next time I will be more confident. Of course, I'm glad that I have good scores, but I don't think about that in the first place.
Will there be a quadruple flip in the next competitions?
– Of course it will be. Now I have even more desire to jump it. Honestly I didn't see how Sasha Trusova jumped it, I didn't watch her performance. But I myself planned to include it this season. Of course, I wanted to do it from the first attempt, but this is also an experience.
At what point did you decide that you would include it into the program?
– After Skate America. I come to the first training session, jumped and then already skated with the flip all the time. No, wait .. (thinks). Probably after China. Yes, the last Grand Prix was in China. I wanted to complicate the program, and since flip started to work out for me and I realized that I could, I included it into the program.
Who came to support you here?
– Well, mom goes with me to all competitions. Now, dad started to go to some competitions with me. And the older sister came to the free program. It's close for her to get here, so to get together as a family, she came to a free program.
When the whole family is nearby, does it help or distract more?
– I used to be with my mother, for me her presence at all competitions is mandatory. Therefore, to make me comfortable, just before the skate, only my mother is next to me. But, of course, the presence of the whole family helps me, and when in the evening we are together it's even calmer.
And who is more strict in your family, mom or dad?
– Well, probably, our dad is more responsible for the positive (smiles). And Mom deals with organizational issues, controls everything. In some ways, she may be stricter. But still, she supports me absolutely in any situation, and it always helps me. I know that if anything happens, mom is always with me.
Fans give you many interesting presents, which one is most memorable?
– Well, for example, a girl from Japan, her name is Yuka, often sends me little bears. They are dressed in my dresses, which are thought out to every little detail. A very painstaking work has been done. This jewelry (shows a small jewelry on the bear, which she holds in her hands), she also sent me by mail. I don't know her personally, but we correspond, she sends me presents, I also send parcels to her by New Year. I am very glad that I have such an acquaintance (smiles).
Related topics: Anna Shcherbakova, grand-prix