Anna Shcherbakova: "If I skate well at competitions, then I feel obliged to skate no worse at the next ones."
Posted on 2020-10-26 • No comments yet
Anna Shcherbakova about her performance at the third stage of the Russian Cup, about hard evening before the free skate, about "unnecessary thoughts" that interfere with skating, and also about main dream for the current season.
by Vladislav Zhukov for tass.ru dd. 26th October 2020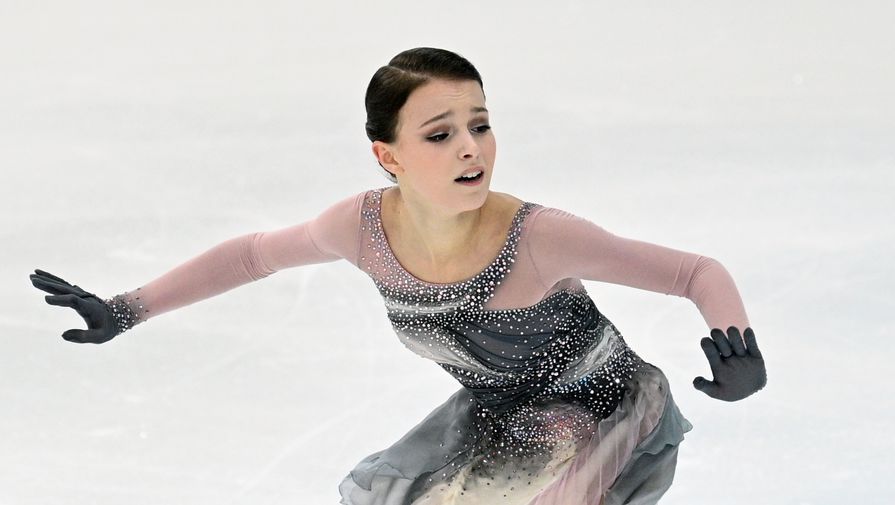 The stage in Sochi turned out ambiguous for you. On the one hand – the first place, on the other – imperfect skates. What feelings do you have about it?
Anna Shcherbakova: At this stage, I probably rather didn't like it than I liked it. I made a lot of mistakes … It all started with a short program. I was very worried about the combination – probably the whole program I was thinking about it. And it didn't work out.
After that it was very difficult to focus on the free program. The evening was endless for me. I was just starting to forget about the competition, to switch over, when the thought came back to me that some kind of end of the world had happened, a tragedy, that everything was over. (Laughs) But then I tried not to think about it, to concentrate more on the free program.
I think I managed to go on the free program without thinking about the short one and to think about how to fix the situation. And that the fight is still ahead, that I have not lost everything yet.
We will talk about the combination a little later. It seemed that it should have been easier here. But in Sochi, it seems, on the contrary, it became more difficult for you.
Anna Shcherbakova: It's unpredictable. Not always, the more competitions, the more confident you are. Perhaps, it happens to me when I go to competitions with the same technical content as I had last time. And if at the previous one I skated well, then I feel responsibility – now I'm obliged to skate no worse.
For example, last time I had a flip (quadruple jump in a free program – ed.), and I was very glad that I did it. Now I felt some kind of obligation, that I must do it in order to be no worse. That I must move on. Therefore, sometimes it is even harder to perform a second time.
About flip. As far as I understand, you planned to do two quads in Sochi?
Anna Shcherbakova: This option was practiced in training. Let's just say, in different forms. But literally at the last moment we decided that it would be more reliable to skate with one. Well, for me it was very important to feel the difference from the previous one. That this is not one successful quadruple attempt at the competitions, but that I approach it correctly on a six-minute warm-up and do it confidently in the program.
At both stages of the Russian Cup, you gorgeously made a quadruple flip. And both times – mistakes on the loop in combination with lutz. What's wrong with it?
Anna Shcherbakova: In the short program, I've had it before … Still, this is the most important element in the program, so I always worry about it more. So there were sometimes problems before that – if not at competitions, then at training. I'm more worried about it, mistakes happen.
In the short program, of course, it was very sad. Because of this, probably, mistake happened in the free program. Usually in the free program I concentrate on quads. I tried to recall – I have never had serious mistakes on triples. Neither last nor the year before last. If quadruples did not work, then I always did triples.
This time, probably, after an unsuccessful combination in the short program, I dwellved on it again, and after the quadruple I did not let go of the situation, and closer to the second half I started thinking about the lutz-loop again, so God blesses it wouldn't happen like in the short program. Probably, this prevented from doing it on the first lutz. On the second one I also felt uncertainty and somehow instantly – I didn't even have time to think – I decided to add a triple toe loop to the second lutz, so that there was at least something. (Laughs.)
But you probably realized that there will be a repetition of the jumps and it will not be counted?
Anna Shcherbakova: As soon as I landed the combination, I realized that this toe loop will not be counted anywhere. Of course, I had no thought: "Well, maybe at least this toe loop will be counted." Just an instant decision – if it's not a loop, then I'll add toe loop. But I do not regret that it turned out that way, because I did the combination at least for training. Of course, it should have been with a loop, I understand, but it happened.
Tell us a little about the preparation for the competitions. We talked with Daniil Markovich, and he said that there were certain difficulties.
Anna Shcherbakova: There were difficulties, you can't do without them. I returned after Syzran (the first stage of the Russian Cup where Shcherbakova also won – ed.) – at first there was some kind of burst of energy, I was already trying to skate a program with two quads.
Then there were minor problems … I got sick, then came back, recovered. This is not serious, but it still slightly affected my preparation. I devoted more time to quadruple jumps during this time, restored them. In principle, there is progress, and I think it can be seen that this time I jumped flip more confidently. I've already restored lutz in training, there were good attempts.
I think we will gradually recover. Hopefully nothing else will interrupt the preparation. Although now, upon arrival, I will have to break into new boots.
New boots again? After Graz there were new ones.
Anna Shcherbakova: Graz … When was Graz? What was there? (Laughs.) Europe, right?
As if it was in a past life.
Anna Shcherbakova: Oh, yes (laughs). Well then there were new boots. Before this season there were another. And now.
New boots every few months?
Anna Shcherbakova: It turns out like this: I came to Novogorsk (for the training camp after the pandemic – ed), broke into the new ones, which I skated on until that moment. They barely survived this time, with scotch tape. Now it is still ok, but further they definitely needs to be changed. I already had a ready-made pair for this case. The scheme has been worked out – last year one pair also did not survive the whole season.
Will you have time break into new boots before the Grand Prix in Moscow?
Anna Shcherbakova: I have no options, I have to. (Laughs.)
By the way, what do you expect from this event? Formally – your first international competition of the season, but in fact – the next national competition.
Anna Shcherbakova: I think it will not feel much different from the test skates. The same rink, as far as I understand. I will set myself up to it the same way – it depends on my programs, what difficulty they will have, it is not yet known, in training it always changes.
For me, of course, the short program will be very important. It will be necessary to set my mind to this combination, to work it out. But without obsession, because at these competitions I was thinking only how to make this lutz-loop better. And as a result, so many mistakes on it. It is necessary to bring this to automatism so that there are no unnecessary thoughts.
Please do not engage in excessive self-criticism.
Anna Scherbakova: Yes, after a short program I realized it. I just forget, calm down, and again these thoughts come to me: "It's all, it's over, nothing worked out!" As a result, I decided for myself that no matter what happened, I would just go try to do my best and in no case would I be upset. Of course, there was some kind of fatigue, at first, maybe I thought I had done something wrong in the second half of the program, but in general there is no frustration. I'm happy with the flip and I know what to work on next.
Where did the two-time Russian national champion got so much self-criticism?
Anna Shcherbakova: This is probably an internal feature, we work so much, the expectations from us are high. You try not to pay attention to what is happening around, and to skate the same way as you have always done. But, of course, some thoughts appear, pressure … But you also need to be able to cope with this. And I think on the second day I changed my approach to the performance. I will try, despite mistakes, to always assess my performance with a cool head.
What is this season for you? Strange, incomplete, incomprehensible.
Anna Shcherbakova: I don't know what to expect from it. I really hope that there will be major competitions, especially the World Championships. This is probably the main dream for this season – to make it happen. For my part, I will simply do my best to perform well at the Russian Nationals, improve and always be happy after the skates. (Laughs.) Because I really did not like this feeling after a short program in an interview, when I had to tell something after a bad performance. It's much nicer after the good ones.
Previously, you were a cheerful trinity, plus Alina Zagitova and Evgenia Medvedeva at their peak were nearby. Now each of them is going through its own difficult period of life. And now you are definitely at the forefront. Are you ready for the fact that all the attention and hopes are only for you?
Anna Shcherbakova: Probably, these thoughts interfere with skating. So I try to deal with it, skate the same way as I did before. But, to be honest, at competitions … We met with all the girls at the test skates, and our purely human relations remained the same. It was very nice to remember these, let's say, old feelings in the locker room.
We chatted, and maybe I lacked it. Last year we went to all the competitions together, and some kind of atmosphere developed. In Syzran I competed alone – somehow I lost the habit of it. I was tense, all in myself. It's necessary to be able to separate such things. Friendly relations and competitions, where everyone is for himself.
I have long wanted to ask this question. As a rule, successful athletes are most often people with very strong motivational factors, and mainly financial ones, in order to improve their lives, help their parents. You are a unique case, because there can be no such motivator for you, you have a wonderful family, wonderful mom and dad. But at the same time you are fighting. What drives you?
Anna Shcherbakova: Indeed, no one has ever forced me. The parents always said: "If you don't like it, we'll quit, let's go to study or something else." This, of course, when I was younger – now they understand that this is very important for me. And there is no talk "Let's finish" when something goes wrong.
I love doing this. Of course, it's hard in training. I have to work, but I like performing so much, feel these sensations, show artistic images – let's say, the theatrical component of figure skating.
I can't imagine myself in ordinary life. Every day it's routine to go to school, come back, do homework – and all over again. I don't see myself in this, I always need movement. We go to competitions and it is a great pleasure for me. This is probably the main motivator.
Related topics: Anna Shcherbakova