Anastasiia Gubanova: Elena Buyanova wants everything at once
Posted on 2019-07-22 • No comments yet
Interview with Anastasiia Gubanova who was recently expelled from Elena Buyanova's group in CSKA because of "lack of proper shape".
by Anatoli Samokhvalov for rsport.ria.ru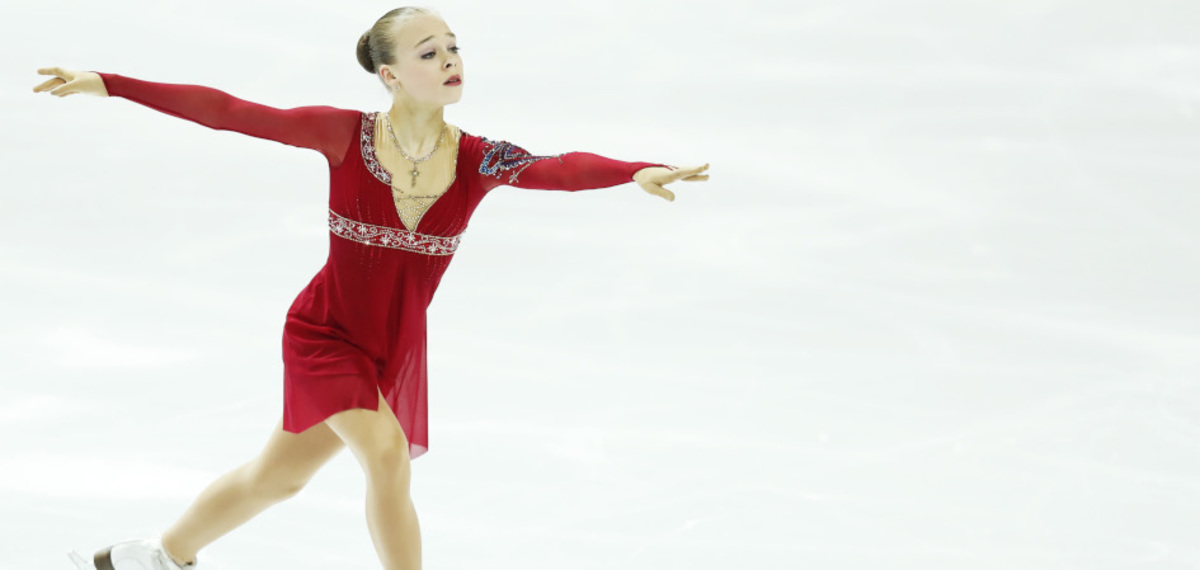 Anastasiia, you left CSKA with the wording "expelled". Why so tough?
– To be honest, I don't know, because I've never heard from her (coach Elena Buyanova) I was expelled. I found out just yesterday, I was surprised when I read about it. Elena Buyanova and I talked and decided that, unfortunately, we should stop our joint work. Everything was going on absolutely normal. It was a mutual decision.
Was she angry at you?
– Personally, I didn't see any anger. We discussed everything calmly.
If the decision is mutual, then why did it happen at all?
– We talked, and she (Buyanova) said that I didn't cope with the loads which are customary in Moscow, that it was hard for me to live alone when my parents were in St. Petersburg.
Was it really difficult in Moscow?
– It was difficult, I moved here a little girl. Without parents. I lacked support. But I still think that I was coping with this life in Moscow. Not completely, of course, but not to such extent as she (coach) told me.
What couldn't you cope with?
– I had injuries, which is why my training process wasn't what it should be.
What injuries?
– Rubbed feet. This is professional.
There were no problem with weight?
– Everyone has. And that's not surprising.
As I understand, the main problem was weight and inability to withstand the loads required for a figure skater of this level.
– Of course there were problems with weight, but not so big. Even with the weight that I had, I could train.
You really haven't been practicing for a long time?
– Yes, we talked 3d July and since then I haven't skated.
Personally, I don't understand the situation when the favorite of the main group in CSKA leaves this way.
– Injuries let down. All the same, the training process was getting lost from time to time.
It seems to me that given your talent, Elena Buyanova wouldn't part with you just because of injuries.
– The coach wanted results, constant consistency. And when the opposite happens, naturally, it cannot please.
Did you have a feeling that in CSKA they were counting on you?
– Of course! As soon as I began working with Elena Germanovna.
Then Maria Sotskova went to another group, Polina Tsurskaya ended her career, and you were the only one who is able to compete at senior level. When did the situation change?
– All last season and until the moment when everyone left, everything was fine. And at the beginning of the season, our relationship has become different.
Do you have any idea why it happened?
– I just think that Elena Germanovna wants everything at once. But due to injuries that I had, I could not do it. The coach didn't like it.
There were no violations of the regime?
– I didn't get this question.
Violations in terms of nutrition, maybe something else?
– I tried to comply.
Have you always succeseded?
– Not always, but during the season I kept a diet.
Did coaches controlled you much?
– Yes, they controlled, but just like they controlled everyone else.
Have you often got complains on this issue from your coaches?
– Always.
What shape do you have now?
– I'm recovering. I can't say that I'm in bad shape, but not in great, average shape.
Did you solve the problem with rubbed feet?
– They do not prevent me from skating at the moment. I can fully train.
Have you decided on a coach?
– Yes, but I don't want to discuss this topic yet. I will train in St. Petersburg.
What is the main difference between CSKA and Petersburg school?
– In St. Petersburg they treat everything calmly. The intensity of training is basically the same, but morally it is easier in Petersburg.
CSKA is looking for winners?
– Of course. I don't say that in St. Petersburg they are looking for losers, but at CSKA they morally demand more from you.
Did you try to be tougher?
– And I became tougher. Elena Germanovna retrained my character, for which I am grateful to her. She inspired me to strive only to win.
Isn't it pity to leave CSKA?
– I can't say that it's not, but that's how it happened. This is Elena Buyanova's decision.
But you said that the decision is mutual.
– She said about it, but then we talked, we had a dialogue and parted normally.
I remember when I saw you at a practice session at CSKA, I caught myself thinking that you were like Adelina Sotnikova in style. Imitated the Olympic champion?
– No, I didn't expect to be told that I resembled her. How it happened, I do not know. By chance.
Who are your idols?
– I always liked Carolina Kostner's skating, Ashley Wagner's presentation, and Yuzuru Hanyu in generall.
Who will be a favorite in ladies' single skating this season?
– I don't even know. There will be something interesting, but still the viewer will go to the arena to watch programs. If instead of programs there will be only jumps, then it will hardly be interesting for people to look how girls do physical exercises. They want to experience emotions from our programs. I think that not only jumps are needed, but also our emotional state during the program.
Whose skating doesn't give these emotions?
– I don't want to talk badly about anyone.
What are your ambitions?
– I want to continue my career and first of all prove to myself that I can still win, compete with strong athletes.
Do you have a feeling of a turning point, when you, a figure skater with a potential, that many admire, can find herself among those who occupy 10th places at the Russian Nationals?
– Bad thoughts came my head, but for a minute. Then I again come back to the thought that it is necessary to work hard and only then something can turn out for me.
Are you ready to compete this season?
– Yes. I don't know yet where I'll start the season, but I intend to participate in competitions and prove that I can win.
Related topics: Anastasiia Gubanova, Elena Buyanova