Anastasia Mishina and Aleksandr Galliamov: "We are made for each other"
Posted on 2021-03-16 • No comments yet
Interview with Anastasia Mishina – Aleksandr Galliamov. About their pair, reasons for switching to Moskvina and expectations from the first World Championships in their career.
source: rsport.ria.ru dd. 8th March by Boris Khodorovsky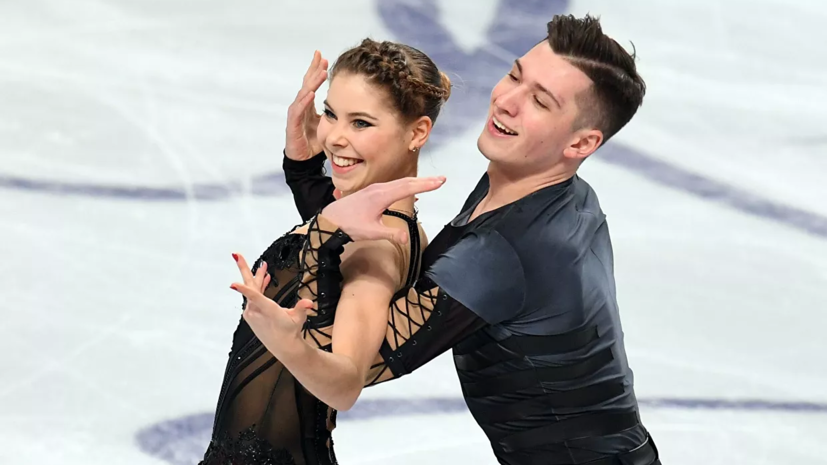 Anastasia, how often have you been called the daughter or granddaughter of Alexei Mishin?
Anastasia Mishina: We often joke on this topic with Alexei Nikolaevich. The professor encourages me: "Do not disgrace the family name!" This is both fun and enjoyable.
Aleksandr, what is it like to skate with a partner who has such a famous surname in the world of figure skating?
Aleksandr Galliamov: The partner's surname obliges me to be at a high level.
You are performing together for the fourth season. Can we say that the Mishina / Galliamov pair has already completely formed?
Anastasia Mishina: Even skaters who have been skating together for many years can hardly say that. We strive to progress. Like any pair, we look better together with each performance.
Aleksandr Galliamov: A pair in figure skating can be compared to a mechanism where all the parts fulfill their functions. We can add a small detail and the program will sparkle with new colors. There were no two competitions where we have performed our programs in the same way. We strive to improve in everything.
After the breakup of the Anastasia Mishina / Vladislav Mirzoev pair, who won the junior Grand Prix Final, who offered to team up?
Aleksandr Galliamov: We found each other! We trained on the same ice. I was 14 when I switched to pair skating, and Nastya was 12. Before her, I had two partners, and for another year I skated alone, learning pair elements. Nastya also had two partners before me.
Anastasia Mishina: Sasha was wrong, three!
Aleksandr Galliamov: Apparently, we are made for each other, and everything turned out so well. Just perfect coincidence!
Anastasia Mishina: I would like to thank Lyudmila Georgievna and Nikolai Matveyevich Velikov, who believed that our pair had future.
Which of you initiated switching from the Velikovs to the Moskvina team?
Anastasia Mishina: WWe make all decisions together. It wasn't spontaneous and emotional decision. We've been discussing this step for a long time before taking it.
Aleksandr Galliamov: I've trained in the former school for over ten years. I came there after moving from the Urals, and it was not easy to part with the academy, which had become a second home. And yet we understood that in order to move on and achieve results, we need to sacrifice something.
Weren't there fears that you will be the second-guessed, after Alexandra Boikova and Dmitri Kozlovskii?
Aleksandr Galliamov: It's cool to train on the same ice with these guys!
Anastasia Mishina: We are a team that moves forward together. We motivate each other at every training session. It is easier for us to train in a group where there are no clear leaders and there is competition.
But what about the phrase that Kozlovskii said at one of the competitions: "Get in line!"
Aleksandr Galliamov: Maybe from the outside it is perceived as a challenge, but Dima and I have great relations. We can talk, joke in the locker room. The phrase that caused such a heated discussion I take as a joke.
After the Russian Nationals, where, due to a serious mistake in the short program, you remained outside the pedestal, were there any fears that the season was over?
Anastasia Mishina: We didn't think about it. We were preparing for the Channel One Team Event and the Russian Cup Final. We were determined to do everything we learned and hoped for the best.
Aleksandr Galliamov: After returning from the Nationals, we carefully analyzed the mistakes, thought over each step of preparation and the next two competitions turned out well.
How did you manage to cope with the excitement and psychological pressure at the Russian Cup Final, when almost everyone was trying to remind you of the fight for a place in the national team for Worlds?
Anastasia Mishina: We didn't feel any pressure. Honestly!
Aleksandr Galliamov: At the Megasport arena, we generally felt at home! If I am not mistaken, we performed there for the fifth time this season. There was little time between the Channel One Cup and the Russian Cup Final and we, in fact, did not feel the difference. Well, we have already gained experience in preparing for the main competitions of the season.
What do you expect from your debut World Championships?
Anastasia Mishina: We are not expecting anything, we are just getting ready. Our coaches have a plan and we are absolutely calm.
Aleksandr Galliamov: Our knees are not shaking. We participated in the Grand Prix Final in Turin. Of course, the World Championships is higher in rank, but first of all it is a great pleasure for us to perform there. We want the fans to enjoy our skates, and the judges to appreciate it.
Won't the "Bubble" prevent that?
Anastasia Mishina: Better this way than nothing!
Aleksandr Galliamov: We know about increased precautions. Of course, it's a pity that such a competition will be held without spectators, but we have already had a similar experience. At the fifth stage of the Russian Cup, we have already performed in front of empty stands in Megasport.
The two-time European champion Alexander Smirnov, who skated with Yuko Kawaguchi, called his programs "the academic theater of Tamara Moskvina". Does this definition fit your programs?
Aleksandr Galliamov: This season's short program "Esmeralda" is a real choreographic miniature. My mother has been performing in ballet for many years, so I can judge almost professionally.
Anastasia Mishina: Alexander Stepin, who recently passed away, made a huge contribution to this program. Much in "Esmeralda" is his merit. The work of arms, facial expressions, emotions – Stepin taught us all this.
Related topics: Anastasiia Mishina Alexander Galliamov