Alexandra Trusova: Three quads are already very little for me, I need more
Posted on 2019-12-09 • 1 comment
Alexandra Trusova commented on her performance in the Grand Prix Final 2019.
by Ludmila Orlova for blossomonice.com dd.December 8th, 2019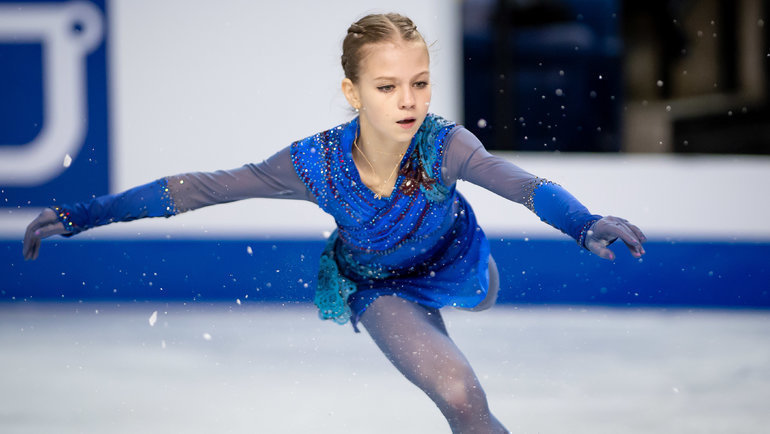 – For myself, I skated the program very badly (free program – ed.). Yes, for the first time in history, I jumped quadruple flip, but then I popped a jump, fell. Of course, I was upset, but I will continue to work. In general, a quadruple flip was one of my tasks for this Grand Prix Final. I wanted to show flip, make five quadruples, but it did not work out a little bit.
You think that you skated badly, but after all, you did three quadruple jumps.
– Well, for me, three are already very little, I think I need more (smiles). It's a shame that I can't put it together at competitions. In trainings, I do everything much more often and much cleaner.
How do you think what is the reason for mistakes on salchow and toe loop?
– I think, I was worried. Going on the salchow, I hurried. Apparently, thought, "now I'll jump salchow, then I will do the rest" (smiles). As for the toe loop, probably the main reason is that the jump is in the second half of the program, when you have a little less energy. If this was my first element, I would certainly do it.
In general, in training did clean skates with five quads turn out?
– Yes.
At these competitions, you and Anna Shcherbakova simultaneously announced a new jump – a quadruple flip, did it just coincide so?
– Yes, we didn't conspire (laughs). In general, I have been jumping flip for a long time, I learned it at the end of last year, before the New Year. There was simply no time to prepare it. Lately, everything seemed to work out quite well, and I decided to try adding a quadruple flip into the program.
For a complete set of quadruple jumps, you lack only loop. Do you plan to learn it?
– Well, of course I want to jump all quads. I'll probably try at the end of the season. Now I will work out what I already have.
Are there any thoughts to include a triple axel into a free program?
– Well, in a free program I already have five jumps which I can fail (laughs). So for now I think I won't, only in a short program.
Yuzuru Hanyu in a recent interview said that you are already stronger in terms of jumps, because he jumps only one quadruple lutz at competitions, and you can do much more.
– I just think that Yuzuru is a great skater. He went through two Olympics, won both times, and has been performing at the highest level for a very long time. When he started skating, I probably wasn't even born yet (smiles).
Related topics: Alexandra Trusova, grand prix final
One response to "Alexandra Trusova: Three quads are already very little for me, I need more"