Alexandra Trusova left Angels of Plushenko and returns to Eteri Tutberidze
Posted on 2021-05-01 • 13 comments
Alexandra Trusova left Angels of Plushenko and returns to Eteri Tutberidze. A comment from Evgeni Plushenko.
source: Evgeni Plushenko's Instagram account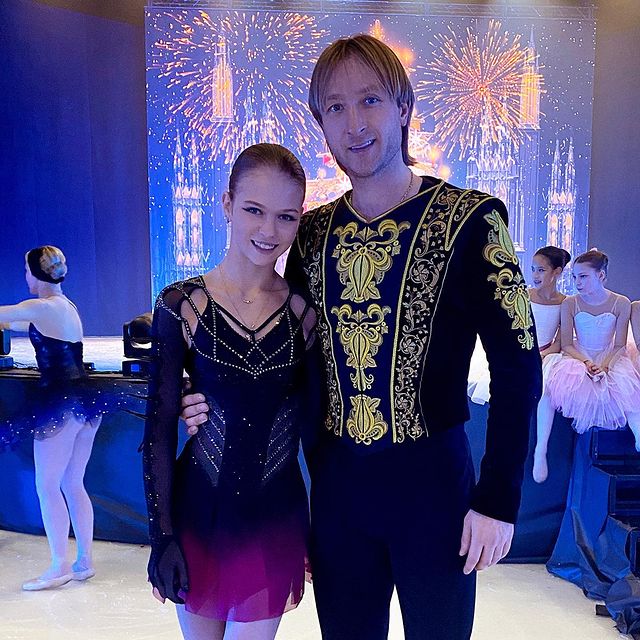 Evgeni Plushenko: Friends, congratulation with the holiday of Spring and Labor! In the meantime, we have news! I want to share with you. So, with the wonderful Sasha Trusova, we have gone through a very fruitful season! We won 2 stages of the Russian Cup, the bronze of the Russian Nationals and World Championships. It was a difficult season for all of us!
On May 1, our contract ended, and by mutual desire of the two sides, we did not renew it. We let Sasha go back and hope that all the promises given to her by the "old-new" school will be fulfilled in the future. Only God our all-knowing haters and respected experts know how her sports career will develop in the future. Our team @ angelsofplushenko will not guess, but simply wish her victories, since she deserves them, being a very purposeful and hardworking athlete! Under the terms of our agreement, we do not disclose the reasons for patring, maybe sometime after years, but definitely not now.
Of course we remain friends. In the future we hope to see her more than once on our shows and on a visit. As practice shows, life is a long-distance race, and this is just the beginning. Alexandra leaves us on a white horse, with a bronze medal of the World Championships around her neck and with a decent bank account, as well as with a 5 quadruple jumps restored after the pandemic! Hopefully in the future she will not have to give humiliating remorseful interviews on tv. This is certainly not the case. Where she returns, she goes by numerous invitations and without a trial period, and in the status of one of the strongest single skaters in the world!
PS We ask the respected press not to violate the personal space of both sides, we definitely do not give comments. In fact this post was written for this. We continue to work further, without loud promises, on the result with our athletes and coaches. See you next season, I'm sure, you will have what to talk about. Always yours, Evgeni Plushenko.
Related topics: Alexandra Trusova, Evgeni Plushenko
13 Responses to "Alexandra Trusova left Angels of Plushenko and returns to Eteri Tutberidze"