Alexandra Trusova: It's okay to go to different coaches and take the best from them
Posted on 2020-09-14 • No comments yet
Alexandra Trusova commented on her performance at the Russian test skates 2020.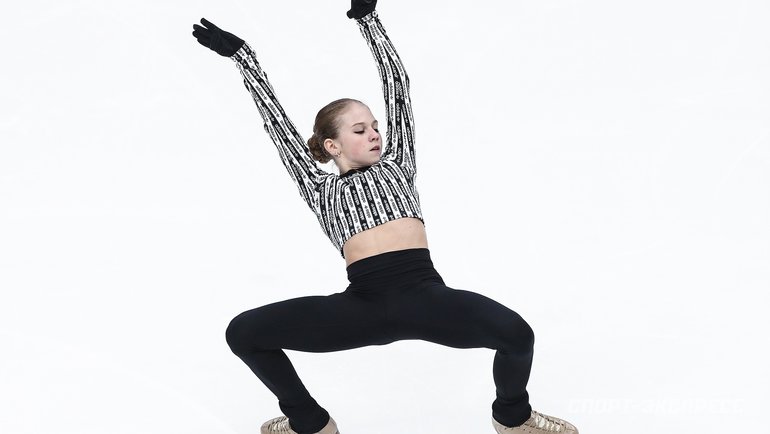 About short program
Alexandra Trusova: I was a little nervous, after all there was a long break. I wanted to show my program well, to present myself from the other side. I finally have slow music. New Trusova, which Plushenko promised? Yes, I feel like I'm changing. I don't know about height, I haven't measured. Probably, I grew up, but it doesn't affect my technique. I estimate that I am 60 percent ready. I am not doing the triple axel consistently yet, but I want to do this jump, generally to jump as much as possible. It's very sad that the season is like this. I wanted us to fly to different countries. But I am glad that there will be some competitions. Online competitions? I still like with the audience better.
About change of coach
Alexandra Trusova: I think I am doing everything right. It's okay to go to different coaches and take the best from them.
I believe that I have already changed, and I am trying to show it. I want to show myself in different directions, to show that I can do everything well – both skating and jumping.
We are working on everything and trying to do everything much better. Something we do different, something leave the same. But basically everything is different.
When Alena Kostornaia followed you, were you surprised?
Alexandra Trusova: I don't know, I didn't think much about it. Nothing has changed with us, we continue to communicate like before.
Was there any tension, for example, when Eteri Georgievna passed by here?
Alexandra Trusova: No, it's okay. It doesn't create any tension. I don't know about them, but I'm fine.
video interview Channel 1, text version sports.ru
About free program
Alexandra Trusova: While with three (quadruple jumps), I think that it is necessary to prepare a maximum (five) for more important competitions. I got great pleasure, but there are always mistakes. I'm not upset, I'll work. The coaches said that it was necessary to correct the mistakes, but in principle, they said "Well done."
About work with Elena Ilinykh
Alexandra Trusova: Her presence helps me a lot, because it was hard, since at first only men worked with me in Evgeni Viktorovich's group. We worked individually (with Ilinykh) on the programs, it seems to me that they got better after that.
I did not feel pressure anywhere, – this is how Trusova answered the question about comparing work in the groups of Eteri Tutberidze and Plushenko. – There are changes in the training process, due to this diversity, it is more interesting to get such an experience. I feel a little change in myself, but not dramatic changes. I feel comfortable.
Related topics: Alexandra Trusova, test skates