Alexandra Trusova: "I'm not Juliet in the free program, but an evil fate of love"
Posted on 2020-10-12 • 2 comments
Alexandra Trusova about jumps, her new programs and performance at the second stage of the Russian Cup.
by Olga Ermolina for fsrussia.ru dd. 12th October 2020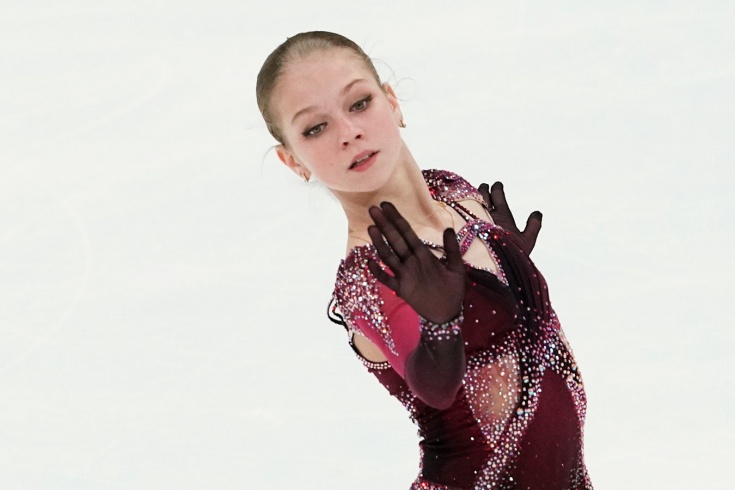 Alexandra Trusova: Today, the quadruple lutz did not work out a little, of course, I would like to make it clean. Loop – I don't know why I fell. In principle, I don't make mistakes in the free program, in training I always skate it clean. I just need to work more on jumps, on skating, spins, on everything … But I feel like I'm improving and will continue to do so. I really wanted to jump a triple axel at these competitions, I had such a goal from the test skates to this stage. Not quite succeeded, but I'm happy …
At the training camp in Novogorsk before the test skates, in training, I made many attempts to jump a triple axel, fully rotated it, everyone said that I was close, but I could not land it cleanly. I don't know what exactly suddenly changed, but I really practiced this jump every day, jumped axel, axel, axel … And when I felt it, it started to turn out quite easy…
I have always enjoyed jumping, learning and doing difficult jumps. And it remains: jumps are my favorite element of figure skating. But now I really started to like skating too, we work a lot on it. I train as always, and then I take additional individual lessons. We even tried to skate together with Dmitri Sergeevich (Mikhailov – ed.), in a paer, made a video. But, to be honest, I don't understand how people do pairs. It was interesting though. I really pay a lot of attention to skating right now, trying to improve. In everything …
This season, I have the programs the way I wanted. Short – slow, I dreamed about it for a very long time. The program is about spring, when everything comes to life, the first flowers appear, leaves on the trees. It's like the birth of something new. And in the free program – the music from "Romeo and Juliet", but I am not Juliet, but an evil fate, the evil fate of love, and therefore the music is so selected. There will be new dress for the program. At these competitions I skated in the dress that we were preparing for the World Championships. But I had to change it a little. I grew up…
At these competitions, my goal was to skate clean. I haven't reached this goal yet. But I will try. I need to do the short program with a triple axel, the free – I don't know yet with how many quads, but I will try my best and improve.
Related topics: Alexandra Trusova
2 Responses to "Alexandra Trusova: "I'm not Juliet in the free program, but an evil fate of love""