Alexandra Stepanova and Ivan Bukin: We've been together for so long that we've already become a family
Posted on 2020-01-10 • No comments yet
Interview with Alexandra Stepanova and Ivan Bukin. About the results of the first half of the season and choice of the music.
by Vladimir Zaivy for russian.rt.com dd. 9th January, 2020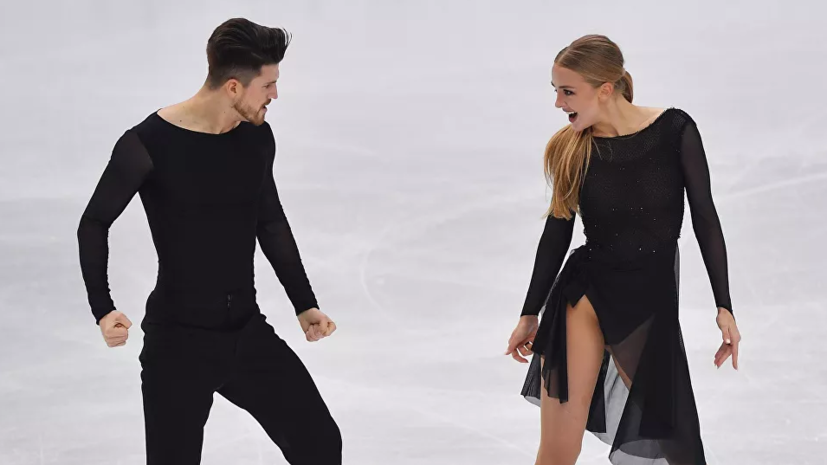 How do you assess the results of the Russian Nationals?
Alexandra Stepanova: It's still hard to give an assessment, we haven't completely analyze both programs with the coaches. In general, even just right after the skates we could say that we are satisfied with our performance. The coaches also were happy with us, and there were a lot of messages and congratulations, it is very nice. We have done quite a lot of work in a small amount of time. We managed to improve after the Grand Prix Final, it is very pleasing.
It is believed that at the Russian Nationals there's less pressure. Does it make you feel freer, more relaxed?
Alexandra: I don't know, we just don't think about it – neither in Russia, nor at international competitions. Skating is always in the first place, this is important. If we show what we can, then they will give marks according to our merits.
Is it hard to keep in mind so many rules and criterias for each element in ice dance?
Ivan Bukin: There are a lot of rules, but we are constantly work on the program, the elements have already been brought to automatism. It's much easier when you are constantly in competitive mode. But after the rest, it is usually hard to gain tonus.
Alexandra: Yes, it's hard to understand where to do and what, but we have coaches, they will always tell, because they know the rules thoroughly. Basically, everything comes from them.
How can an unprepared viewer start to understand ice dance?
Alexandra: It seems to me that you just don't need to understand them. Of course, you should go deep into the rules if you want to understand what exactly such scores are given for. But to watch the ice dance this is not necessary. It's like coming to the theater – either it captures you or not.
How did you choose programs for this season?
Ivan: We had a lot of options for the free dance. Cry Me a River was one of the first options that coaches offered. We liked it, but decided to continue looking.
Alexandra: We were looking, listening, but everything was not right. In the end, I added Primavera, which I had already offered. Here it fitted perfectly, the coaches and Vanya liked it. When we put everything together, we realized that this is it.
Ivan: And we didn't even think about the short dance. Doubted about the music. Thought that many would take Moulin Rouge! But we were lucky and almost no one chose it, and the program turned out exclusive.
What other options for the rhythm dance were considered?
Ivan: In fact, there are not many suitable musicals, because there are criteria for tempo and style. Because of this, the choice of music is greatly narrowed.
Is it possible to use music with Russian lyrics?
Alexandra: This is possible only if the theme of rhythm dance is folk dance and you take Russian folk music. Yana Khokhlova and Sergei Novitsky did so. But the melody should sound well. In general, it's quite difficult, because it is unusual.
Do you watch ice dance competitions of the past?
Alexandra: Yes, it happens. Especially when a compulsory dance for the season is announced, then we go back to the roots. Tessa Virtue and Scott Moir, Oksana Grishuk and Evgeni Platov …
Ivan Bukin: … Tatiana Navka and Roman Kostomarov.
Alexandra: Yes, we also watched their dance when he had tango.
Ivan: We return back to the days when my dad skated, Jayne Torvill and Christopher Dean. It is interesting to watch, because then there was a great emphasis on compulsory dance.
So you don't watch it for yourself, for your own interest, just out of necessity?
Alexandra: I couldn't sit down and review the entire Grand Prix series. Not every program we like, many we do not like in terms of skating. We can enjoy some of our favorite pairs, but not everyone.
Now many are summing up the past decade. What are your favorite programs of this time?
Alexandra: Among ours, free dance of this season, as well as last year's tango.
Ivan: I like "Moulin Rouge!" by Virtue and Moir. I think this is an incredible program, amazingly executed.
Alexandra: Yes, I absolutely agree. This is one of our favorite programs.
In your opinion, how has your sport changed during this time?
Ivan: Firstly, the dances have become more complicated. The judging system has changed, the compulsory dance has been removed and this has benefited us. This dance was moved into the short, and it become more interesting for the audience. Everyone began to skate different programs, not just one. But as for free dances, I like how it was a long time ago. People really skated free dances when they were not dependent on any particular elements that needed to be done. You just create, and it's very cool.
Alexandra: This has its own truth, but today there are also quite interesting programs. The rules are getting complicated, something new is being invented, it becomes more interesting to watch dances. Previously, there were two compulsory step sequences, now they have been abandoned – and everything has changed. There is more space for creativity.
How do you distract from figure skating? What do you do in your free time?
Alexandra: It seems to me that we don't distract.
Ivan: No, this does not happen. We're leaving for the weekend just to feel good next week. We rest so that we can gain strength before the next training.
Alexandra: Perhaps I just don't talk about figure skating.
Ivan: Yes, me too.
Do you make presents for each other on New Year?
Ivan: Of course! This is a family holiday, and we have been together for so long that we have already become a family.
Alexandra: Vanya gave me sunglasses that I wanted for a long time. It's very cool when they give what you want, although only close ones can do that.
You have been skating together for 13 years. What is the secret of such "longevity"?
Alexandra: Apparently, from childhood, the coaches passed that on to us. It comes from the people who take care of us.
Ivan: We have great respect for each other. It also helps. When you are sensitive about a person, you don't want any scandals.
Alexandra: Yes, then you will soften the edges.
Related topics: Alexandra Stepanova Ivan Bukin