Alexandra Stepanova and Ivan Bukin: We can't even explain what kind of relationship we have
Posted on 2019-12-12 • No comments yet
Interview with Alexandra Stepanova and Ivan Bukin. About scores and performance at the Grand Prix Final 2019.
by Andrei Simonenko for rsport.ria.ru dd.December 12th, 2019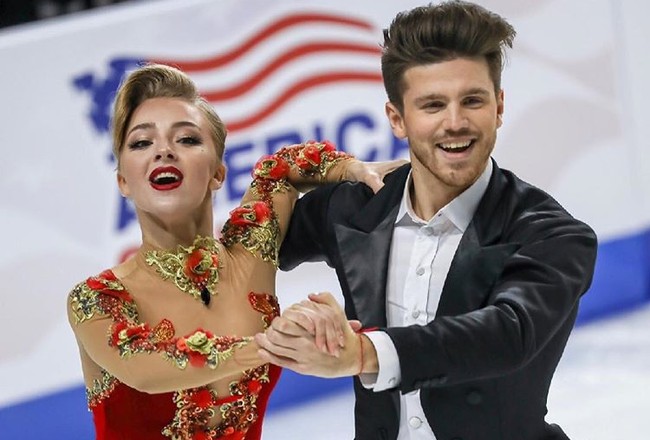 At the Grand Prix Final, you got scores that left many in confusion. How much disappointment do you have after this competitions?
Alexandra: There is nothing to hide, of course, there is disappointment, because everyone had a misunderstanding, both after a rhythmic dance and after a free dance. We did not receive such levels even at our first competition.
Your coaches said that they have no complaints against you on the outcomes of this competitions.
A: That's very nice, thank you very much to them. I think the rhythm dance turned out to be the best in the season. In the free, we didn't work enough ourselves, but the coaches actually said that they were satisfied.
This season has begun very difficult for you. Can we say that now you have already reached a hundred percent level?
A: I think that an athlete can reach an absolute level only at the peak of his career, when he's about to leave sports. We are still very, very far from such readiness. And if we talk about the season, then, as I have already said, we can perform our free dance better, so we can't talk about a 100% level yet.
Alexandra, before the start of the season you got a back injury. Did it happen suddenly, or were there any precursors?
A: I can't say that something bothered me before, this happened for the first time. We all were shocked. There were different injuries, also at competitions, but I could endure them with painkillers and skate. And then it suddenly happened that I couldn't move, and the worst thing is that we did not understand what and how to treat. I went to Germany, fortunately, they quickly helped me there, everything ended well.
Many people talk about this, I also noticed that the level of so-called "chemistry" or relations on ice in your pair has reached some beyond level. You look like a couple not only on ice, but also in life.
A: Actually, this is a huge compliment for us. People really see something real in what we do on ice. As for what is happening between us in life, we have a very close relationships, and it seems to me that I can never explain what kind of relationship it is. It is impossible to explain simply. Vanya and I have been together for 13 years since childhood, and we are very lucky that we have an understanding at such a level.
Even before the start of a six-minute warm-up, when the skaters go on the ice, everyone looks at the stands, and you look at each other. Is it real?
A: This is real. But, in fact, not only we do this. You always see support in each other, a strong shoulder, you see confidence and calmness. When you look into the eyes of a person with whom you have been walking hand in hand for so many years, you see a lot of things. If you are very nervous, it can calm you. If you are too relaxed, on the contrary, it can focus you.
In Turin, you even talked before the rhythm dance. Do you remember about what?
A: We most often skate closer to the end, and here we first to go. I remember that I said to Vanya: "Finally, we will skate on a clean ice."
You said that you take acting classes.
A: Yes, we tried at the beginning of the season include this into our work. But due to the situation (with injury), we, of course, pushed everything to the background and did only important things. But really, we worked with Alexander Nesterov, thanks a lot to him. This has opened something new for us, has expanded some frameworks.
And the coaches say that you do everything yourself now, without a hint.
A: It's nice to hear too, thanks a lot to them. At some point we just realized that we had a lot to do ourselves. Probably, we have reached a level when the coach no longer needs to show how do some step or arms moves. Of course, the coach invests in us what he should, but a lot depends on the athlete himself, his understanding, desire, perception.
There is lot of positive feedback on your free dance this season. What is the story?
Ivan Bukin: The story in the music itself, there's a concrete story in Justin Timberlake's composition, story of the relationship between a man and a woman. She leaves him for his friend, then wants to return, he loves her very much but can't forgive. Probably it's a life story, the emotions are hard, but vivid. You can feel them, and this is probably the coolest thing about this program. We understand what we skate.
A: At the beginning of this program – tenderness, love, but then the story twists, and when the music changes and Vanya raises me in a lift, something changes in me. He suspects something, the fight begins …
Can you call this dance your favorite?
A: Yes, I can. This is my favorite program. I really like the music, I am very pleased that the coaches agreed to the first part that I offered. I really like what they proposed – Timberlake. And a very cool instrumental part at the end when the choreographic step sequence begins. Music is just so cool for me. At first, I doubted: of course, it's very cool, but I did not understand how we would skate to it? How will we put it together? But it turned out cool. Now we just have to work.
At the end of last season, you were disappointed: you were close to the podium at Worlds, but did not get there. Now, in the Grand Prix Final, although you took a place higher than another Russian pair, but received incomprehensible scores. How will you overcome these negative aspects and motivate yourself?
I: In fact, we did not have disappointment at Worlds. We had very good skates, we were pleased with ourselves. At the end of the season it worths a lot. We were able to compete with the guys that we couldn't fight before, and this is a very good assessment of our work.
A: A little disappointment was only in the sense that after the rhythm dance we managed to stand on the podium. Not because we had the idea of ​​getting into the top three, but we managed to feel what it's like, and then still moved to fourth place. They kind of gave us a candy, and then took it away. But in general, we were happy with the season, happy with the way we skated. Talking about what happened now, it's not the World Championships yet, only the first half of the season. We have Nationals ahead, then, God blesses, European and World Championships. And after the Grand Prix Final, we once again realized that you need to be 50 heads and shoulders above in some aspects, to improve and improve. We really need to do everything perfectly. They can forgive others something, but not us.
Related topics: Alexandra Stepanova Ivan Bukin, grand prix final