Alexander Smirnov: "Daily PCR tests are a tool for manipulation. With their help, our team can be framed at the Olympics."
Posted on 2022-01-26 • No comments yet
Interview with two-time European Champion and two-time World bronze medalist in pair skating Alexander Smirnov. About European Championships, development of pair skating and team for the Olympics.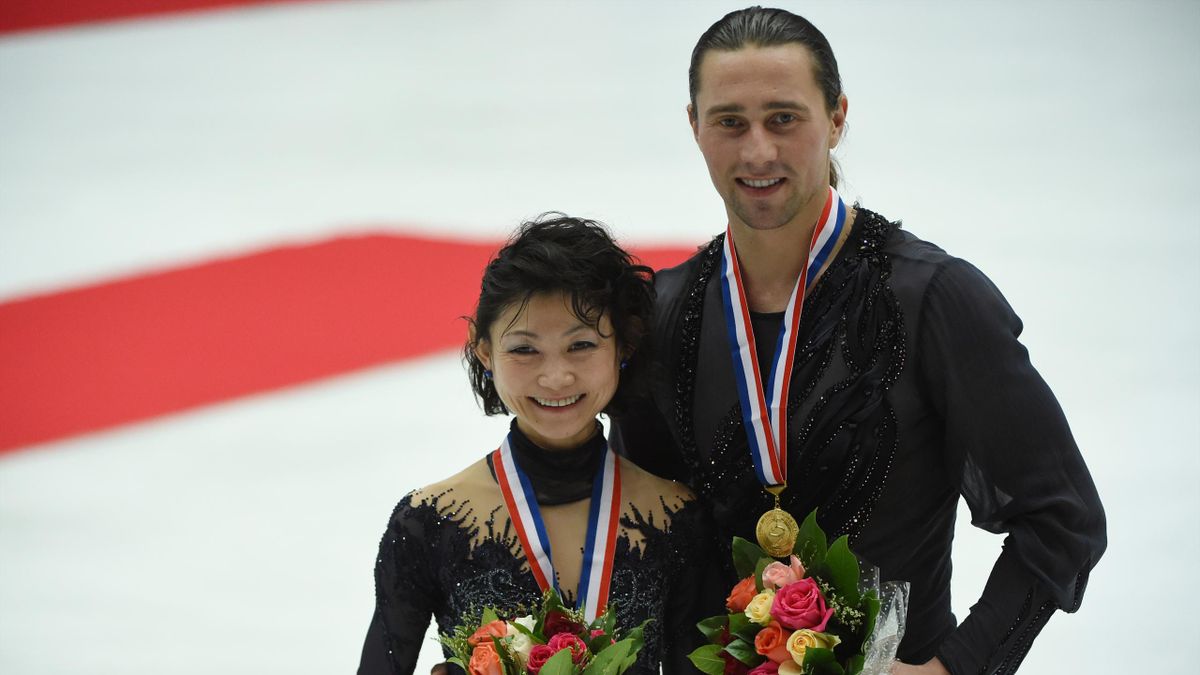 spurce: sport-express.ru dd. 20th January 2021 by Dmitri Kuznetsov
The European Championships in Tallinn has ended, the composition of the Russian Olympic team has been named – now all that remains is to wait for the Olympics in Beijing. Sport-express discussed the past and upcoming competitions with two-time European champion and two-time bronze medalist of the World Championships in pair skating Alexander Smirnov.
Smirnov is not only one of the outstanding Russian figure skaters in pairs, but also a consultant in the group of Tamara Moskvina, so his opinion on the situation in the Russian team before the Olympic Games is especially valuable. Moreover Alexander rarely gives interviews.
Alexander, first of all, for understanding – what is your role at the rink of Tamara Moskvina? Do you take part in training?
Alexander Smirnov: Tamara Nikolaevna invites Yuko and me when she needs practical help. We show something, sometimes we even change partners. Either Aleksandr (Galliamov) does some element with Yuko, then I do it with Anastasia (Mishina).
This season, we also worked with Dmitrii Kozlovskii and Aleksandra Boikova, they also work with dance specialists, not ice dancers, but ballroom dancers, European champions and winners of many awards and medals. We cannot disclose the names until the end of the Olympics. The task was to increase the second mark and the performance of the pair. The main work is done by Tamara Nikolaevna Moskvina and Artur Minchuk, and the little things are entrusted to other specialists.
I remembered how Aleksandr Gallyamov admired you at the New Year's show in St. Petersburg – hesaid that can't do it like Alexander Viktorovich (like you).
Alexander Smirnov: In pair skating, athletes have always been some of the most cultured, friendly skaters, if you take all disciplines. So they speak positively about me, and now I speak positively about them. This is not a joke, the guys showed a fantastic performance! Now I have to express my admiration to Anastasiia and Aleksandr.
Was it boring for you to watch the European Championships? Ours win everything in pairs again.
Alexander Smirnov: There was not enough competition in pair skating, it's true. I saw the guys there, with whom we skated at the same time, and they were single skaters, and now they are in pairs. But many coaches from Russia work with foreigners, Europe can catch up. The question is how far our school will leave them behind during this time.
But is there a problem in the development of pair skating?
Alexander Smirnov: On the contrary, it is growing now! There are more pairs, they already need to qualify to the free program. There were stronger restrictions in Europe due to pandemic, I assume that foreign skaters had fewer opportunities to train. Those pairs who trained in Russia were in the top ten. But I see development going on. And the rest of the world is in decline, except for China. At the Olympics, we will watch the fight of our three pairs and one Chinese.
Maybe Russia should switch to Asia? And participate in the Four Continents Championships?
Alexander Smirnov: I think it's impossible. There have never been such proposals. Although I could have skate for Japan when I skated with Yuko Kawaguti. In case of support from the federation, provision of coaches, I would have changed my citizenship, if a good offer had been received. But in Japan it is much more difficult to implement this, they do not make concessions.
If you were given a couple of months to train, could you take fourth place at the European Championships after our three pairs?
Alexander Smirnov: A couple of months wouldn't be enough. But, without belittling others, we could compete for a place in the top-10. (laughs)
If we take the results of the European Championships in pairs, is everything fair?
Alexander Smirnov: I guess, yes. Nastya and Sasha are first for sure, two programs were skated perfectly. As the disc throwers say, even the wind blew in that direction. Everything coincided – emotions, state, execution of elements. Nothing to complain about. If it was like that on TV, it was even better live.
Zhenya and Volodya (Tarasova/Morozov) showed one of the best performances of the season in terms of the number of mistakes – there were practically none. The judges may have one complaint – well, the partners jump very far from each other. If Igor Borisovich Moskvin, saw such toeloops, he would joke for a month: "There are two good single skaters on the rink, maybe we'll put them in a pair?"
One jumps on one side, the other on the other. For pair skating, this is no way. But they had speed, presentation, their own developed and more mature style, which everyone else lacks. Jumps will be improved in the next couple of weeks – and into battle.
What about Boikova and Kozlovskii?
Alexander Smirnov: The guys are ready very well physically, but they started to burn out. Due to a mistake in the short program, they started to shake in the free program, it was clear that all the entries were nervous. Dmitrii on straight legs, Aleksandra was twitching, they've never showed such mistakes. But this is the Olympic season. I wish the guys good luck, but the most important thing is that the balance is restored in the pair, and the coach will always tell you how to get on this path. And will help. And we have the best coaches!
Many were surprised that there were only three points between the ideal, as you say, Mishina / Galliamov and Tarasova / Morozov.
Alexander Smirnov: You can take the base. Salchow + euler + salchow in the base value is stronger than a combination with toeloops. Yuko and I were also encouraged at one time for two quadruple elements. Or let's then jump single, show arabesque and see who will make the forward one-foot glides better.
Judges adding points for the difficulty, yes, let it sound a little vulgar. But Tarasova/Morozov got a lot of positive marks for their performance, twists, throws, all the elements, so they caught up. So the results are fair.
Coach Maxim Trankov said that Tarasova and Morozov deserved a team event at the Olympics. Do you agree?
Alexander Smirnov: I hear these words from you, but I agree that honored skaters who have been skating for many years should get a chance to perform there. For me, Elizaveta Tuktamysheva deserves a team event. This season she showed very good results. The only skate she failed was the short program at the Russian Nationals. It is necessary to give a chance to both the guys and Liza, if I could influence it. When guys go to the Olympics at that age, and also in the team event, they understand what it's worth and will give everything they have there.
Turning to women's skating, didn't it seem to you that the pair competitions were more interesting than women's?
Alexander Smirnov: I watched all the men from beginning to end – and it was very interesting to watch them. For women, in fact, the last two warm-ups were interesting. Anna Shcherbakova made a sensation, they began to lose faith in her, even to drown, they say, "Anechka, go away." And she pulled herself together and showed the best possible performance. It seemed that the short and free programs were skated by two different people.
Are there many such cases in figure skating? Because Anna regularly rises from the ashes in some amazing way.
Alexander Smirnov: I agree, she is the clearest example. But Yuko and I had a similar experience – once we didn't have time to acclimatize at the Japanese Grand Prix and fell twice in the short program, and the next day we won from sixth place, beating Savchenko / Szolkowy. If you believe in yourself, the coach, everything will work out.
You said that they started to "drown" Shcherbakova. Did you have any doubts about her participation in the Olympics after the short program?
Alexander Smirnov: After the free program, there is no longer any doubt. I adore Elizaveta, we are friends, but after such an free program, which Anna delivered, no one can have questions, including the federation. In the short one, either the program is not for her, or some kind of injury. I didn't like her there. But like Kamila shedelighted in the free program – I stood in front of the TV for the entire program.
Is there a feeling that if Trusova had slowed down with difficulty of content, then she would be second easily?
Alexander Smirnov: The question is what Trusova herself and the team of Eteri Georgievna are pursuing. Perhaps they wanted to try the most difficult content one more time. We understood that everyone would be in the top three. After all, Anna caused more doubts, not Alexandra. No one understood what her condition was. Sasha had the triple axel in the short, which she does not like. But we have seen in training, including in Tallinn. It was necessary to check if it would work out in a competitive format, like five quads.
Throwing a partner in a quadruple throw is also not an easy task, you know. But, I remember, we didn't do more than two quads. I can't imagine how she tries to make five. There is such a devastation after each element! She's a hero. And a real Russian Rocket!
Let's talk about guys. Could it be better?
Alexander Smirnov: In the short, the guys did great, but due to the fact that Andrei has a higher rating, he performed in the last warm-up, and Mark in the previous one. Judges can't give the highest marks when you're in the middle, they have to leave something for the future. Mark had the brightest short program, then Andrei, but we will consider him lucky. Although, maybe he was not lucky – because he had to close the free program, and this is very difficult. But all three of them are representatives of different schools and styles. It's great and interesting.
Is it hard to skate the last, because you know the scores? Is it not actually true that they don't follow the scores of the others?
Alexander Smirnov: It was hard for me to skate after the stars. But there are many tricks on how to abstract from this, and Tamara Nikolaevna taught them.
Can you share?
Alexander Smirnov: Come to our training, to the club of Tamara Moskvina or to my club "Master". We even train adult skaters. We will show everything there. (Laughs.)
All right, those who need it have heard. But could our guys won a full podium like the girls? Or did the Europeans have to take something?
Alexander Smirnov: I just want to say that the last warm-up in men's competitions was a feast for the eyes. How Vasiljevs started – amplitude jumps, awesome program! As Alexei Yagudin said – for the first time he saw a quadruple salchow from him! But the whole program is well choreographed, it is energetic. His high scores are beyond doubt.
Grassl, apparently, was focused on the jumps, he skated the short program more soulful, in the free program he fought for jumps. The difference in skating was big. But he did quads, including lutz, only Trusova jumps it consistently.
Ours don't have such experience, the same Zhenya. Semenenko I think his psyche let him down a bit, so he started not to cope with complex elements. Each one he literally pulled out, exhausting. The positions were terrible – the leg was on top, the face was on the bottom. And even to such jumps he added combinations. But the impression and GOE, of course, were spoiled. It is better to do an easier jump, but with an excellent execution. This is the nonsense of the new system.
Nonsense?
Alexander Smirnov: Well, I agree that clean performance is better than these attempts.
As for Mark, during his performance I also jumped up and down, shouting: "Hold on!" Because he is cool, bright person who works every day, and not only on his physical shape, but also on his psychological one. He understands that in this shape he will represent our country. And at the same time he continues to be torn mentally, he paints pictures. I support him. There were mistakes, but the gap from the fourth place allowed him to win.
Could Mozalev reach the podium?
Alexander Smirnov: Andrey hasn't had such experience yet, and it's good that he had it now. This is a reserve for the future. He felt what it's like to close the competitions when everyone was looking only at you. He had mistakes, he crumpled the beginning of the free program, but didn't fall apart, made several quads in the second half. I'm glad that St. Petersburg school of figure skating does not fail.
They all have a great future, the main thing is that they continue to work and not be arrogant. Everyone already has a medal, because a small medal is also a medal.
Do you know examples of those who become arrogant?
Alexander Smirnov: Yes, it happened, both in singles and in pairs. The coach is also important here – he must give a kick in time so that the skater doesn't have time to become arrogant.
In the announced composition of the national teamat the moment, there are Mozalev and Kolyada without Semenenko. Is it fair? (the interview was made before it became known that Kolyada won't compete at the Olympics due to positive test for coronavirus)
Alexander Smirnov: I'm not the person who should decide, but, in my opinion, additional test skates were needed, because the young guys are now in the best shape. I would have taken the entire top eight of the Russian Nationals and arranged a test skates. Once we had this with Yuko, when I missed the Russian Nationals due to an injury – we recovered in a month and won a spot for ourselves.
Young people should be given a chance, and experienced ones should not relax. Otherwise, the young and beautiful will step on their toes. And then experienced athletes will tell us in an interview how tired they were and because of this they lost the international event.
Are you hinting on Kolyada, or what?
Alexander Smirnov: No no. Mikhail may have an injury now. I myself was in same situation before the Olympics – overtraining. We were already ready, at the test skates we were the only ones who skated both programs with a full content, and the rest of the pairs were not even close yet. But we were overloaded, already in October we were ready for the Games. Perhaps something similar happened to him.
From your own experience, can you tell me: is the fight for the place in the national team really such a behind-the-scenes battle? Or is it exaggerated?
Alexander Smirnov: As an athlete, I can tell you – I was taught by both the first coach Larisa Yakovleva and Tamara Moskvina – you need to be a head and shoulders above rivals so that no one says anything.
Well, it's such a typical phrase.
Alexander Smirnov: Athletes never know about these showdowns. They are simply not allowed there. Everything is decided by the federation, coaching council, ROC. The athlete may not even know. It's all nonsense – that everyone knows everything. Athletes usually have no idea, they were told – you will be a substitute, get ready, they are getting ready.
Who would you put in team event among women?
Alexander Smirnov: I would put Tuktamysheva and Shcherbakova, respectively, for the short and free programs. Valieva and Trusova will take the medals in the individual competitions anyway. Pairs are all good, I don't know, can be any. Ice dance is a subjective discipline for me and we can't compare. There were no French, the Americans skated at home. And we need to take about five men to Beijing and then decide on the spot.
And how will we include Tuktamysheva? In theory, it is necessary to make a replacement, simulate an injury somehow.
Alexander Smirnov: But we can bring her, right? Joke. Izya's Grandmother argued with Izya: if he does not eat her 25 dumplings – he will wash dishes. Izya agreed and, eating the 24th dumpling, saw that the 25th was not on the plate. Conclusion: read contracts carefully! You can always find a loophole, and I hope that our officials will be able to do it. And if suddenly, God forbid, the stupid PCR test turns out to be positive, then we must have the right to a replacement, all the more so.
Daily PCR tests – is it too much?
Alexander Smirnov: I agree, and everyone knows that they can be different. Elon Musk passed PCR in different laboratories a year ago, and everywhere the result was different.
A manipulation tool?
Alexander Smirnov: Yes. And I hope that bad people will not take advantage of it and frame our team. I worry about this more than for the results of our guys. I am confident in them, I met them at the show after the Russian Nationals, they are motivated, they want to work. Not even wearing masks stops, but these tests, which can simply ban an athlete from competing. As in the case with Nikolai Majorov. I know his brother Sasha well, it's such a pity for them. But the Swedes are long-lived, they will come, we will also cheer for them. But what is certain is that no matter how scary we are, we can be held in this way.
Related topics: Alexandra Boikova Dmitri Kozlovski, Anastasiia Mishina Alexander Galliamov, Anna Shcherbakova, Elizaveta Tuktamysheva, Evgenia Tarasova Vladimir Morozov, Mark Kondratyuk, mikhail kolyada, Olympic Games, Yuko Kavaguti Alexander Smirnov