Alexander Samarin: Artificial competition with indulgences to the weaker will never lead to development
Posted on 2020-06-18 • No comments yet
Interview with Alexander Samarin. About the preparations for the season, new programs, development of figure skating and new rules.
by Artem Melnikov for sportbox.ru dd. 14th June 2020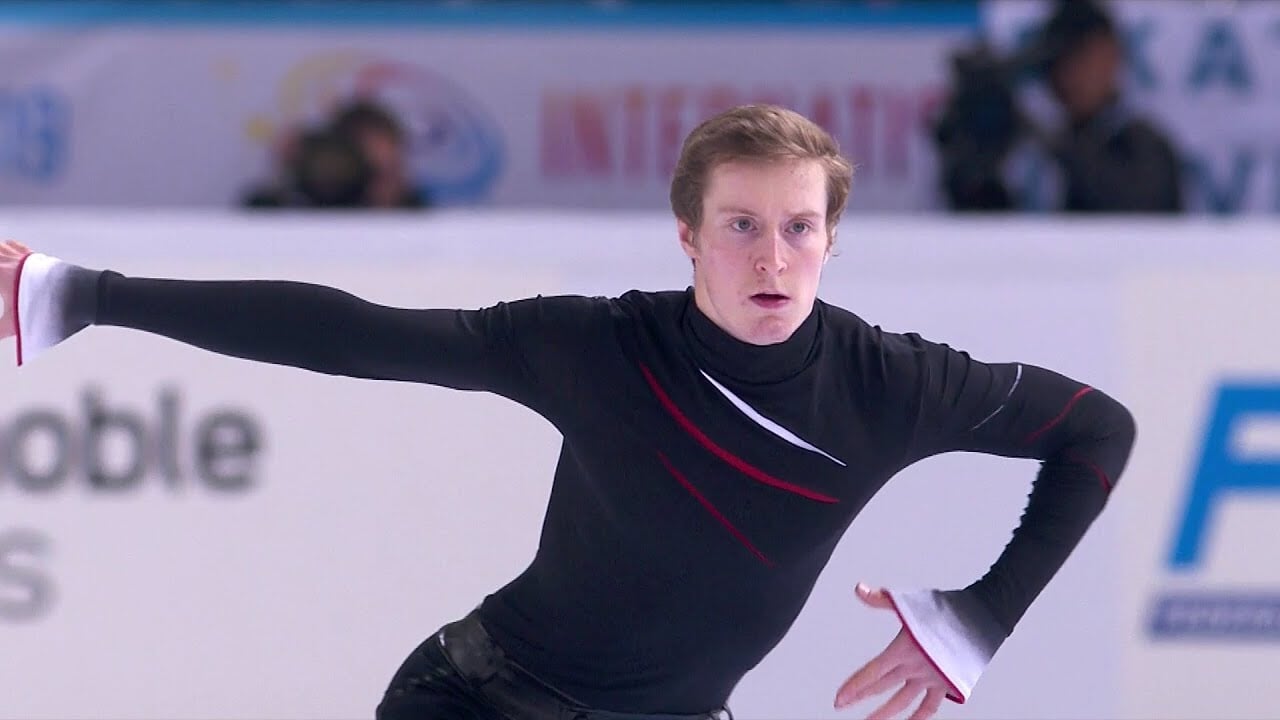 June 15th is your birthday. How will you celebrate?
Alexander Samarin: For a long time this day falls on training camp, so that everything will be as usual. But, if earlier we could at least go somewhere with the guys and the coaching staff to celebrate, now we are forbidden to leave the base in Kislovodsk. The main thing is that I will spend this day with people who have become my second family. Last birthday, for example, was also celebrated in Kislovodsk. I lay with a temperature, was sick. It was unusual, I hope this will not happen again.
Why is it forbidden to go to the city?
Alexander Samarin: We spent a week in quarantine in our rooms. Got tested, negative result. Now it is important to keep health, so we decided not to risk. No one complains.
You, like other athletes, were locked up in the base rooms before being tested?
Alexander Samarin: A week I had to sit there. Opened the door only to take food. It was not hard. We did not come here to rest. There is a goal to recover after a long break. I understand why everything is done, now is not the time to whine and complain about something. Moreover, every day we trained, ran, jumped in the room. When I went out on the ice for the first time, it was a breath of fresh air. I missed the sport, which I'm doing for 18 years.
Is everything all right with coordination?
Alexander Samarin: At first everything hurt. Although I kept in shape throughout the quarantine, but it's hard to pump muscles on the floor that work on the ice. But on the first day I tried myself on a quadruple toe loop. Even this element is not lost in two months. Now we need to return shape gradually, endurance. Since it is unclear what the calendar will be, for now it is necessary to gain shape without fanaticism. I'm already doing all the elements, including the most complex. But I still have to work and work before doing combinations.
Turns out that Dmitri Aliev is not the only one who on the first day jumped a quadruple toe loop?
Alexander Samarin: Before the practice Dima decided that he should do it. Test his body. When I saw that he succeeded, so I also was immediately taken by the idea. I wanted to try myself. Everything worked out.
Now figure skating is becoming an extremely popular sport. You seem to be quite closed person. Do extra pressure and hype distract you?
Alexander Samarin: I do not consider myself a closed person. Rather, less public than the other guys. I used to do more than to seem. Work and not be distracted. Perhaps that is why this impression is formed. But in life I am a very open person.
It's great that figure skating is becoming more popular every year. Previously, only parents came to some competitions, now wherever you come, there are full stands everywhere. I enjoy the cool atmosphere at the arenas, I try to give more emotions to the audience. It is clear that the greater the hype, the greater the pressure. But it great that we have become interesting to people. Before, wherever you look – everywhere football and hockey. And now there is figure skating, which is no less spectacular. Our sport is full of intrigue, passions, emotions, surprises … I advise everyone to come to the competitions, because the TV "eats up" some moments. On the other hand, there is more criticism. It is different. I try to approach its interpretation selectively.
But now men's skating is constantly being compared with ladies'. As you know, reviews are not in your favor. Doesn't it hurt that men are being spoken of as football players. Like, they won't win anything.
Alexander Samarin: This is unpleasant. Especially when we are compared with girls. This is silly. Firstly, there are always ups and downs in sports. Once, Russian men were in the lead, and the girls were behind. Now the situation is different. But we are returning our position. The victory of Dima Aliev at the European Championships proves it. We are already stepping on leaders toes.
I still don't understand why it's silly to compare ladies' and men's skating.
Alexander Samarin: Take at least physiology. Girls grow up earlier, reach their peak. Men need a little bit more time. In general, stop comparing us! Soon we will be back on top again.
Has your program changed due to a pandemic?
Alexander Samarin: It's great that we managed to build up the lay out of the new season before self-isolation. We will follow this plan, but since the quarantine has made changes both to the calendar of the new season and to our preparations, at the moment we are focusing on restoring former conditions. Now the main thing is to return the feeling of the ice, to bring the body to the correct state. Then gradually, without rushing skate the program. Further everything will depend on which competitions we will participate in. Some can be canceled, some can be postponed.
What can you tell about new programs?
Alexander Samarin: The music for the free program you've already heard. But in general, it also undergone changes, since the artistic image needs to be changed. A short program will be more difficult than the previous one. At the moment, it is quite empty, although we have already managed to draw up a basic plan that needs to be worked out. I wanted to try myself in this style, with such music. This has not happened in my career yet. Honestly, I can't recall that someone in the recent past has skated something like that. Sorry, but I can't reveal secrets yet.
So, it will be something old-school?
Alexander Samarin: You are close to the truth. We chose strong music. I'm ready for it. I feel it well, because it is something native.
Girls now have a trend of quadruple jumps. Which direction is men's figure skating going to?
Alexander Samarin: Competition grows every year. New guys come. This also motivates us. If for the girls quads are something unusual, including for the viewer … Although the girls are progressing with crazy steps. What they are doing now is a cosmic result. Men jump quadruples for a long time. Now all work is on improving the quality of the jumps and the number of transitions. Unfortunately, from the new season, rules are changed, and many disagree with them.
Why?
Alexander Samarin: Any innovations should develop sports. But current ideas, rather, on the contrary pull figure skating back. According to the new rules, the most difficult jump at the moment – quadruple lutz is equated with a flip and loop. Axel has not been touched yet, since no one has dared to execute it yet. Lutz is really the hardest jump, as you jump from one arc and land on another, changing the trajectory of the flight. Many tried to learn it, because it gave more points. Last season, it was at the peak of popularity. Now all quads are equalizing, which means that development will stop again. Why learn something complicated if you can focus on the simple without the risk of losing points. There will be no progress.
Do you understand why this is done?
Alexander Samarin: To increase competition. So more people could claim leadership. But artificial competition with indulgences to the weaker will never lead to development. This isn't only my point of view.
Can you explain to amateurs what a quadruple jump means. And will men do five revolutions?
Alexander Samarin: Sooner or later, someone will do that. But this will require improved equipment. This is unlikely to happen in the near future, although progress in figure skating is uneven. Ten years ago, athletes were only trying to perform the quadruple and did them not well. And the man who at least somehow jumped the quadruple was admired by everyone. Now quadruple in men's skating are taken for granted. Just one difference. If you can do the triples without preparation. Anytime, any day. You won't make a quadruple the same way, you need to prepare for it.
What can you say to people who believe that victory at the European Championships is not an indicator of the level of world figure skating. Like, "this is a second-rate competitions" …
Alexander Samarin: I will say that they are wrong. At a minimum, this is an indicator that Russian men's figure skating is again close to the top level. It is clear that there are two people in men's skating who are difficult to reach. But we try to reach for Chen and Hanyu. And we are ready and should take the third place at Worlds.
Does male skating know what gossips and intrigues are?
Alexander Samarin: Of course. Although I try to ignore these things. The less you know the better you sleep. Probably, there are also different rumors about me. But I learned to filter this information. I believe in myself and know what I really want. As elsewhere, in men's figure skating there are fans who likes one athlete and hate another. Hates, rumors we have this. To make it clear, vivid example from football – Messi and Ronaldo.
You and Aliev, like Messi and Ronaldo?
Alexander Samarin: In general, yes. Someone cheers for me, someone cheers for Dima. I would like to wish a large army of figure skating fans not to speculate, but to support all Russians. We are all competing for our country.
You both are now at the training camp in Kislovodsk. Betting?
Alexander Samarin: Dima is my good friend. It's great that we train together. Although there is fierce competition on the ice. A competitive moment is present in all training sessions. We can bet on a chocolate bar or wish. Just the other day we were arguing who would make the quadruple toe loop cleaner. No prize, we just wanted to check ourselves. Friendship won.
They had high expectations about you in the past season. You did not justify them. Does it add pressure?
Alexander Samarin: Who said that I did not live up to expectations? Typically, such remarks refer to people who have completed a career, but won nothing. Everything is still ahead for me. Its a thorny path. Everyone has ups and downs. I hope that in the future there will be more positive emotions.
Next season starts from scratch?
Alexander Samarin: Globally, yes. It all starts from scratch for every athlete. On the other hand, every season is an experience, it does not matter whether it is good or bad. We discuss with the coaching staff almost on a daily basis what was done wrong, where to add, and what to leave as it is. With this store of knowledge, you are coming to the new season.
Some of my colleagues believe that each time you complicate the content of your program, but overestimate your strength. Perhaps it is better to do what you are 100% sure of?
Alexander Samarin: I can only say that there are journalists who understand figure skating, and there are such ones … who just want to throw a stone at someone. I doubt that these people were at least somehow connected with big sports. I know what I am capable of. Sure, my rocket will take off soon.
Second opinion. You do most jumps at the expense of good physical data, leveling the gaps in technique. Thus, if your functional state is not at its peak, you cannot execute the program …
Alexander Samarin: I look at things objectively and understand that I do not have the softness that, for example, Dima Aliev has. I know that they call me "wooden". Each athlete has its advantages and disadvantages. I have really strong legs. But we are working to improve my advantages and to overcome my disadvantages. At the moment, we have not yet reached what we would like to have, but there is already a decent step forward. This makes me happy.
And yet, if your shape is not optimal, are you able to execute the program cleanly?
Alexander Samarin: Any athlete approaches the competition at the peak. I am already quite an experienced skater. I can do many elements against the background of fatigue, and in uncomfortable conditions for me. Do not forget that there is a jitters at the competition, adrenaline spills out, its own energy. We are also work on coping with all the external factors that are present at any competitions.
What are you getting ready for now?
Alexander Samarin: They gave us ice, thank God. As I said, the main task is to recover after a pause. And then … It is not clear what will happen tomorrow. The virus has not passed yet. Who knows what competitions will be canceled. The season should start as usual in September. But nobody knows how it will actually be. I would like to understand at least the calendar of the first half of the season.
How long will you bee at the training camp?
Alexander Samarin: The first one will be held until June 30, as planned earlier. Then there will hardly be any break. We rested so long. All the work will go down the drain if we decide to rest again. Now any pause is wasted time. We should work around the clock.
Any transition from the coach is discussed by the public. But I failed to find the reasons for your switch from Goncharenko to Sokolovskaya.
Alexander Samarin: Because I did not voice them. In short, I had to go further, look for something new. I learned all the elements earlier than the other guys. As a result, the others were reaching for me, and at that moment I stood still and waited. It was necessary to change something. But I am very grateful to Inna Germanovna, as well as my first coach Lubov Anatolievna. Each mentor gave me part of himself.
Related topics: Alexander Samarin