Alexander Enbert: It's time to share my knowledge
Posted on 2020-06-22 • No comments yet
Alexander Enbert about finishing his sports career, the beginning of a coaching career and the development of sports.
by Veronica Sovetova for uturerussia.gov.ru dd. 11th June 2020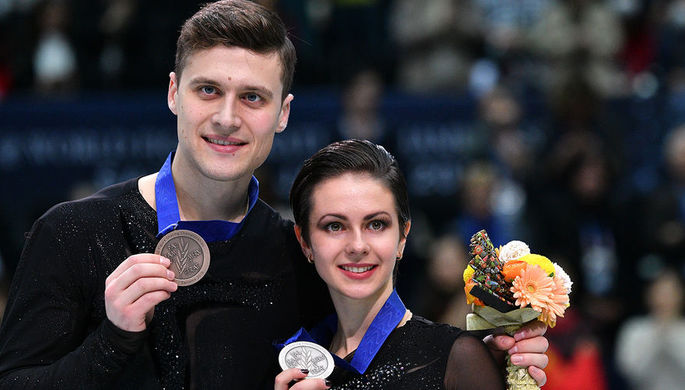 When did you realize that it's the end of your career?
Alexander Enbert: In the season before last, we missed the Challenger series, then we did not get admission to the Grand Prix. And the wording of the medical refusal was quite forceful. To put it mildly, it was about the most serious consequences. And then understanding began to come.
So did you skate at the Olympics in Pyeongchang without any health problems?
Alexander Enbert: Before the Games, back in the fall, my cardiologist asked me: "How are you, what are your plans?" I said: "The year is Olympic, we are getting ready." He warned: my indicators are within normal, but after the Olympics questions are possible. Then I was completely focused on the preparations for the Games, the rest was not so important for me. The indicators were really normal, but, apparently, there was some kind of dynamics, noticeable only to doctors. I trust our specialists and the doctor of our team, Philip Shvetsky, they are high-level professionals.
So, did health problems started after the Olympics?
Alexander Enbert: After in-depth medical study, I began to receive admission four times a year, not twice, as before. That is, admission was given to me for three months. And so, having returned from the post-Olympic Russian Nationals, where we fought with Zhenya Tarasova and Volodya Morozov, I didn't receive admission to the European Championships. And this despite the fact that at the Russian Nationals we felt better than ever, did not notice fatigue and showed the best result in our career. And no admission for the European Championships. This was probably the most difficult moment. When you are on the rise, but they stop you, saying: "In fact, you should feel completely different." There were thoughts: "No, this is some kind of mistake." It was not easy, and in that situation I reassured myself that these specialists have a medical education, I do not, so I shouldn't argue.
So you felt really good?
Alexander Enbert: I did not see the problem, and subconsciously had to convince myself that they were right. But the realization that this was serious came. Dreams of Olympic gold were in my head, and after the Olympics, they began to crumble.
Five stages of accepting the inevitable, including denial, anger, bargaining, depression, as I understand it, have passed. And when did the acceptance come?
Alexander Enbert: After the medal at the World Championships in Saitama. And this acceptance came when the rating and skills gained allowed me to win medals, when I could give all the best in training at 200 percent.
How did your partner Natalia Zabijako take this situation then?
Alexander Enbert: As a pair, we made the decision quite easily, with understanding, because Natasha is a person who knew everything from the very beginning, we spoke with her about it. Understanding has come to her, like to me, with time.
Having returned from the World Championships in Japan, we gathered with the coaches before preparing for the world team trophy. We discussed everything that was going on, uttered plans. During the conversation, we came to the conclusion that this is our last season.
Of course, for Natasha personally it was complicated. She is an excellent pair skater, an athlete with excellent technique, with great opportunities. We were at the peak of shape, improving from season to season, the result was higher and higher, and we wanted all this to continue. And it really seemed to us that this would go on and on. What now? I think she found herself and, hopefully, finally truly happy.
Natalia is your last partner on the ice. But there were five – five girls whose trust you managed to gain. Their lives were in your hands, their health depended on you, because one wrong move and they could end with sports. What is the relationship in a pair for you, what is a partner?
Alexander Enbert: This is a difficult question. Most likely, the partner is a colleague, a person with whom you are doing a common business, and you need to do it as well as possible and to create the appropriate conditions for her. If we leave technical nuances "put a hand higher, a leg higher", it is necessary that everyone wants to do their job as well as possible, and trust plays a key role both in terms of technique, strength and emotions. This trust can be achieved only by deed, proving time after time that you are reliable. Agree, you can do quadruple throws or axel 3.5 only on trust.
How do you remember each of the partners?
Alexander Embert: And again, a difficult question. In short, with my first partner, Vika Kazantseva, I studied pair skating. Then we skated with Ksenia Ozerova for two or three seasons. We worked with Igor Borisovich Moskvin, and I remembered that stage as one of the most productive in pair skating. Moskvin is a specialist of the highest class. Both in terms of technique, and understanding of pair skating, the approach for competitions, training. He tried to do everything interestingly, variedly. During his long career as a coach, he has accumulated a million exercises, approaches – it was very interesting. With him, the basic level has grown into something better.
Then there was Katarina Gerboldt, excellent single skater, excellent young woman, with her we entered the international arena at the European Championships. It was great, because even then we were fighting with Aliona Savchenko and Robin Szolkowy. They were the third then, we were the fourth. That's when they began to recognize us, began to follow our skating.
Then there was Vasilisa Davankova.
Alexander Enbert: Interesting girl. Before pairing with her, I skated in St. Petersburg, she was at Dobroskokov's group in Moscow. And we came to Nina Mikhailovna Moser and Vladislav Zhovnirsky. That is, we came to a team where everyone had a slightly different vision of figure skating, a different pace of training. And no matter how much, by the time I thought I knew, I really learned a lot.
When Natalia became my partner, it was a period when everyone already understands everything, when everyone is on the same team and everyone knows who is capable of what. This is the property of the Nina Mozer's team – she has her own methods, her training plans, she knows how to make champions, how to bring athletes to the Olympics. She is one of the best specialists in the world, she has her own approach to each athlete. This period for me is a period of an ideal team and an ideal work in pleasure. We had no problems with attention or understanding.
The question for the Olympic silver medalist is probably rhetorical, and yet. What is the most powerful flashback in your career?
Alexander Enbert: There are two of them. Of course, the first is the Olympics. More precisely, our first performance of the free program in a team event. Usually in competitions you are maximally concentrated to the end, you go and do what you have to do, you are all in yourself. And then by the end of the performance, I remember how the load fell from my shoulders, exhaled a little, looked around and finally saw the arena – the Olympic arena of Pyeongchang, so beautiful, all in purple colors. And I remember my thoughts: "You went to this for a long time, you fought for each of your elements over and over again, you do it now, you are here." This was really powerful.
And the second one is the World Championships in Saitama, more precisely, even the preparation for it. This was an important period that we had to be pass without any distraction. We did not think that this would be our last world championships. We gained shape in accordance with all the recommendations of doctors and understood: we can win, we can skate better than anyone. This feeling was very important for me.
What is the power of Mozer?
Alexander Enbert: For me her strength is in relation to athletes. And to all with whom she works. Yes, she could scold, but she did it when she really needed to, and her severity could seriously sober up. But if she feels that you are pressured by something, she'll cheer up, you can't get together – she will. All in moderation. But there are other important things – this is what she does outside of training. This is really a close person whom you trust in everything, who cares about you. I have always believed her and will believe.
The strength of Mozer is in her attitude towards athletes and in team cohesion. Simple example. We had a flight from competition to competition in Japan, a long, difficult one, we were all decently tired then. I could not upgrade the ticket to a more comfortable one, but Nina Mikhailovna said: "Wait, we'll figure something out." And she really did. Thanks to her, I slept all the way, and immediately from the airport we went to training. Everything is bult on such small things.
If you need to get to a place, she always deals with us first, puts us in transport, and then gets herself. Or hotels. I'm not very whimsical in this respect – I happened to live in different ones, but if Nina Mikhailovna saw that the conditions were bad, she said: "You can't live like that" and took this issue under control. And there are a lot of such stories.
After completing your career, you also went on the coaching path. Does it turn out?
Alexander Enbert: Yes, it does. Last year we already held distance classes, but then I was still an active athlete. And now we are working in full force, helping children in the regions. Last year, we held training camps in Krasnodar, this year we plan to held such in Sochi – we are trying to bring our regions closer to our two figure skating capitals, St. Petersburg and Moscow.
I think that experts are valuable in any field. But out of many specialists, only a few become true professionals, and this path must be followed, as in all other areas.
I am glad that I am still doing figure skating. This is something that I know well and now I start to share my knowledge, it is nice. And for this, many thanks to the specialists with whom I worked throughout my career, starting with the first coaches who showed me the methods of working with children. And everyone who came later, Tamara Nikolaevna and Igor Borisovich Moskvin, Oksana Kazakova, Artur Dmitriev, Oleg Vasiliev and, of course, Nina Mozer and Vladislav Zhovnirsky, is our dream-team. My favorite team. Now I have accumulated a large amount of knowledge that I want to share.
Speaking of experience. Do you remember your first serious international competitions well?
Alexander Enbert: Our first junior world championships – we skated together for six months and got there from sixth place at the Russian Nationals among juniors, one of our guys was injured. I remember well those emotions: foreign athletes are around, showing "content" that we have never seen before, we need to filled something in English, which letters in which lines we don't understand. In general, we were completely lost. Well, and when you see what the Chinese and Americans are doing in training, you think: how is it possible to beat them? And then everything became clear. And this understanding came year after year.
In two years, we'll need to beat these Americans and Chinese at the Games in Beijing. How to fight with the Chinese at home?
Alexander Eтbert: It's a little less than two years before the Games, but this is a really big period. I remember that Natalia and I only entered the ratings two years before the Olympics, and there was still a lot of work ahead.
The Chinese are strong, I agree. Are there any pairs in Russia? There are. Competitive? Yes. And whoever makes the right path in these two years, this one will fight. Now it is difficult to predict, there are too many variables.
Yes, the Chinese are experienced, but younger pairs have their own advantages: they can move forward faster. Including Vladimir Morozov and Zhenya Tarasova. And they can overtake the Chinese by the Games. As for the scores at the Games, this is not a question to me.
Because of the coronavirus, the Summer Games have been postponed for a year. Don't you think that this could happen with the Beijing Winter Olympics?
Alexander Enbert: People's health is above all, and, of course, mass events in all countries are prohibited, the same for training. It is impossible to say that world sport will improve over this year – many will drop out or continue from where they were. But everyone is almost in equal conditions.
I don't know how athletes will recover, but it will definitely be difficult. The main thing is not to get injured – a lot of workouts are missed, muscle tone is lost. It's difficult for skaters to work on all muscle groups outside the ice. And we must trust the specialists who are involved in this process.
Do you continue training?
Alexander Enbert: Sure. Any specialist will tell you that a professional athlete cannot stop abruptly. So I work in a rather active mode – my heart is used to pump a lot of blood, any muscle should work, so I try as best I can.
Related topics: Natalia Zabijako Alexander Enbert