Alena Leonova: It's more important for Medvedeva to win a medal than to beat Zagitova
Posted on 2019-03-19 • No comments yet
Alena Leonova about ladies' competition at the upcoming World Championships.
By Alexander Kavokin for sportsdaily.ru dd. 19th March, 2019.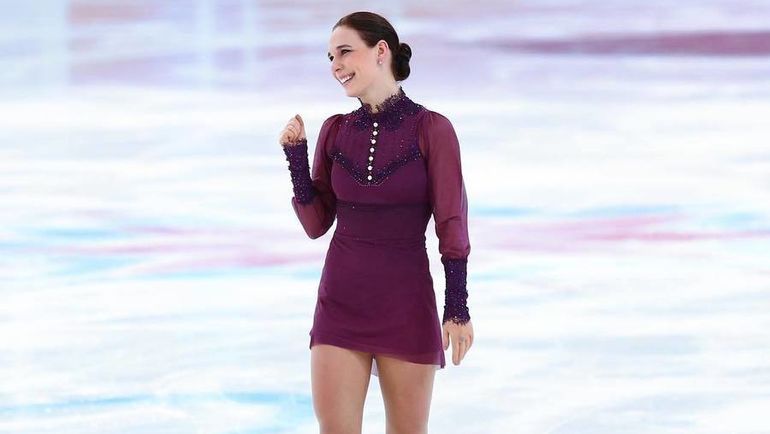 The main intrigue of the ladies' event is the battle between Alina Zagitova and the Japanese skaters. Which of them is more dangerous?
– In technical terms – Kihira. She has a triple axel. Perhaps she will take risk in the free program and jump two triple axels. I think, she hasn't succeed in the short program for the whole season. Especially there were problems with this axel.
They say that you can lose everything in the short program, like Evgeni Plushenko at the 2002 Olympics. But is it possible to win Worlds due to the short program?
– I think that with clean performances the scores will be close. A gap of 10 points between the first and second places is hardly possible (smiles). It's usually said that in Japan the judging is very biased, in favour to Japanese skaters. But if this happens, it will only affect the PCS. And it will not be much noticeable. All girls are skating at such a high level for a long time. If only some disputable situations arise, then they can put the Japanese girl higher (smiles).
What can you say about Sakamoto?
– She's very consistent and strong girl. If she focuses she often skates well. She has a strong jump content. All jumps are beautiful, powerful, big. She gets a lot of GOE for them.
Miyahara?
– She has the same jump content as Sakamoto, but sometimes she has underrotations. Her skating is more feminine, but not so powerful.
A year ago, Alina Zagitova was only fifth at Worlds. Won't she have some kind of complex about this title? Won't the Olympic champion tremble?
– First of all, she must defeat herself. We know that Alina can do everything, but lately she failed to get the right mindset at competitions. In training, she did everything perfectly.
Maybe Alina lacks a psychologist? When she lost at the Grand Prix Final, I was scared for her. I saw how Tutberidze was looking at her …
– Alina later told in an interview that, on the contrary, she was supported. I think that there is no such hard pressure. They understand, if you break Alina, she won't believe in herself, you can't do that.
They also named another reason. After the Olympics Alina grew by seven centimeters.
– She still has a growing body. Technique changes, some kind of mis-coordination occurs in jumps, this cannot be avoided, but we see how she tries to deal with it.
Alina has lost all competitions this season. When she took second place at the Grand Prix Final and at the European Championships, her fans took offense at the headlines: "Zagitova lost gold". But isn't it so for an Olympic champion?
– It seems to me that in Tutberidze group, there are no other places except first. If you are not the first, then no longer a winner. There is another good expression: the performance will be forgotten, but the place will remain. I think it is wrong to say "lost gold". Especially, if you are fans of figure skating.
If Alina doesn't win gold at the World Championships, will the season be a failure for her?
– This season is unsuccessful for her. But I can not say that it is a failure.
But Alina didn't win even the Russian Nationals.
– Yes, it didn't turn out. Perhaps Alina hasn't recovered morally from the Olympics yet. She spent a lot of energy there, and now she performs with a heavy burden of responsibility and afraids to let down her team. Mistakes in the free program? She had to change her. She has skated the previous program for two seasons. It's too much. To change it during the season for something different also not an option. In fact, Alina has a great program, very suitable for her. At least once in a season, she should skate it perfectly!
Evgenia Medvedeva changed the short program during the season.
– She moved to another coach and slightly changed the style. But then she returned to the old one, more dramatic. The style she used to skate. It's more comfortable for her. She didn't feel the new music so she returned to the old style. But it's easier to change a short program than a free.
This season, Evgenia is criticized a lot. What do you like more in Medvedeva by Orser than in Medvedeva by Tutberidze?
– She became a human (laughs). She has become more sociable.
With Tutberidze she was like a robot?
– Not a robot, just distant from everything. At competitions, people try not to communicate much with anyone, but with Zhenya it was like wasn't allowed to, everything was forbidden. She acted on very strict instructions.
Didn't the freedom overwhelmed Zhenty? After all, there's no result.
– There's no result, because everything is just beginning. There are cases when you come to another coach and the rise starts immediately. And the first season you can skate greatly, and then there is some kind of recession. Sometimes it happens the other way and everything rebuilds. Orser said that everything should come with time and everything will be fine.
Medvedeva got to Worlds by the decision of the coaching council voting. Not everyone liked that she went to Japan, and not Elizaveta Tuktamysheva. Aren't there fears that if Zhenya fails at Worlds, they will eat her?
– The main thing not to read it. It will be only worse for her. She should skate clean, as at the Olympics. Then Zhenya will show that she has progress. That she overcame herself.
In your opinion, what is more important for Medvedeva: a medal at the World Championships or to be higher than Zagitova?
– She wants a medal. I don't think that Medvedeva thinks that the main thing is to beat Zagitova. I think it's nonsense.
You called Sofia Samodurova the leader of the Russian national team, but she is criticized for skating a too simple program, that she may not get high scores at the World Championships.
– The whole season Sophia skates clean. Like a robot. In my opinion, she will not think too much that this's the World Championships, and will skate calmly like in training.
Sofia said she isn't afraid of acclimatization. Does it sound presumptuous?
– Acclimatization usually comes on the fifth day. And it feels more when you fly to America. If to Japan, then acclimatization is usually not felt. But it's judging by my experience. Sophia flew on Sunday. Short program is on Wednesday. I hope that acclimatization will not affect her yet.
Let's hope that Alexei Mishin calculated everything correctly. He assumed that the participants of the coaching council didn't see the performance of Tuktamysheva at the Russian Cup Final. Does the professor say so because of resentment or is there some truth in his words?
– Maybe not everyone saw it live, but both performances could be found on social networks or on YouTube. According to the sports principle, the decision in favor of Medvedeva is fair. But I was for Elizaveta. She has consistently performed throughout the season. Showed good results at the Grand Prix. She has a triple axel. Liza even wanted to complicate her free program for the World Championships by adding another triple axel. Well and she's also from St.Petersburg. I wanted Liza to go to the World Championships. She deserved that.
Maybe the criterias should have been formulated more clearly?
– I think it was necessary to send those girls who performed at the European Championship.(Samodurova, Zagitova and Konstantinova) This would have been according to the sports principles.
Related topics: Alena Leonova, Alina Zagitova, Evgenia Medvedeva, Kaori Sakamoto, Rika Kihira, Satoko Miyahara, Sofia Samodurova, world championship