Alena Leonova: I'm very glad that it's our girls who move this sport forward
Posted on 2020-06-24 • No comments yet
Interview with Alena Leonova. The vice-world champion Alena Leonova is a unique personality for Russian figure skating. At 29, she continues to perform, although by the standards of the current ladies' skating this is akin to fantastic.
Alena expressed her opinion about the outstanding events in the Russian ladies' single skating and spoke about plans for the future.
by Dmitri Kuznetsov for sport-express.ru dd.17th June 2020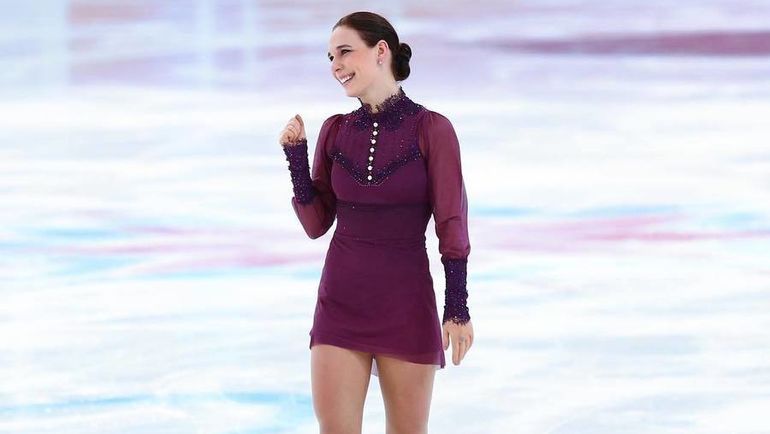 Alena, before the new season, of course, I wonder if you are preparing, are you training?
Alena Leonova: I train at home and run around the park. The last time on ice I was in the penultimate week of March.
How's your knee?
Alena Leonova: Without loads, it does not bother me.
But there is no ice training in St. Petersburg, because there is no federal base? It turns out that Peter is like some kind of province. Everyone needs to go to Novogorsk or Kislovodsk.
Alena Leonova: We have a skating rink near the school of the Olympic reserve. And, in theory, it could be opened, we could settle there, but this was not discussed. Outside the city there is an Igora center. But while no one seemed to have gone there, there were no offers to me personally or to my husband (figure skater Anton Shulepov – ed), we skate in different groups. We are waiting for July 1, when our academy will open.
The offseason is almost ended, for you what was the main event?
Alena Leonova: First I would say about the season itself, because for me the brightest moment was the victory of my team mate Dima Aliev at the Russian Nationals and European Championships. Anton and I cheered for Dima, watching the broadcast. Glad that the season turned out great for him.
Off-season – the transition of Sasha Trusova to Evgeni Plushenko, which everyone is discussing. I think this is a usual situation. Transitions happen, and just in the offseason they must take place. Each skater has his own reason for doing them. I do not see anything catastrophic in her transition. On the contrary, I want Sasha to succeed. This season, she wanted a lot, but it did not work out. I hope she shoots next. Like a rocket!
Are there any prerequisites? There was a lot of skepticism about this decision.
Alena Leonova: As far as I know, she restored all the quadruples, they even say that she added loop. If she has already begun such a successful trend, then it will only get better.
I will add from myself – Zagitova began training, and this does not look like the behavior of a person who is going to finish. So is she coming back?
Alena Leonova: Alina, precisely because of this quarantine, got a chance. Everyone has slowed down, everyone is gaining shape again, and she has the opportunity to join this elite. Just training and showing the results that she already had. She does not have to chase the quadruples now, it is enough to do what she already has, and she will be on top. Although, knowing the character of Alina, she will always strive even higher, to become better with every season. I have no doubt that she will return. She will return one hundred percent.
What does it mean "on top"?
Alena Leonova: If you take the Russian Nationals, the main start of the year, then this is the top three. She can do it. If she returns the position not of the previous season, but the Olympic one. It is clear that she has grown, and it is harder to make these elements. But if she jumps this content clean, they will judge her generously.
You are one of the few in our figure skating who have a really long career, although many leave before reaching adulthood. What are the arguments for continuing?
Alena Leonova: It's already like a drug, you can't imagine your life without it. I can't even imagine what I can do better than skate. I can't let down people who watch my performances wait for them. I don't pay attention to places. It is important for me to be happy myself.
Rubric "ISU Question": what to do with the age limit?
Alena Leonova: I think it should be raised. Till 17 years old. So the very words senior and junior justify themselves, to have senior conscious skating. And let the juniors skate among the juniors. So it was when I started, it was more harmonious, the young girls did not go to the senior level ahead of schedule, but skated in juniors as long as it was allowed. But of course,people did not do then what they are doing on ice now.
Was puberty difficult for you? You have achieved major successes after 20 years.
Alena Leonova: Then there was a different level of competition. You could do not all five triples and still stand on the podium at Worlds. Now everyone is chasing quadruples, and that's cool. Standing still is not in Russian nature. And I am very glad that it is our girls who move this sport forward.
Can you give advice to young skaters, the same Shcherbakova, Valieva, Trusova – how to skate with pleasure for so many years? Or, maybe they do not need it?
Alena Leonova: I do not like giving advice, you can get hell for this (laughs). Let this be a value judgment – the girls who are now in sight have already clung to this and will not give up theirs. You can see their eyes burning. They are ready to give a lot for figure skating, they do not need to be persuaded. These girls will skate and skate a lot.
One can't mention another Russian skater, Evgenia Medvedeva. Will the transition of Rika Kihira to Brian Orser affect her future?
Alena Leonova: This will not affect Zhenya in any way. Evgenia, as I understand it, is a calm figure skater and self-confident as a tank, you can't bring her down. On the contrary, let her have a strong sparring partner, especially since Zhenya wanted to master the quadruple salchow. And Rika had good attempts. They will have a good tandem, it seems to me.
Have you ever had to fight for the attention of a coach?
Alena Leonova: Never. I can't even imagine what it is. We have a big team now, and someone will always help you.
Turns out that there is friendship in figure skating, even between competitors?
Alena Leonova: Sure. We are rivals only on ice.
Concluding about the ladies single skating, who will win the 2022 Olympics?
Alena Leonova: So, and who will go there? Can Valieva go? So she will win. And my wish is that we see Liza Tuktamysheva there, I will be cheering for her to be selected.
After such a long career, are there ideas for new programs in the future, not everything have been skated yet?
Alena Leonova: I don't know, whether there are still music pieces that I like. But I will not reveal which one, let it be a surprise.
You started your career with the 6.0 system. Wasn't there more opportunity to show the artistic image?
Alena Leonova: There was a nuance that music with lyrics was not allowed. So you wanted to get to the gala, to skate an exhibition program to the song you like. And as soon as they allowed it, everyone switched to Rachmaninov, Carmen and The Nutcracker (laughs).
That is, the impression that now figure skating has become more standardized is wrong?
Alena Leonova: There is such an impression. Every year, the rules become more rigid, so you don't know what else you can do to show originality. Programs become the same.
If you could, what rule would you add?
Alena Leonova: It's hard to come up with something right away. Maybe to allowed to do back flips and some acrobatic elements.
And was there a program in recent years that really impressed you?
Alena Leonova: Nathan Chen's two last free programs are so cool.
Although he skates in "pajamas".
Alena Leonova: Yes, he doesn't bother, he doesn't need any chic costume. (laughs) He looks impressive even in training clothes. The performances are very unusual, so you want to rewatch them.
And here should be a question about the costume of your husband Anton Shulepov with the star of David, which caused a great resonance last year, almost the charges of nazism. Does he want to continue moving in the same direction, playing on the edge?
Alena Leonova: Firstly, there was no such purpose. I had doubts, but they answered me: "Alena, everything will be fine!" However, Dima Aliev, once was asked to put off a cross for the medal ceremony, which was a part of a costume. But in this case, the costume was matched to the image, no malicious intent. And he will continue to come up with interesting costumes. Maybe not so provocative, but he definitely won't skate in pajamas.
Do you have an understanding of what to do in the future after completing a career? Coaching work?
Alena Leonova: No, it doesn't attract me, psychologically this is a very difficult thing. Mine is choreo. I always want to choreograph something to someone. I'm invited to different countries for master classes, I also like this, I also agree to offers about the show. There are options.
You once said that you will "end your career when the fantasy ends." What about fantasy, Alena?
Alena Leonova: Great. Still enough for several seasons. Just when I will be back on the ice, the first thing to do is to check how my knee react to new loads. Then I will proceed from the situation. If everything is well I will continue skating.
Related topics: Alena Leonova, Alexandra Trusova, Alina Zagitova, Dmitri Aliev, Evgenia Medvedeva, Kamila Valieva, Nathan Chen