Alena Leonova: Competition begets progress
Posted on 2019-10-11 • No comments yet
Alena Leonova about Russian national team in ladies skating.
by Rustam Imamov for sport.business-gazeta.ru dd. 10th October, 2019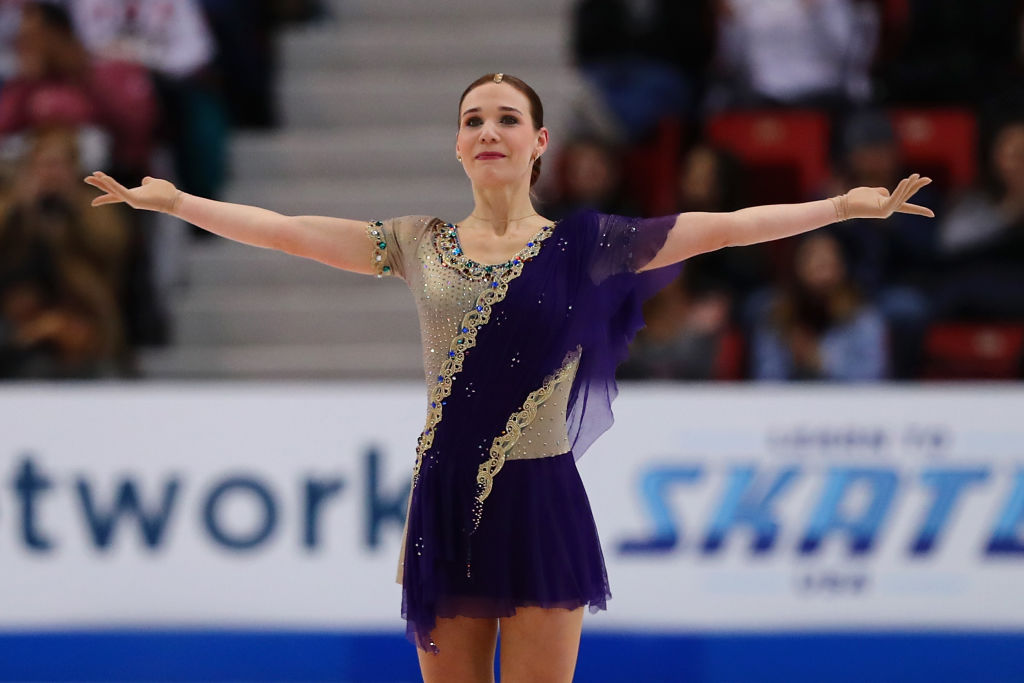 Alena: This season will be the most interesting and exciting in the history of ladies' single skating. The girls with incredible technical abilities has come. They set the bar for technical content and others followed. Ask anyone, they either learn quads or triple axel. With varying degrees of success, but still.
The only question is consistency. According to the new judging system, falls strongly affect the final scores, so quadruples are a serious risk. Especially when there are four of them. Both the technical and PCS score go down. I think that during the season Trusova and coaches will try different versions of the programs – with one, two, three quadruples. They will choose the optimal number to eliminate risks. She got the salchow back, so now it will be easier to compose different versions of content. And by the end of the season, maybe we will see a quadruple flip or loop?
Anna Shcherbakova looks better than Trusova in skating and interpretation. Her lutz technique is also excellent. There is only one problem – a lot of falls. Injuries often bothered Anya, I think consistency problems could be related to health. But to succeed she must skate clean.
At the same time, technique is only half the success. You can't say that other skaters have no chance to fight with Trusova and Shcherbakova. Juniors still have a lot to work on themselves, gain experience. Especially in terms of skating quality, choreography, spins and steps sequences.
In skating, I really like Alena Kostornaia. She has perfect gliding, excellent programs and memorable choreography. And her technique is chic – the best double axel in the world, high, big triples. The only thing missing is an ultra-c jump. Without a triple axel, it will be difficult for her to fight with Trusova and Shcherbakova. It's also not a fact that she'll beat older skaters. Still, you need to get a rating, a name in the judges' eyes. Kostornaia is already 16, but this is her debut season.
Therefore, she needs a triple axel. I know that last season she has been doing it in training and stable. Easy as a double! But didn't decide to jump it at competitions. As for me, the triple axel is a difficult jump, in some ways even harder than quad. For example Nathan Chen, who is a genius of quads, regularly fell from triple axel a season or two ago, although he calmly did four or five quadruples per program.
Of the senior athletes, Elizaveta Tuktamysheva can create a strong competition for Trusova and Shcherbakova. Two triple axels in a free, one in a short – this is a strong technical claim. In addition, the axels are good, stable. She is experienced, in great shape, motivated. If she also prepares a quad, it will be very cool.
I really liked her short program by Shae-Lynn Bourne. This is a new Liza, with new movements, style. I hasn't seen such Liza before, I was pleasantly surprised. Compared to last season, Tuktamysheva made a big step forward in terms of choreography.
I think it was right decision to return to the original music, because the movements should go along with the music, not parallel to it. Bourne always choreographs the program, thinking through all the details.
As for the talks that her programs looks the same, that she repeats the ideas of past years, I don't agree with this. There's skater's style, his manner of skating. You can't snap your finger and change it. And why should you? If it's comfortable for Liza, then she does everything right.
Sofia Samodurova has different programs. The short is cool and fun to Bamboleo this is Sonia's last year image, and the free to Moulin Rouge is an interesting, deep program. This means that Sonia can show two completely different images in one season. It's not easy for her, it's clear that Samodurova is experiencing problems connected with growing up.
But she has a very strong character. I believe that she will find the strength in herself to overcome all difficulties.
Alina Zagitova also will show herself. She doesn't have ultra-c elements, but she has a stable triple lutz – triple loop combination, and this is a serious element. She has name, titles, rating. And by the quality of skating, interpretation of the image, Alina at the moment beats the younger girls.
I really liked Alina's short program. Sensual, sincere. This is a new image for Zagitova, and it suits her. The free program Cleopatra is also a successful experiment. In my opinion, Alina doesn't risk anything and can skate for pleasure. In this case, why not try yourself in a new role?
Figure skating really needs courage in music and choreography. When you have the same from year to year it gets boring. There are so many music in the world, millions of options. When melodies with lyrics were allowed such a big expanse has opened! But no, they stubbornly do programs to Carmen, Scheherazade and Swan Lake. Although everyone has already skated several times to this music and showed everything possible. You need to bring something new to the sport, but what new can you bring with a Carmen program?
Although, I confess, I myself skated Carmen. At that moment, the coach and I considered this a good step. As if each skater should skate Carmen at least once. By the way, in the Sochi Olympic season, Adelina Sotnikova also skated to Carmen. She has it in the short, me in the free. I knew that Adelina would have the same music, but that did not stop me.
So, when they say that skating to the same music in the same season is a violation of ethics, I don't understand why. What is the problem? Talking that these is backstabbing, an attempt to put pressure on a competitor is complete nonsense. It seems that now, with all this Internet wars of figure skating fans, any incomprehensible action is perceived as a provocation. Making a mountain out of a molehill.
I also skated to "The Pirates of the Caribbean" after Javier Fernandez. And the same Nikolai Morozov did "The Pirates" for both of us. And no one was against it. Of course, in this case, you can't avoid comparisons, but if you skate well, then why not? Javi skated brilliantly, but many liked my "Pirates" too, the program was memorable.
I hope that Evgenia Medvedeva will find himself too. It's easier for Zhenya in terms of choosing music, themes for programs. Because she has more experience both sports and life. It is impossible to skate about love, if you have never really loved. This year, Medvedeva has two different images. One familiar to her – to Muse, the second is new – to "Memoirs of a geisha". Both programs look great. There are never any questions to Medvedeva's artistry.
If we take the results of competition in Shanghai, then in the short I really liked Evgenia. I thought that Medvedeva was really returning to the shape she was before the Olympics. But the free, of course, didn't go well. At first I looked at the protocols and saw 49 points for the technical score. And when I turned on the video, there was a feeling that it was not Zhenya on the ice at all.
Zhenya said that this is due to the illness. I think that at the Grand Prix we will see different Medvedeva. Judging by the training, Medvedeva wants more. She trains the quadruple salchow, and since she has a gap on the triple, I believe in her quadruple. She jumps combination with a loop which is difficult for ladies' single skating. I still think that performance in Shanghai was an accident. Medvedeva skated very carefully, didn't want to take risks, couldn't reveal on the ice. She even forgot that she has already jumped two double toe loops and jumped the third one, which was deducted. She wasn't herself on the ice – therefore such a result.
But Medvedeva has serious problems that need work. When they call the wrong edge the second competition in a row – this is a serious reason to think. Both herself and the coaches. For example, I also have a problem with an edge on the lutz, but the coach and I try at least to hide the edge. Evgenia doesn't hide, but doesn't correct.
The edge is a serious problem. An incorrect edge reduces the base value of a jump by 30%, and also seriously lowers GOE. Instead of a possible seven points, you get three or four. Sometimes it's better to confidently jump double with the right edge than triple with a decrease.
And if it doesn't turn out to jump from the right edge, it's better not to do lutz at all. I struggle with this problem, retraining is very difficult. At the same time, sometimes it happens that the edge on the lutz was fixed, but now the flip goes from the wrong one. Less often, of course, but it happens.
The situation with Zhenya's axel is also alarming. At the test rentals in Moscow, I was surprised, Zhenya makes combinations with loop so easily, and make mistake after mistake on a double axel. Perhaps the problem is in psychology, because the axel is like a stumbling block for her. Maybe she just needs not to think about it? Medvedeva needs to let go of this situation, to skate easier, don't focus on it too much.
Yes, she won't be able to fight in technique with Trusova. But if Zhenya will regularly show such skates as at the Olympics or at the last World Championships, then she has good prospects. And there is an opportunity to complicate the program – by including a new combination or quad.
In any case, we have a lot of good girls and this is only a plus for the team. Competition begets progress. I think this season will be very successful for Russian figure skating in all disciplines. But still very unpredictable. Right now it's hard to say who will be in the national team for the main competitions.
In my opinion, Trusova, Zagitova and Tuktamysheva have the best chances. These are three main contenders. But other girls are not far behind them. Therefore, it will be interesting to watch. Figure skating has become very popular, now they are even watching local competitions, junior competitions. And it's very cool.
Related topics: Alena Kostornaia, Alena Leonova, Alexandra Trusova, Alina Zagitova, Anna Shcherbakova, Elizaveta Tuktamysheva, Evgenia Medvedeva, Sofia Samodurova