Alena Kostornaia: "I said it once and regretted it (harsh words about Tutberidze's group) very much, now I will be silent."
Posted on 2021-09-12 • No comments yet
Alena Kostornaia about skating at the Russian test skates, triple axel and return to Eteri Tutberidze.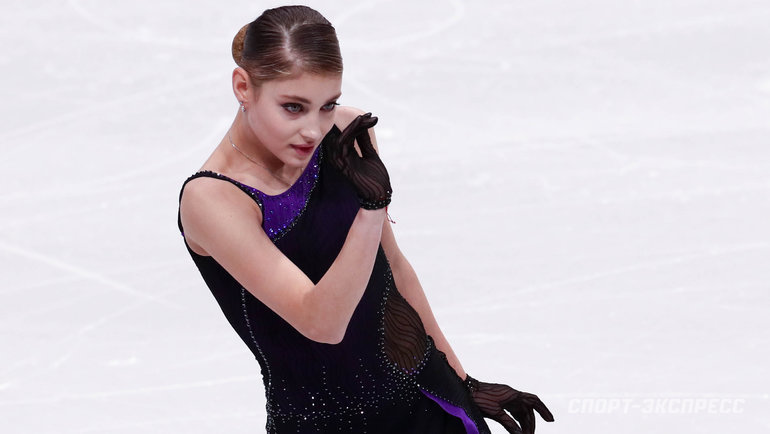 About short program at the Russian test skates 2021 where the athlete the athlete allowed a hand down and step-out on a triple axel.
Alena Kostornaia: I'm not happy with my skating. The audience is very warm, it is very nice that people come at all. What went wrong with the axel? It happens that I don't push off enough. It didn't work out, in general. It happens, this is the beginning of the season. I'm glad that I managed to come to the test skates with it. In training, I did it from time to time, but still there is no stability.
The goal of this program is to show feminine skating and the fact that I have elements. Not only skating without elements – skating, jumps, spins. And to make it graceful like a kitty.
source: Channel One, text version sports.ru
About triple axel
Alena Kostornaia: The first time I go to the test skates with complex elements. Almost with maximum content. And now I know what needs to be worked on.
Are you planning to go back to your triple axel set?
Alena Kostornaia: I can say that 90% that I will do one triple axel in the free program. Now the emphasis is on showing the program so that the judges can see and access, point out any flaws. We decided with the coaches that we would go to three triple axels in two programs.
Did you manage to understand why it took so long to restore them?
Alena Kostornaia: I had clean trixel attempts on the show. There was even a video. There was a step-out, but it was a quite solid attempt. I can say that it was fully rotated. After that I went on vacation. Two or three weeks and everything has to be started over. Now we are restoring.
Daniel Gleikhengauz said that the problem with your triple axel is in your head, not in your body. What did he mean?
Alena Kostornaia: I can't always made myself to jump the triple axel, for example, if there are sluggish turns or something like that. I cannot afford to take this jump: I will not do anything adequate. There is also the risk of injury, and I do not want this at all. Injuries – skipping competitions. But this is not fear.
source: sport24.ru
About return to Tuberidze and harsh words spoken after the transition to Evgeni Plushenko last year
Alena Kostornaia: I said it once and regretted it very much, now I will be silent. The last six months have changed me – somewhere much, in some moments not. My discipline has not improved much.
I try to correspond to the image of an adult athlete – to come to training meaningfully, to set tasks clearly, an the coaches help me with this.
Sometimes, it happens, I get pulled up – Eteri Georgievna says be more attentive. Daniil Markovich Gleikhengauz too, and they can bring you to your senses. They help me a lot.
We decided – what's done is done – we will not return to this topic, we go further, we work further.
I came to the skating rink at Angels of Plushenko – to Evgeni Viktorovich, to Sergei Alexandrovich Rozanov and to Yana Alexandrovna Rudkovskaya.
Evgeni Viktorovich was on the ice, we talked with Yana Aleksandrovna – I gave her a bouquet of flowers, we finished our work on a good note.
source: tass.ru
Related topics: Alena Kostornaia, test skates