Aleksandra Boikova and Dmitrii Kozlovskii: "It's a sport, not a health group. Proceeding from an injury is wrong. In this case, forbid Malinin to jump the quad axel."
Posted on 2022-11-01 • No comments yet
Aleksandra Boikova and Dmitrii Kozlovskii commented on their victory at the Russian Grand Prix in Sochi in pair skating and told their opinion about ultra-c elements in pair skating.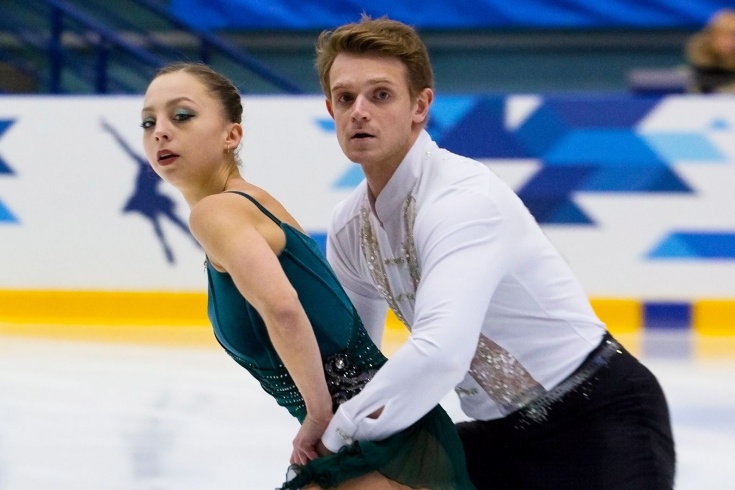 Aleksandra Boikova: We are not 100% satisfied with ourselves. We still have a lot of work, now it's only the beginning of the season.
Dmitrii Kozlovskii: We tried our best. It seems to me that we have done the maximum to prepare for this competition. We continue to recover from my injury, missed a lot of time for big sport. But it seems to me that we have a good pace and everything will be fine in the very near future.
Aleksandra Boikova: The [free] program was done by Nikolai Moroshkin – it was his idea. Dima liked it very much, he insisted on it. We started to work on the program.
In this program we made an emphasis on changing moods – our mood changes three times. Literally to the first element – this is the moment of meeting on the train. Next – the first love. There's Time for Bed music on. The main emphasis in our program is on the happy relationship between Anna Karenina and Alexei Vronsky, on their happy period.
After the first throw, a small cacophony begins in the music and this is just the first bell when Anna starts to go crazy, but everything is still more or less fine. Well, and everything ends the way it ends in the book, of course. But the main music – Time for Bed – is about the happiness of relationships.
Boikova and Kozlovskii also shared their opinion about ultra-c in pair skating.
Aleksandra Boikova: Fedor Klimov talked about ultra-c in pair skating. When this issue was discussed at the ISU, they said that athletes should start making them so that they look safe. So if you yourself do not go against the system, it will not move anywhere. Athletes should be motivated to do something new and push pair skating forward as a sport.
Dmitrii Kozlovskii: It's a sport, not a health group. Proceeding from an injury is wrong. In this case, forbid Malinin to jump the quadruple axel! Forbid boys to jump other quads. In this case, we will slip into degradation. If there is no forward movement, stagnation will begin. We are primarily sports, not theater.
Related topics: Alexandra Boikova Dmitri Kozlovski