"Absurdity" Plushenko about judging at the Russian Nationals
Posted on 2020-12-30 • 10 comments
Evgeni Plushenko commented on the judging at the Russian Nationals 2021.
source: Dmitri Kuznetsov for sport-express.ru dd. 25th December 2021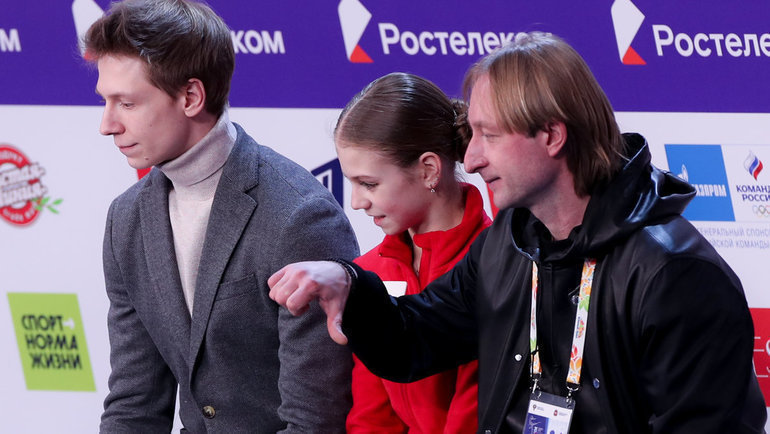 Evgeni Viktorovich, your comment on today's performances and scores (in the short program).
Evgeni Plushenko: Sasha skated very well, in my opinion, it was her best skating of the season, despite the fact that she didn't jump the triple axel. She did, hold all the spins, they all got level four. The step sequence, in my opinion, is a little underscored, it was possible to give the highest level. There could have been higher GOE from the judges. This is about Sasha.
But other athletes were slightly overesсored, as it seems to me. Today I have already talked with many coaches and specialists. We talked about the fact that figure skaters who take the leading places are really given fabulous points for falls, for not done spins. They are given a completely different level, which, in theory, they should not get.
I looked at the protocols – the judges didn't give minuses for the failed spin, one gave 0, the other +3. One gave +3 and several others -2! Minus two is a normal mark, yes, you can safely give it.
The same with other girls. Sasha got an exclamation mark on a flip. Although we fixed this edge, she is jumping flip from the inside edge. But the judges apparently think that we do not train, do not work and do not improve. Other girls, who have not just an unclear, but a wrong edge, on the contrary, for some reason are not given anything. This is a paradox from my professional point of view. I'm at a loss! And many coaches too. It seems to me that soon not only I will say these words, but also other people. Something is not right here, something is wrong. The athlete falls on the triple axel and gets about 80 points. That is, if she jumps it, then she scores more men who jump quads in short programs?
It turns out so.
Evgeni Plushenko: Well, that's something from science fiction! But turns out, it's reality.
How is Sasha feeling now? Many people skate here after illness.
Evgeni Plushenko: Sasha is injured. She skates with a serious injury.
Is this connected with the tape on the back of her hip?
Evgeni Plushenko: Yes, there is an injury. But we didn't withdraw. Sasha said 'I want to compete, I will fight.'
Do you contact the referees, technical specialists during the season? After all, this is not the first time you are dissatisfied with the judging.
Evgeni Plushenko: Of course, there is contact. Today we have already talked on this topic, I spoke with Alexander Lakernik. We also agreed to meet tomorrow, we will watch all the videos. Maybe I don't understand something? And the other coaches probably too. So yes, we discussed it today.
And what do they tell you?
Evgeni Plushenko: They say that everything like it should be. They don't see edges on flips and lutzes of some skaters. Everything is fine. And in Trusova's case, well, very visible. (laughs)
Maybe you just buy other monitors for them? For sure you can to chip in.
Evgeni Plushenko: Everything is ok with the monitors! Apparently, there just different charging. They are charged in a special way, from certain people, with some kind of energy messages. And not only. Apparently, the charging is well. For retirement. There are many pensioners sitting behind them (judging minitors), as far as I know.
We will think what to do. We understand how these processes are going. Valieva is really good at skating, she can glide, she extends her legs. No complaints. But to date, there are questions. Why can't they see the edge on Usacheva's jump? She has an iffy landing, but they give her +3. This can only be explained by good chardging. If the judge gives +3 for such a spin, where is he looking? Maybe at Trusova on the other monitor? What is she doing wrong there in the warm-up? These are the simplest banal questions, someone has problems even with stroking, and then gets he 9.50 and 9.75. Absurdity. I used to think, maybe I'm the only one so crazy, a loser? But it feels like I'm not alone already. A large part of the figure skating community are losers now.
Related topics: Evgeni Plushenko, Russian Nationals
10 Responses to ""Absurdity" Plushenko about judging at the Russian Nationals"